Daring to Explore More
Internships and faculty guidance lead Sarah Song onto a new career path.
"When you come to college, you think you want to do one thing but that often changes when you're actually here," says Sarah Song, whose education and experiences led her from investment banking to accounting. "With the combination of efforts from all three schools, we have a vast variety of resources at the college. For a student who wants to explore what they want to do in business, this is the place."
"I was lucky enough to have internships with Marriott International at their corporate headquarters—this past summer was in the accounting department. Everybody who worked there was a CPA, and they encouraged me to start thinking about that as a potential career choice," Song says.
Back on campus, her newfound interest in accounting led to a new faculty mentor.
"I got an email from Professor Jack Little regarding the new accounting master's at Cornell as a part of the new program that the college is rolling out. And it's exactly what I wanted to do going forward," says Song. "I went to Professor Little and we developed a relationship where he really guides me and helps me in terms of finding direction for the future."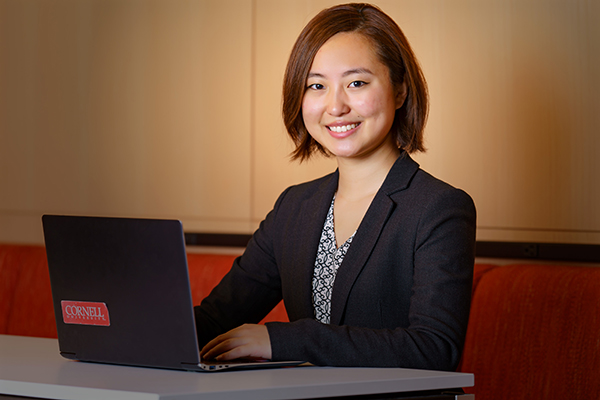 "One thing that I really appreciated is even though Professor Little is not a part of the Hotel School he was still willing to help me, because we are all in the same family."
Little connected Song to networking and recruiting events that helped her land an offer with Ernst & Young (EY)—a professional services firm in Washington, D.C. She is currently enrolled in the one-year Johnson MPS in Management – Accounting Specialization Program.
"I was able to get to know recruiters at EY and to better prepare myself for sending in my resume and interviewing—and after all of that I now actually hold an offer from them for a summer internship." Song says. "These opportunities came from this collaboration effort in the Cornell SC Johnson College of Business."