Cornell SC Johnson College of Business Commencement: The numbers
This year's graduating class marks the second Commencement for the SC Johnson College of Business. In total, 1,324 individuals will receive degrees. While our graduates are unique in their academic interests and experiences, all are full of potential and forever connected to Cornell. We wish you all the best and hope you will continue to stay connected with us.
A look at our graduating class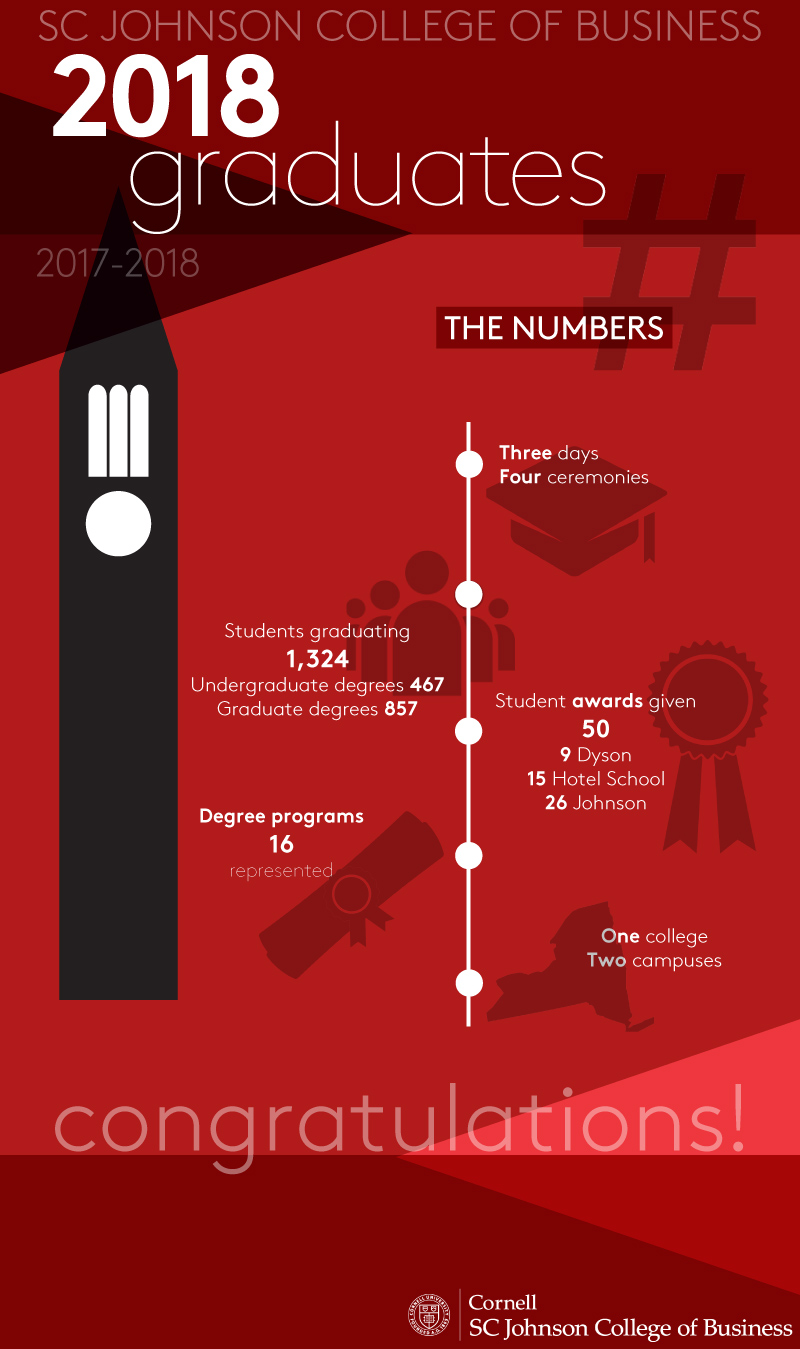 SC COLLEGE OF BUSINESS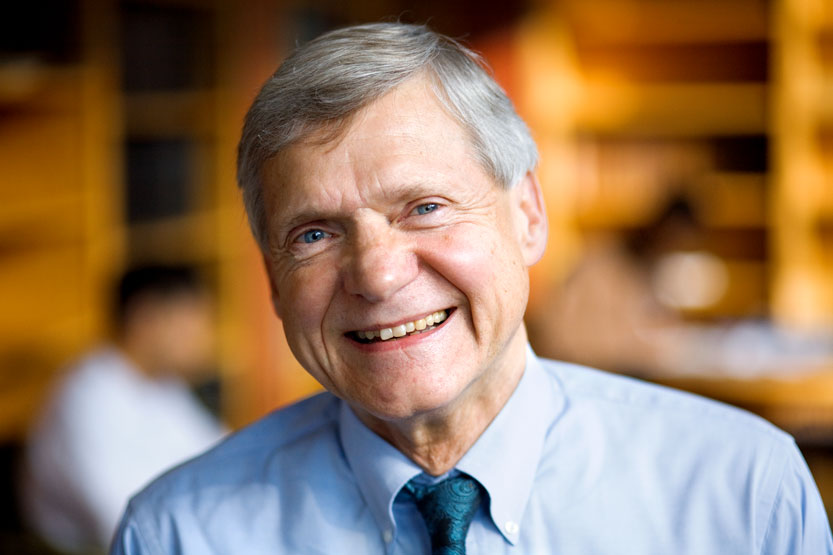 "This year's graduation marks a momentous occasion as our students join the second graduating class of the Cornell SC Johnson College of Business. As members of a broader SC Johnson College family, students will have an extensive, wide-ranging network of over 36,000 alumni worldwide – nearly 10,000 from Dyson, more than 12,000 from the Hotel School, and over 15,000 from Johnson.
Our graduates will leave Cornell with unparalleled connections to knowledge and resources that push global boundaries"
L. Joseph Thomas, Professor Emeritus and Anne and Elmer Lindseth Dean Emeritus, Interim Dean, Cornell SC Johnson College of Business
Total Cornell SC Johnson College of Business graduates: 1,324
Total Undergraduate Degrees: 467
Total Graduate Degrees: 857
Total Business Minors: 581
---
DYSON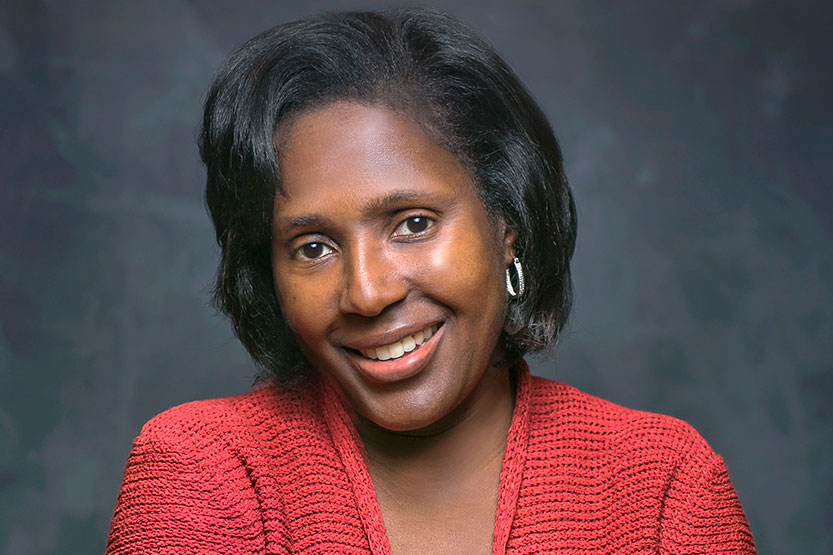 "Graduates, you are going to change the world. We know you have the intelligence and characteristics it takes to excel. We knew before you ever arrived on campus that you were leaders in your own right. You are passionate. You work hard. You want to leave your mark on the world, and I have no doubt that you will."
Lynn Perry Wooten, Professor and David J. Nolan Dean, David J. Nolan Dean, Charles H. Dyson School of Applied Economics and Management
Undergraduate Degrees: 210
Master of Professional Studies: 22
Master of Science: 13
PhD: 11
Total: 256
---
HOTEL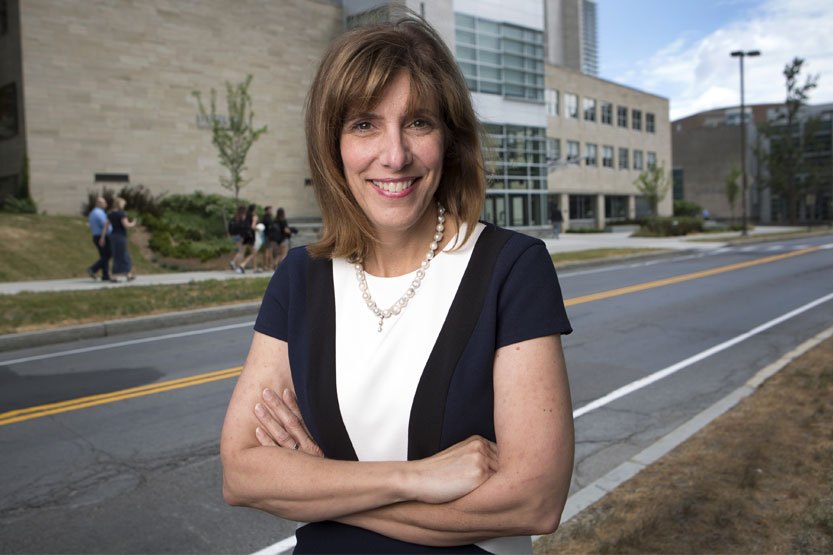 "Congratulations to our graduates! It has been such a pleasure getting to know you and watching you grow into the impressive young professionals you are. There is not a doubt in my mind that each and every one of you is ready to take the industry by storm, do work that matters, and leave a lasting impact on the world."
Kate Walsh, E. M. Statler Professor, Dean, School of Hotel Administration
Undergraduate Degrees: 257
Master of Management in Hospitality: 40
Master of Science: 2
Baker Program in Real Estate Master of Professional Studies: 28
Total: 327
---
JOHNSON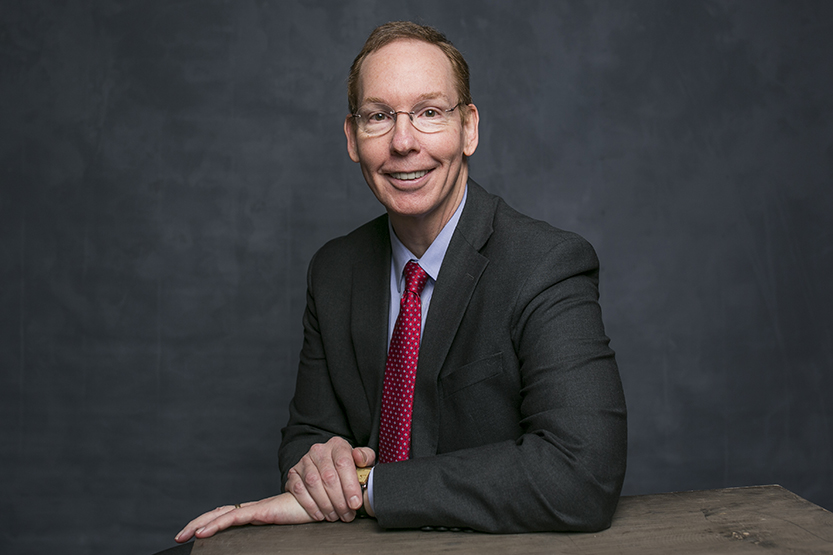 Trust that the connections you've made here will last a lifetime and continue to bring you rich rewards – both personally and professionally. As of today – as members of this community – you're together receiving the very powerful results of this unique experience: an MBA degree from Cornell University. We are immensely proud of you"
Mark W. Nelson, Professor, Anne and Elmer Lindseth Dean, Johnson Graduate School of Management
Two-Year MBA: 288
One-Year MBA: 70
Cornell Tech MBA: 62
Master of Professional Studies in Management – Accounting Specialization: 19
Cornell Executive MBA Metro NY: 65
Cornell Executive MBA Americas: 155
Cornell-Tsinghua MBA/FMBA: 77
PhD: 5
Total: 741