Faculty panel: Shareholder value and social values: friends or foes?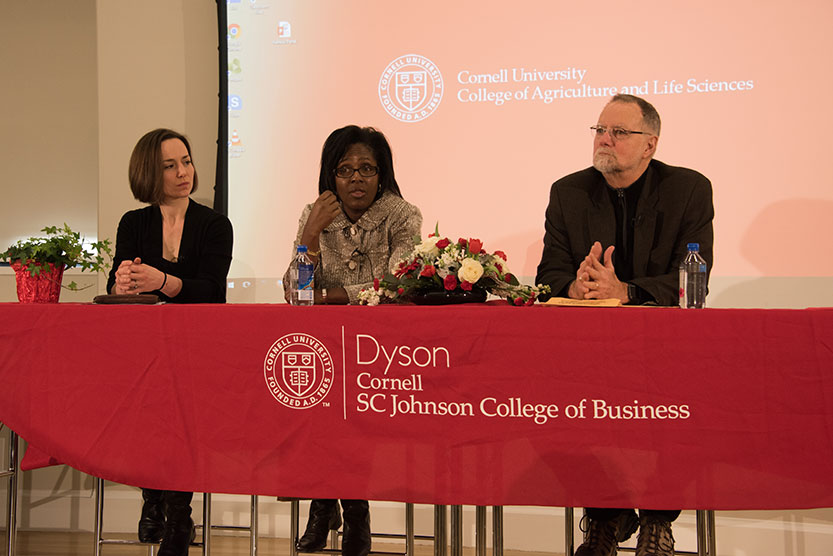 Are shareholder value maximization and social values compatible? How can market-based economics better deliver on societal objectives? What happens when business practices are not ethical, but not illegal either? Is ethical behavior possible in competitive environments?
Members of the Cornell SC Johnson College of Business recently came together for a dynamic discussion on these issues and others focusing on the tensions and opportunities between profit and shareholder maximization and social values. The conversation explored the compatibility of private profit and private good with such social issues as poverty, inequality, discrimination, and environmental degradation, among others.
The panel was moderated by Ravi Kanbur, T. H. Lee Professor of World Affairs, International Professor of Applied Economics and Management, and professor of economics at the Charles H. Dyson School of Applied Economics and Management, and included faculty from all three schools within the college: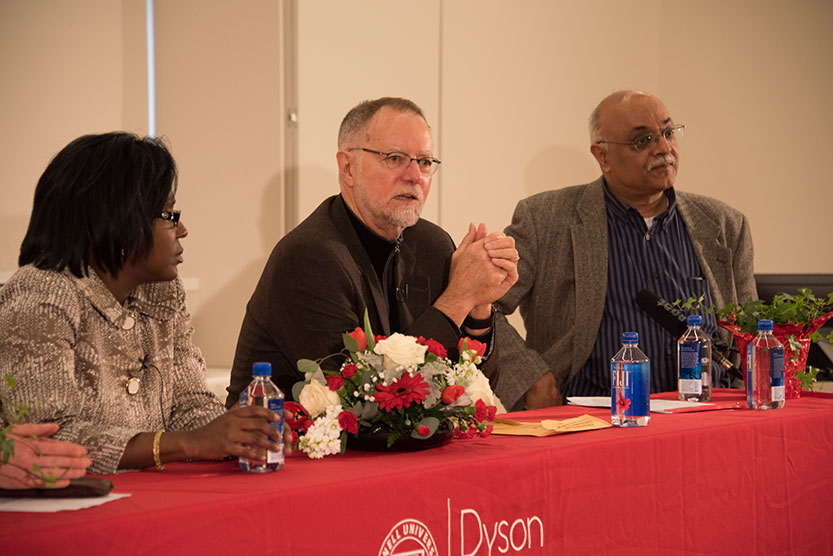 Panelists answered questions related to their own areas of work and provided insights on such areas as taxation, international development, human resource management, and real estate markets.
Kanbur described the panel as bringing to light some of the most significant questions facing business schools today—particularly the business college at Cornell University, with its land grant mission and a mission of knowledge with a public purpose.
Panel takeaways on shareholder value and social values
During the discussion, the faculty panelists addressed key issues around shareholder value and social values and answered the following questions:
If the right thing to do is also the smart thing to do, why isn't the smart thing done all the time?
"Doing the right thing is hard work, and it takes a lot of strategic intent. Doing good and making a profit is like exercise—people don't want to invest the time and energy in it." – Lynn Wooten
On the role of regulation
"It's a real danger that we underestimate the need to supervise and regulate [markets]. The idea that everything will sort itself out because people are of goodwill is wrong handed, in my opinion." – Robert H. Frank
Is conscious capitalism an urban phenomenon?
"We just have to look around us. We live in a relatively small community here and you see small, community-driven businesses that focus very much on local resources. I think this is a grassroots initiative that you're looking at here, and I think we have a chance of seeing it succeed." – Eva Steiner
View the entire panel discussion on CornellCast, or watch a 4.5-minute video showcasing highlights from the session.