Noteworthy: Dean Dutta gives insight on achieving an effective on-campus merger in BizEd Magazine
Stronger together takes time
Overview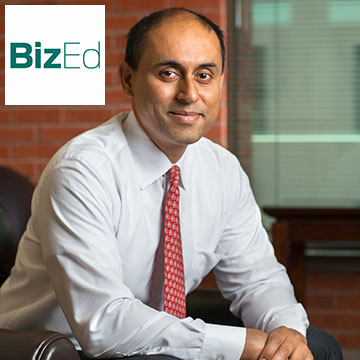 As competition in higher education continues to intensify, especially for business schools, maximizing efficiency and creative problem solving are essential components for success and sustainability.
Soumitra Dutta, dean of Cornell SC Johnson College of Business, is featured in BizEd, of AACSB International, where he discusses the on-campus merger and creation of the Cornell SC Johnson College of Business throughout the past year. The merger brings together three schools—the School of Hotel Administration, the Charles H. Dyson School of Applied Economics and Management, and the Samuel Curtis Johnson Graduate School of Management—into one college of business. The merger is unique in that the schools have maintained their own identities and are led by their own deans. However, like most mergers, the process has presented its fair share of challenges, which have required creative problem solving and compassion.
In his feature in BizEd, Dutta shares key takeaways from the formation of the SC Johnson College of Business.
Key takeaways from Soumitra Dutta in BizEd
You might make mistakes.
"Recognize that there are things you don't know, so you might make mistakes. Be open to listening to others and to correcting course as you go."
Turn passion into creative possibilities.
"The alumni were passionate because they deeply cared about the schools, so our challenge was to turn their passion into creative possibilities."
Big changes take time.
"Big changes take time. No one can go in and take a sledgehammer to the current system and say, 'It's my way or the highway.' But if you keep sending the right messages, choose the right people, and celebrate both your big wins and small wins, eventually others will understand the benefits of the change."
Read the full article in BizEd to learn more about an effective on-campus merger.