Passion for their startups drives student entrepreneurs to put business first
May 7, 2018
Four Cornell undergraduates spoke about how they got their startups off the ground at Entrepreneurship at Cornell Celebration 2018.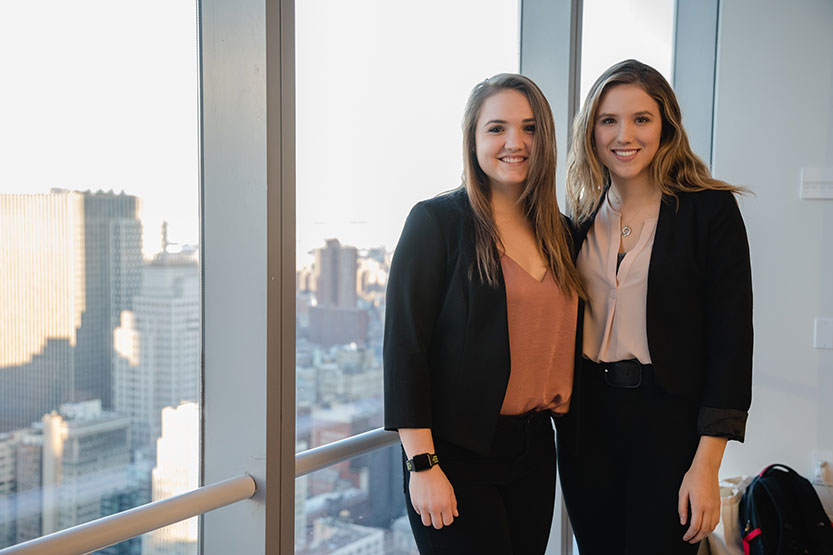 Student entrepreneurs have their hands full, juggling schoolwork, a social life, and the demands of launching a business enterprise. Still, there are ways to make it work, as four Cornell undergrads told those attending "Big Red Startup Moments: A Student View," a panel discussion held during the Entrepreneurship at Cornell Celebration on April 20 at the Statler Hotel and sponsored by Entrepreneurship@Dyson.
The keys to a successful launch, the students said, include hard work, making sacrifices that support long-term goals, and using grassroots funding strategies.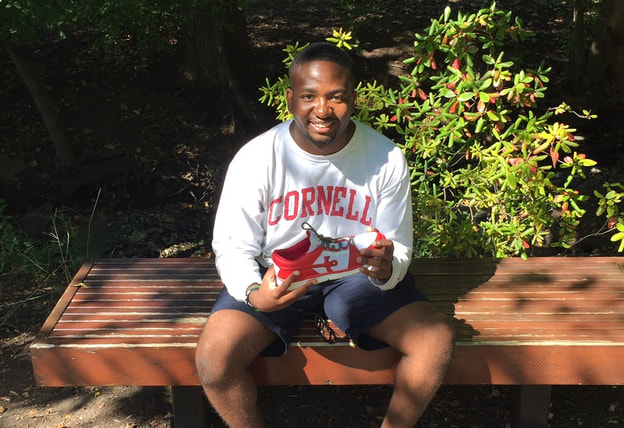 "I think about the business every day, make calls, attend meetings. It takes a lot of time, but when you love what you are doing, it is worth the time and effort," said Daniel Abaraoha '18 (Dyson), who sells affordable casual footwear through Vita Shoes, the company he conceived of in his teens and developed as a Cornell student.
Abaraoha's peers on the panel agreed, noting that a passion to succeed may supersede the desire to engage in extracurricular activities and hang out with friends. "For me, it's OK to work tirelessly in the kitchen," said Jamie Kim '19 (SHA), co-founder of Bumble & Butter, a gourmet granola business that reflects her interest in creating and selling a food product that began in high school. "I am doing something I love, which makes it easier to not see my friends as much as I could without the business responsibilities."
Finding Funding
Perhaps chief among the challenges these young entrepreneurs face is fundraising. They managed to find some funding from a variety of sources, including seed money from Cornell through eLab and other startup programs and broad-based crowdsourcing efforts. Abaraoha supplemented early contributions from family members with an Indiegogo campaign, while Kim earned eLab support and went with Kickstarter to help get her business up and running.
Crowdsourcing also helps boost marketing efforts, increasing brand awareness while providing validation for new companies, the panelists said. More traditional outside funding sources, such as venture-capital investments, play a role, too. "You have to learn how to apply for funding sources, and find a good match for the company," Abaraoha said. "That means learning how to talk with VC people and determining what they need from their investments."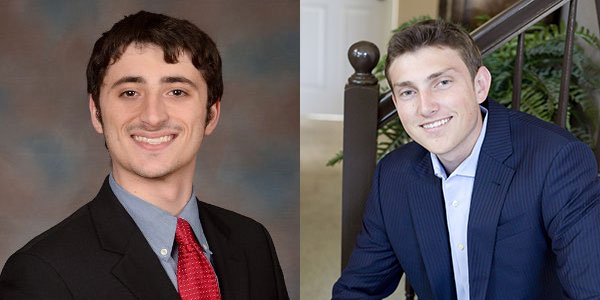 Albert Caldarelli '19 (A&S), CTO of Religio, noted that Catholic Church agencies offered their support after recognizing the benefits of using the company's business-services platform to engage and increase church membership, track donations, and access volunteer programs.
Caldarelli and his business partner, Peter Cetale '19 (ILR), plan to pursue venture capital as they build their customer base, as does Colby Triolo '19 (Eng), co-founder of the Worldwide Travel Network, an online portal that connects compatible travel companions to one another. "We have low overhead costs, which helps with expenses, and we were able to get eLab funding for our website and the mobile app," said Triolo. "Now we are looking at outside funding."
The panelists also offered their suggestions regarding what Cornell can do to nurture student entrepreneurs, citing better communication among programs and people that offer valuable guidance. "More connections with other teams, people on campus, and alumni would help," said Kim. "Cornell has some great people, but it takes a real effort to go out and find them." Triolo added: "Stronger links with the alumni network are very important—they all have great insight. I know I will give back when I leave here."
—Written by Jay Wrolstad, a freelance writer for the Cornell SC Johnson College of Business