Quick Q & A: Jennifer Majka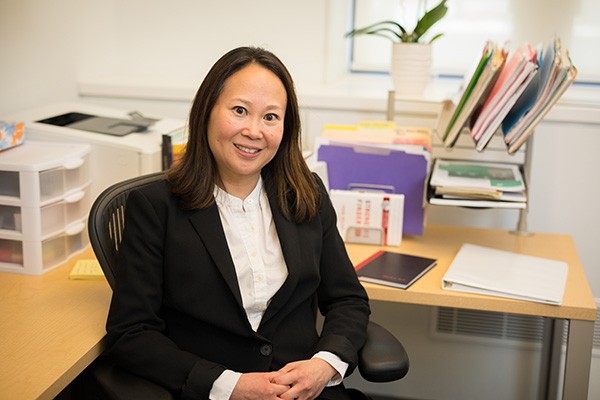 Mom, PhD candidate, and committed to positive change—learn a little more about Jennifer Majka, director of diversity and inclusion at the Dyson School.
Q: How would your best friend describe you?
A; An extroverted introvert. As much as I love quiet moments, those are few and far between with work, pursuing my PhD, and raising two high-energy preschoolers. I've learned to thrive through controlled chaos.
Q: What do you like best about working at Cornell?
A: The students. From my work on West Campus to my new role at Dyson, the students are what keeps all of what I do in my professional career challenging, inspiring, and meaningful. I love working with and learning from students, keeping in touch with them after they graduate, and hearing about what impact they're making on the world.
Q: If you were an animated character, who would you be and why?
A: Moana. Her tenacious attitude and spirit are inspirational. My kids love her and appreciate how she's up for any challenge.
Q: What excites you most about your new role as the director of diversity and inclusion for the Dyson School?
A: The opportunity to create a new office and program. Cindy van Es has done an amazing job at implementing diversity initiatives within Dyson, all because of her passion rather than a job requirement, and I'm looking forward to strengthening what she's been able to build in her spare time.
I have several ideas and initiatives I am excited to launch in partnership with the leadership team at Dyson and with the D&I team at the Cornell SC Johnson College of Business. I feel like there's significant potential for this position to influence the student experience in meaningful ways. The opportunity to impact positive change and contribute to Dyson's mission—Our Business is a Better World—is important to me and the work I do.
Q: If you were on an island and could only bring three things, what would you bring?
A: I dream of a time when I can completely unplug with my family. Since the question didn't specify that it's a deserted island that I'm stranded on, the three things I would bring are my husband and two children. We would love to go on an island vacation!
Q: What is your favorite childhood memory?
A: I grew up during a time when I could roam around free with my friends all over our neighborhood. In the summer, we would ride our bikes to the neighborhood pool and spend the day there, sans parents. I really enjoyed all the freedom I had in my childhood.
Q: How will your role contribute to the initiatives of the Cornell SC Johnson College of Business Office of Diversity and Inclusion?
A: I'm fortunate to be part of a remarkable team of colleagues at the Cornell SC Johnson College of Business led by David Wooten. Although I'm still so new to this position, we've discussed several ideas for initiatives and I think there's genuine opportunity for building capacity for diversity and inclusion within the college.
Q: What do you do for fun in Ithaca?
A: With my two young kids it's all about what's fun for them! The Sciencenter, swimming in the lake, Farmers Market, playgrounds and parks, ice skating, gymnastics, bounce houses, bike rides, and playdates. Next winter they'll be old enough for learning how to snowboard (they both love Chloe Kim and now my son wants to do flips on the halfpipe!). When our schedules permit and after the kids are dropped off at daycare, my husband and I enjoy early morning hikes at Buttermilk in the summer.
Q: What's your go-to Collegetown Bagels order?
A: As someone who has celiac disease, a bagel shop is my kryptonite!
Jennifer Majka (Mīkə) is the director of diversity and inclusion for the Charles H. Dyson School of Applied Economics and Management at Cornell University. She most recently served as an assistant dean in Cornell's West Campus housing system. Prior to coming to Cornell in 2007, she worked in higher education and non-profit management in California. Jennifer received her teacher certification in Portland, OR and taught English in South Korea. She has a BS in corporate communication and an MA in education. Jennifer's time outside of work is spent doing fun activities with her husband and two young children. She is also moonlighting as a PhD candidate studying education and social justice where her research focuses on high impact transformative educational initiatives that help build and strengthen capacity for social justice.