PIHE: Hospitality Hackathon - Delivering Exceptional Experiences for the Hotel Guest of the Future
November 4, 2022

-

November 6, 2022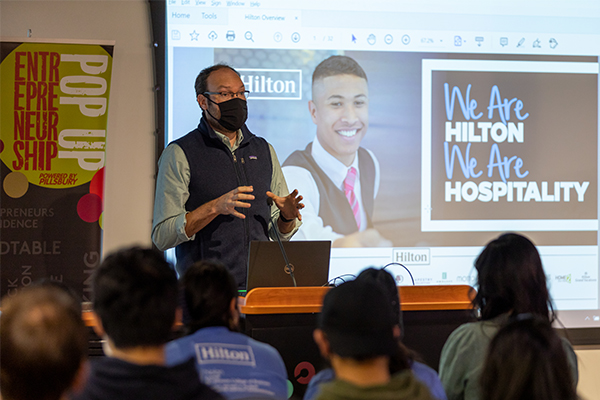 Calling all students!
Once again, the Pillsbury Institute is collaborating with Hilton and Salesforce/Tableau to bring you the Hospitality Hackathon!
Registration and Hackathon Participation will enter you into a raffle for a Hilton sponsored prize basket!
Register by October 20th in order to increase your chances of winning.
This year's theme:

Delivering Exceptional Experiences for the Hotel Guest of the Future. As the hospitality industry continues to grow globally, a shift in guest behavior and increasing competition creates new challenges for business. Join us for this year's Hospitality Hackathon to use real time data and help answer the industry's most prevalent questions while using industry standard technologies.
Students may register now and form teams later on. We will assist in the process on site if you need help!
No advance preparation, prior hackathon or coding experience is required to participate.
Not sure if this Hackathon is right for you? We encourage all students with interests and skill sets in any of the categories below to participate!
Hospitality/Guest Experience: Students with an interest or background in hospitality and guest services/relations.
Customer Experience:  Students with a passion for creating differentiated experiences for guests and customers of all types
Digital Applications:  Students with an interest in working with mobile and web based interfaces.  A strong sense of UX design would be beneficial here.
Data Analytics: Students with a knack for dissecting data and thinking analytically to help solve problems.
Technology: Students interested in UX design and deploying technology in a real-world business setting. Also including information technology, business computing, advance business modeling, and databases.
Innovation & Creativity: Students who are generally passionate about innovation and have a creative mindset.
Presentation/Storytelling: Students who are skilled presenters and storytellers and not afraid of public speaking.
All questions regarding the Hospitality Hackathon can be directed to Michelle Ciaschi, MLC296@cornell.edu
Related Events