SHA BusinessFeed
January 22, 2020
Alex Susskind and collaborators look at the impact on restaurant sales of customers' interest in returning versus customer satisfaction.
Hotelie
November 15, 2019
Kristina Workman's research and teaching focus on the value of compassion and positive interpersonal relationships in the workplace.
SHA BusinessFeed
October 18, 2019
Cornell Real Estate Market Indices: Crocker Liu and co-authors highlight hotel performance and positive/negative momentum during Q3 2019.
Collaborative Focus
With many opportunities to collaborate across schools, our faculty work and innovate together in targeted disciplines through faculty areas. These are disciplines that are key to any business, and are taught at different course levels by expert faculty in each of our three schools—areas such as finance, marketing, and operations.
Faculty in one faculty area may work together on research, discuss and create more efficient teaching methods, and hold or attend seminars and workshops to deepen their understanding. Areas also allow for coordination across public engagement and industry outreach activities based in disciplines, and provide a greater number of faculty to support specialized programs, like our centers and institutes.
Faculty Areas & Their Coordinators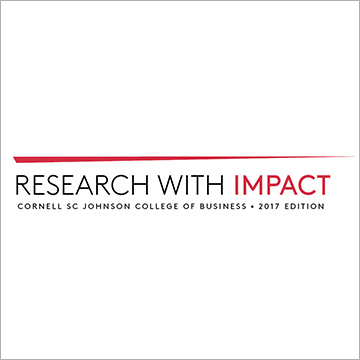 This report is a compendium of scholarly research produced by faculty throughout the college that highlights select research findings and media mentions, and summarizes faculty publications from the past year.
No upcoming events listed right now!
There are no events to display.