Business
with
impact.
One college, three schools—where business breadth meets specialized depth.
At the SC Johnson College, we collaborate. We're visionary. We're practical problem solvers. We embrace technology and data as powerful tools for business. Most importantly, we build people-centered leaders who are empowered to create sustainable, shared prosperity.
That's how we do business—with impact.
COVID-19: Navigating Business in a Time of Pandemic

Faculty experts offer perspectives and skills to help leaders navigate the world of business in this unprecedented time.

Find upcoming and past web events, media, and information for current and prospective students across the Cornell SC Johnson College of Business.
One college with three times the expertise.
The Cornell SC Johnson College's collective research strengths and its relative size are complemented by each school's specialized industry depth, expertise, and network.
Dyson
BS, MPS, MS, PhD
At Dyson, our business is a better world.
Dyson prepares tomorrow's leaders—and supports today's researchers—who will apply business and economics principles to solve some of the toughest societal challenges around the globe.
Unique strengths:
Applied economics and policy
Environmental, energy, and resource economics and policy
Food and agricultural economics
Finance
International development and policy
Strategy and management
SHA
BS, MMH, MPS-RE, MS, PhD
For Hotelies, life is service.
Known as the world leader for teaching and researching the business of hospitality, SHA prepares people-focused, tech-savvy leaders who understand that business success happens when they model the essence of hospitality.
Unique strengths:
Hospitality leadership
Service operations and analytics
Real estate and development
Services marketing
Hospitality human resources and law
Food and beverage design and management
Hospitality entrepreneurship
Johnson
MBA, MPS, PhD
Turn ambition into impact at Johnson.
Johnson's graduate business programs prepare students for leadership across industries, allowing them to achieve their ambitions with business education that emphasizes collaborative and practice-based learning.
Unique strengths:
Consulting
Digital technology
Investment banking and finance
Entrepreneurship
Global business and emerging markets
Marketing and product management
Sustainability
An academic powerhouse of incredible scale.
3,191
STUDENTS
in undergraduate and graduate degree programs
255
FACULTY
spanning eight areas of business and four interdisciplinary themes
43,867
ALUMNI
in the SC Johnson College of Business network
19
DEGREE PROGRAMS
with cross-school coursework and collaboration
Top-ranked, positioned for success.
The Cornell SC Johnson College of Business's programs and schools are consistently ranked in the top 10 among more than 15 rankings sites, surveys, and publications.
---
#1
---
School of Hotel Administration
Highest Paid Hospitality Management Graduates
#1
---
Dyson School
Best Agricultural Economics & Business College in the U.S.
#6
---
Johnson Graduate School
Top 50 EMBA Programs
#1
---
School of Hotel Administration
Best Hospitality and Hotel Management Schools in the World
CEOWorld Magazine, 2018
Featured News and Stories
A diverse

community.
Like no other—faculty, staff, alumni, and peers will have your back…and push you forward
---
Different backgrounds, cultures, insights, and professional experiences strengthen our college and introduce wider perspectives so that together we can make a larger impact. Regardless of the program you're enrolled in, you'll find an individualized support system.
Collaborative

research.
Uniting hundreds of faculty members, researchers, and extension associates
---
Our collaborative research bridges business principles across schools and multidisciplinary areas, making an impact in agriculture, economics and policy, hospitality, real estate, sustainable business, management and organizations, and more.
Alumni

connections.
A tight-knit, collegial community that extends far beyond graduation
---
Cornell SC Johnson College of Business alumni represent a growing network that facilitates career success. They also span industries and continents. Keep in touch with your classmates, find career resources, connect with students, and learn how you can give back to Cornell.
Worldwide

reach.
Programs, initiatives, and alumni around all corners of the globe
---
From Warren, Statler, and Sage halls on the Cornell University campus in Ithaca, NY to the bustling streets of New York City, and from our finance MBA program in China to classrooms across the Americas, the SC Johnson College is transcending geographic — and figurative — boundaries. And through online executive education, lifelong learners can opt to complete certificate programs from anywhere in the world. What's more, our alumni are well-represented among alumni clubs in all 50 states and 112 countries.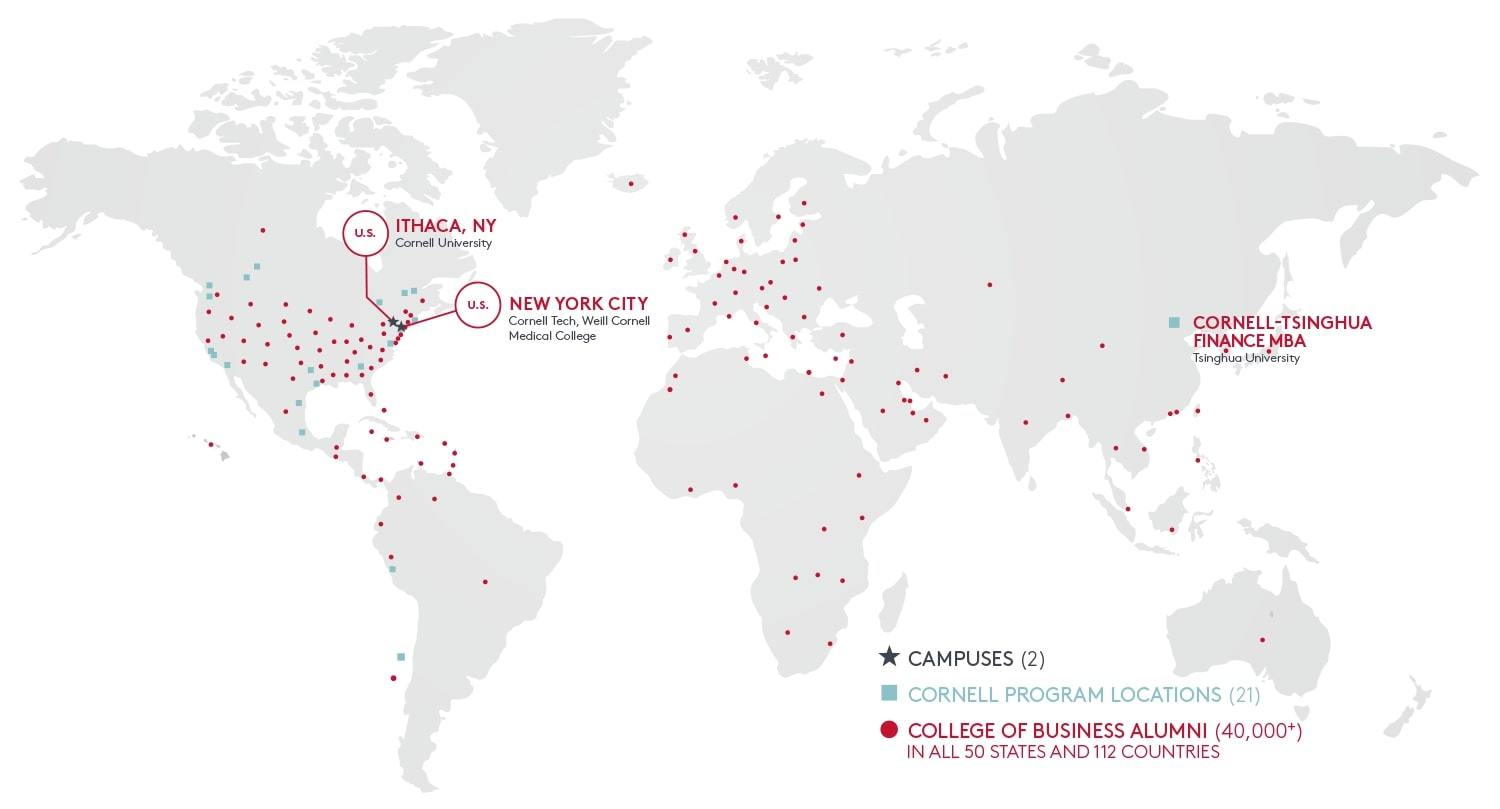 Performance

learning.
Bringing real-world experiences into the classroom and getting students out into the world
---
More than a b-school catchphrase, performance learning connects students to communities and networks both near and far. They gain experiences and insights from hundreds of guest speakers, real client-based projects, NYC intensive courses, domestic and international treks, case competitions, immersions, student-led galas and events, national conferences, service learning, and much more.
What's next for you?
Whether you're a prospective undergraduate who's interested in business, hospitality, or economics, a mid- to senior-level executive, or a future researcher — there's a place for you here.
---
Undergraduate
---
Executive Education
---
Master of Business Administration
---
Specialized Master's Degrees
---
Research-Based Programs
---