Connect With Students
Together, we make a positive impact
Our students are passionate about doing meaningful work in the world. Find out what they can do for your business. Our interdisciplinary undergraduate business education and deep-diving MBA programs prepare our students to confidently step into complex roles and challenges.
Sponsor a Trek
Students benefit from learning on location—and may discover their dream career with you. Sponsor a trek to invite students to your company or organization to learn about career possibilities, experience different professional environments, and get a feel for the next stage in their lives.
We invite companies to work with our faculty to develop presentations and host our students. Financial support to Cornell helps to make these treks possible and is appreciated.
Undergraduate Treks
General treks
Career Management at the Cornell SC Johnson College of Business organizes treks to give students an idea of the wide variety of opportunities and workplaces that exist in the business landscape.
Course-specific treks
Several courses in the Dyson and Nolan Schools involve travel to locations where students visit companies, work on projects, or gain exposure to real-world examples of the principles they learn in the classroom.
MBA Career Treks for student clubs and organizations
MBA Career treks based on industry and location help students to develop areas of interest, discover career opportunities, and network with working alumni. Your financial support can help clubs and organizations to defray expenses for these invaluable experiences.
Mentor
Share your guidance and wisdom with rising professionals, and take pride when they succeed. Contact External Relations for information about event-based and ongoing mentoring opportunities.
Industry-Specific Challenges
During industry-specific challenges, our rising leaders of industry go head to head in a fast-paced, competitive challenge of problem-solving, technology, and disruption. Contact us (ExperientialLearning@cornell.edu) to propose your challenge.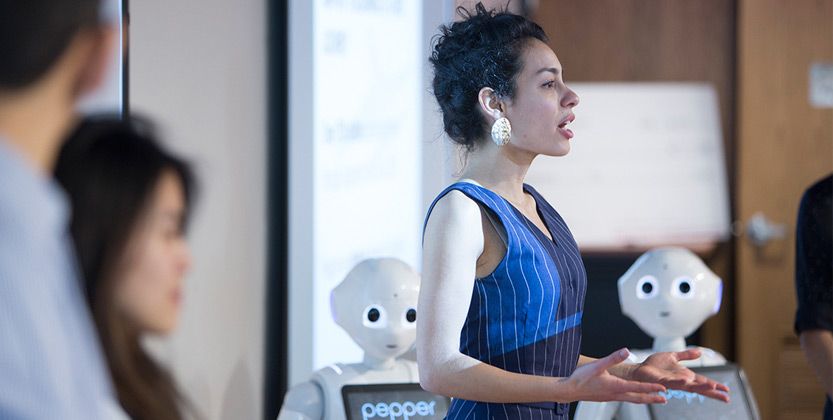 Pepper Challenge
SoftBank asked students to come up with a hospitality use for an interactive humanoid robot named Pepper. Teams competed for $10,000 in prize money provided by The Pillsbury Institute for Hospitality Entrepreneurship. See what the winning team proposed.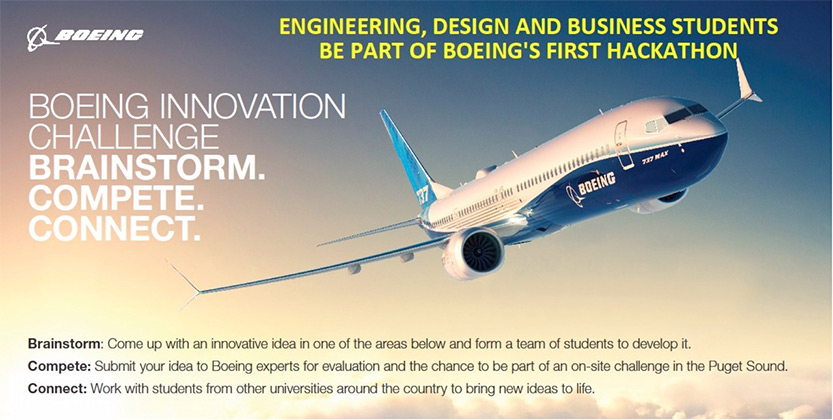 Boeing Innovation Challenge
Students traveled to Boeing headquarters to join teams from other universities in a hackathon centered around disruptive mobility, passenger comfort, and operational efficiency. Read one student's account of the energizing event.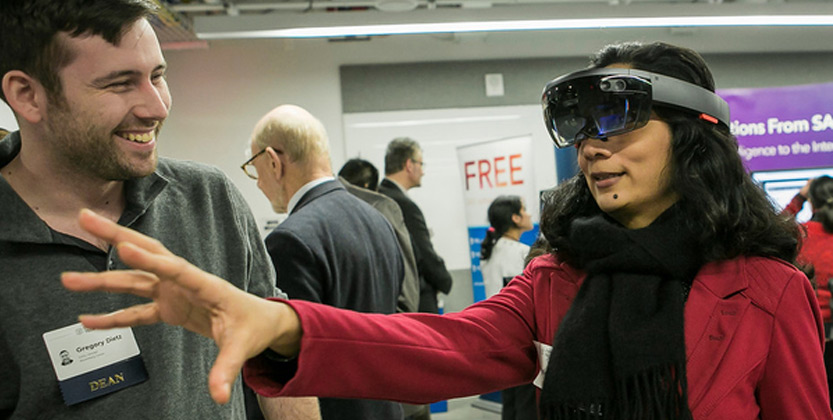 Digital Transformation Hackathon
Tech companies challenged students to use technology to solve problems—"Changing Business, Changing Education, Changing Lives." Learn about the winning team's device that can help doctors determine patients' pain levels.
Submit a Project
In a semester-long project or immersion, student coursework can apply growing expertise to your real-world challenge. Projects submitted by companies should be strategic, relevant, and challenging to our students. Corporate sponsors are invited to their team's final presentation to educate key stakeholders on their findings.
Areas of interest: Consumer insights, digital technology, community challenges, supply chain, sustainability, and more.
Students Learn from Resident Entrepreneurs
The Pillsbury Institute invites successful entrepreneurs to participate in its Entrepreneurs in Residence Program, which involves campus visits to provide one-on-one mentoring to aspiring student-entrepreneurs.
Fellowships and Scholarships
Fund a student
When you provide financial support for a young person, you change a life and make a lasting impact. By providing an Endowed or Annual Scholarship, you'll help ensure that a deserving student has the resources they need to pursue their goals.
More Opportunities
Support student clubs
In student clubs and organizations, individuals with similar backgrounds or interests find community and opportunity on campus and beyond. These student groups work to positively impact their communities and the world—and you can help. Sponsor a club or invest in a student club event, to join in the positivity!
Connect to the classroom
Foundational and experiential learning take place in our classrooms—and you have an opportunity to join us. By supporting classroom technology and activities, you're helping prepare future visionaries and leaders for the realities and challenges of industry.
Sponsor an immersive experience
Bring a class of students behind the scenes at your company's event or activity, so they can experience and learn from the process.
Lead mock interviews
Help students fine-tune their interview skills. You might just find your next great hire!
Hire our students
Hire undergraduate students
Find an intern
Undergraduate student interns