Collaborate
Challenge Our Students
Does your business or organization have a challenge that needs solving? Discover the power of fresh new perspectives as you work with teams of our students to come up with novel solutions.
Submit a project
Harness the collective strengths of a diverse team of students. During a semester-long project or immersion, students will apply their coursework and knowledge to your real-world challenge. Projects submitted by companies should be strategic, relevant and challenging to our students. Corporate sponsors are invited to their team's final presentation to educate key stakeholders on their findings.
Areas of interest: Consumer insights, digital technology, community challenges, supply chain, sustainability, and more.
"Engaging with the Strategic Marketing Immersion is a win-win. It gives me the opportunity to get a fresh, outside perspective from some of the brightest minds globally while giving the students an opportunity to engage in a real-world problem-solving scenario."

Will Brassel, MBA '10, Johnson & Johnson
Share an industry-specific challenge
During industry-specific challenges, our rising leaders of industry go head to head in a fast-paced, competitive challenge of problem-solving, technology, and disruption. Contact us (ExperientialLearning@cornell.edu) to propose your challenge.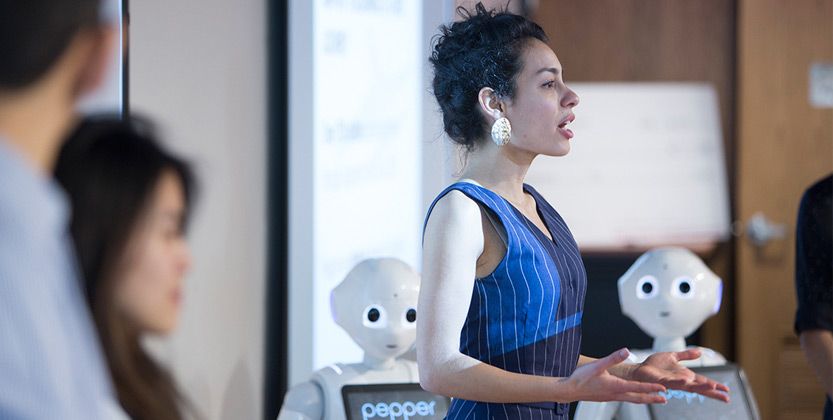 Pepper Challenge
SoftBank asked students to come up with a hospitality use for an interactive humanoid robot named Pepper. Teams competed for $10,000 in prize money provided by The Pillsbury Institute for Hospitality Entrepreneurship. See what the winning team proposed.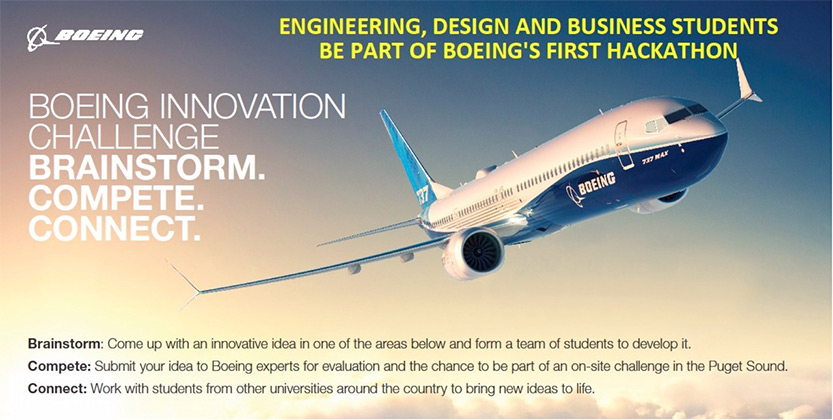 Boeing Innovation Challenge
Students traveled to Boeing headquarters to join teams from other universities in a hackathon centered around disruptive mobility, passenger comfort, and operational efficiency. Read one student's account of the energizing event.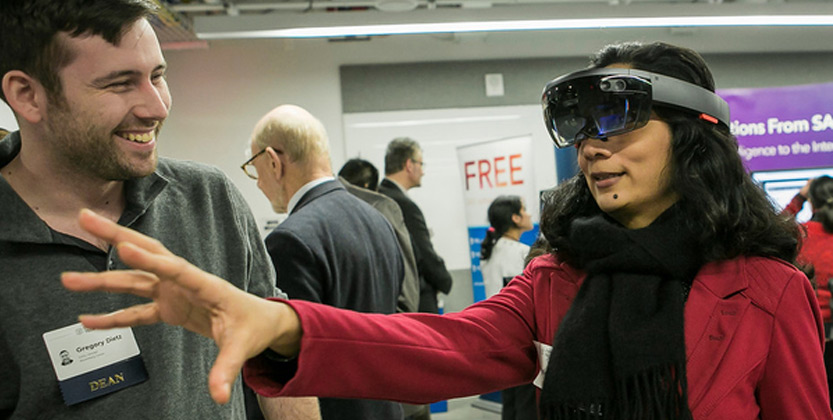 Digital Transformation Hackathon
Tech companies challenged students to use technology to solve problems—"Changing Business, Changing Education, Changing Lives." Learn about the winning team's device that can help doctors determine patients' pain levels.
"SoftBank was really happy to come to Cornell, to access new ideas in software, hardware, social sciences. So it's the beginning of a long story, I hope, between SoftBank and Cornell."

Rodolphe Gelin - Chief Scientific Officer, SoftBank Robotics
Collaborate on Research
Collaborate with our expert faculty to propose new research topics. Not only will you benefit from the knowledge and insights discovered—you can enhance the student experience with your data and support. Through our Centers & Institutes, faculty are able to expand both the quality and volume of research supporting specific industries and make advancements on a national and international scale.
Industry-specific research
Are you looking for research to support and boost your decision making? With a formal agreement in place, faculty will work on your sponsored research project to provide a specific deliverable product or report. Contact us (externalrelations@business.cornell.edu) to get started.
Support our research
Interested in supporting our students and faculty as they work on industry-changing research? Through corporate gifts and grants—and by providing data—you can support focused work of faculty in our Centers & Institutes, student-faculty research projects, the service-based work of our Student Multidisciplinary Applied Research Teams (SMART), and much more.
Access our resources
There are many ways our knowledge, resources, and key learnings can help you support your organization's work and growth—such as working with our SMART teams for technical assistance and analytical support or learning how to form a cooperative through our Cooperative Enterprise Program.
Visits: Our site or yours
Find out how partnering with us could benefit you by visiting us on campus or hosting a site visit at your corporate office. Cornell SC Johnson College of Business leadership, faculty, and staff will learn about your business and its challenges to determine the most powerful partnership opportunities. Recent visits and partnerships include Johnson & Johnson, Credit Suisse, Ernst & Young, Pfizer, Boeing, Google, the NHL, Salesforce, CipherHealth, and Airbnb. Email us to schedule your visit today.
"I was really inspired by my time at Cornell, which included a warm welcome, amazing engagement and insights from a number of students, strong interest in aviation/aerospace…I definitely want to make Cornell engagement and associated recruiting a priority."

Airline Executive, Fortune 50 company
Join collaborative initiatives
How are you changing the world? Join us in supporting initiatives that make a positive impact for people and communities.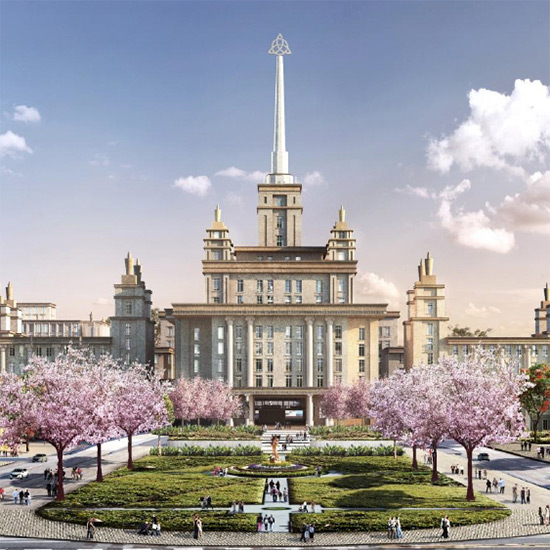 VinUniversity
Cornell is working with Vingroup to create a new world-class private university that contributes effectively to the key economic sectors of Vietnam and the global knowledge-based economy.
Cornell is involved in every aspect of development from infrastructure and campus reviews, to curriculum development and faculty hiring.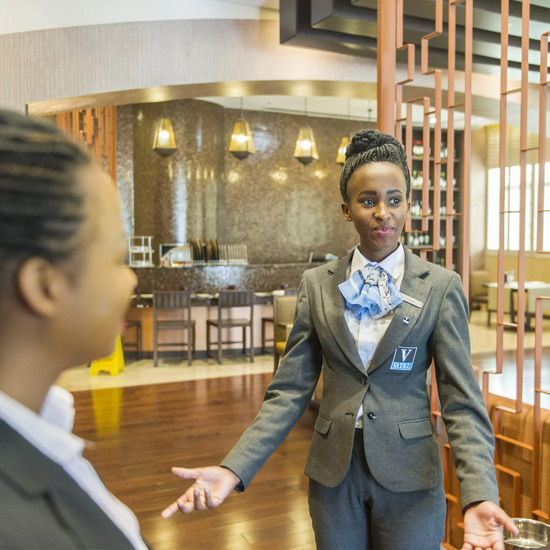 Hanga Ahazaza
The Mastercard Foundation's initiative Hanga Ahazaza, which means "creating the future" in Kinyarwanda, the official language of Rwanda, aims to provide training for 30,000 Rwandans.
In partnership with the foundation, we are providing training and educational resources in hospitality and tourism.
Develop Your Talent
Leaders never stop learning. With convenient opportunities for executive education and professional development, we will help your leaders and teams continue to grow and reach higher levels of success.
Explore executive education opportunities for professionals and organizations. From live courses to online learning—or a custom blend of the two—you'll discover opportunities to learn and gain credentials without disrupting your work life.
Professional development
With short-term, fast-paced learning opportunities, our professional development programs will prepare you (or your employees) for continued success in rapidly evolving industries.
Industry-Specific Programs
General Managers Program
A transformational learning experience for elite hotel general managers and their immediate successors.
Looking for something different?
Discover eCornell for online certificates, corporate programs, and web series across a variety of industries and learning areas. With 70+ online programs and the convenience of remote learning, there's something for everyone.
---
Partner as Educators
Working in partnership with business schools around the world, we provide students with truly global learning experiences and opportunities. Partner with us to add to your students' education and help them reach their career goals.
Global academic immersions
Bring your students to our Cornell campuses in Ithaca or New York City for a non-credit-bearing immersion with the Cornell SC Johnson College of Business. Our faculty tailor their lectures to the needs of your student group, whether an executive MBA program or undergraduate program.
Can't make it to campus?
In some cases, our faculty may travel to international destinations to deliver non-degree programs to students at their home campus. This depends on the timing of the desired program and the availability of our faculty.
Study abroad and exchange
Our undergraduate and MBA students participate in a variety of exchange and study abroad programs. We are selective in our exchange agreements with prestigious business programs around the world to ensure that students receive a similar academic experience and that we can sustain an even flow of students between exchange schools.
For more than a century, there has been a strong connection between Cornell University and China, supporting the global exchange of ideas, talent, and community. Learn More
One-year master's articulation agreements
The Dyson School, Johnson, and the School of Hotel Administration each offer pre-experience, one-year MPS (Master of Professional Studies) programs.  Contact us (externalrelations@business.cornell.edu) if you are interested in creating a pathway for your students to expand their business skills before starting their careers.
Global organizations
Connect with the Cornell SC Johnson College of Business in these member organizations:
Global Business School Network (GBSN)
Partnership in International Management (PIM)
BisNet