The chief marketing mind behind Topo Chico's success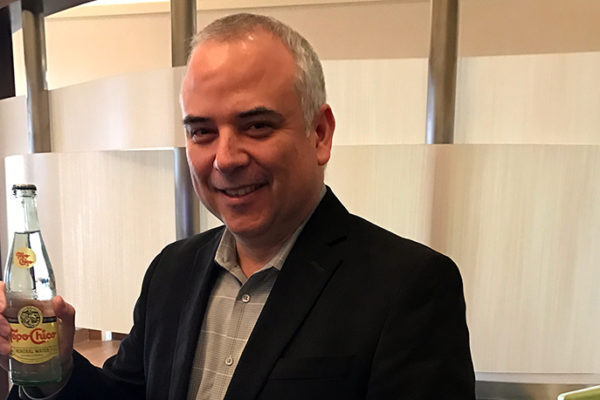 Gerardo Galvan, Executive MBA Americas '18
Solid education, constant self-improvement, and innate marketing talent have brought Gerardo Galvan to the pinnacle of North America's beverage industry. As president and general manager of Interex, a Dallas/Fort Worth-based commercial firm, Galvan directs sales of one of the industry's hottest drinks, Topo Chico, a sparkling mineral water bottled in Mexico that has seen annual U.S. sales grow by a cork-popping 35 percent over the last three years, tops in its category.
Bottled near Monterrey and sold in 35+ states in addition to Mexico, Topo Chico has become an "in" drink, especially in Texas, so much so that it recalls the ubiquity of Evian and Perrier in past decades. Its clean, effervescent, and clear taste has made it the drink of choice among health- and status-conscious clientele at trendy restaurants in Houston, Dallas, and Austin. Twelve-packs of the mineral water with its distinctive yellow sun logo are increasingly prominent on supermarket shelves, where sales have shot up from virtually nil 15 years ago to a current 14 percent share of the U.S. retail market for imported mineral waters. In Texas, its market share is more than 60 percent.
"We always wanted to position ourselves as a premium product, and now we can honestly say that one of our selling points is you look cool with a bottle of Topo Chico in your hand," says Galvan, 53. He began his career in 1986 at the Coca-Cola Export Corporation straight from undergraduate studies at the University of Monterrey and then in 1997 moved to Arca Continental, the fourth-largest Coca-Cola bottler in the world and Interex's parent company. He noted that while the groundswell of Topo Chico's popularity began in supermarkets (off premises), demand is increasingly complemented with rising on-premises sales in trendy restaurants. "That shows we really have a lot of acceptance."
At the heart of Topo Chico's success is, of course, the quality of the product. For 120 years, it has been bottled at the source, just north of Monterrey. The accomplishment of Galvan and his team has been to execute a patient, years-long marketing campaign to make U.S. consumers aware of it, helping the brand to transcend its initial status as an "ethnic" novelty. Galvan has done so painstakingly with taste tests, repackaging, and, more recently, co-promotions with the likes of Chivas Regal and Jim Beam whiskies. Recently, Galvan has leveraged the drink's popularity in the music industry by sponsoring VIP lounges at music festivals, including Austin City Limits and Lollapalooza.
But even as he rose through the ranks of one of Mexico's largest bottling companies, Galvan never lost sight of a deeply held career goal, that of obtaining an Ivy League MBA. The higher he rose in Arca Continental's ranks, the desire for the degree only burned brighter. Now, with the strong backing of his parent company Arca Continental, which previously sent two other execs on the program, Galvan is on course to earn his degree via the Cornell Executive MBA Americas program, class of 2018. Proof of the importance Galvan attaches to achieving it are the sacrifices he makes to attend most of his classes in Monterrey, 600 miles south of where he and his family live in Coppell, Texas. From time to time, he attends class in Dallas.
"When he applied to our EMBA Americas program, we were at capacity in our Dallas boardroom," explains Cornell Executive MBA Programs Interim Admissions Director Sarah Sarhangi. "He was so committed to joining the class of 2018 that he agreed to join the team in Monterrey rather than defer his admission to the class of 2019."
Why is earning an MBA so important to Galvan now? "It's a personal goal, and sometimes personal goals are hard to explain," says Galvan. "Let's just say that after learning the basics of my industry and putting them in to practice over the last 30 years, now I am reviving the theory. It's recognition that I know a lot of things. Knowing that I can be successful while taking the course gives me a lot of incentive to keep working. Most of the students are 35 or 38 years old, but at 53 I don't feel old — far from it. The classes are giving me lots of energy."
Statistics classes are of special value to Galvan so far in the MBA course, because they will help him reinforce price positioning and market research analysis by incorporating distribution curves and standard deviation factors. He can also better calculate basic business measures such as net present value and EBITDA.
"I wish I could have taken this MBA course 15 years ago," Galvan says. "In three months, we have gone over what took me 15 years of empirical experience to absorb — and I could have accelerated the process."