Profile in Leadership: Ian Kline '92, President and CEO, The Cadmus Group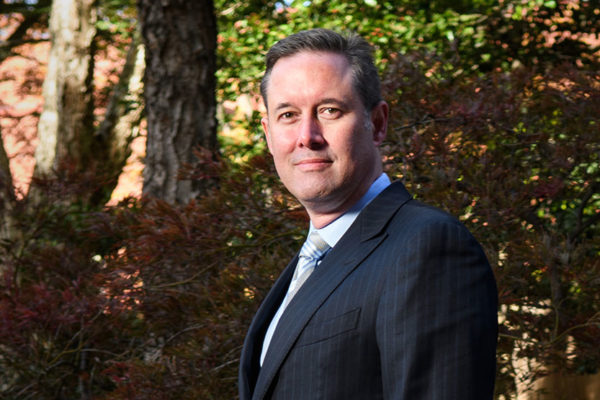 Scaling up for sustainable solutions
When Ian Kline became CEO of the Cadmus Group in 2007, the government consultancy was small and best known for its work on drinking water issues. With about 100 employees, it had $30 million in revenue, 92 percent of it from the Environmental Protection Agency.
Ten years later, Cadmus has grown to more than 500 employees and about $110 million in revenue, only 20 percent of it from the EPA. Its clients today include USAID, FEMA, DOT, DOE, and major utilities.
Kline transformed Waltham, Mass.-based Cadmus from a niche player to a rising power in water, energy efficiency, climate change resilience and adaptation, renewable energy, homeland security, sustainable transportation, international development, and infrastructure management and finance. Rather than framing social and environmental challenges as a burden, Cadmus helps its clients address them as opportunities. Much of its consulting work concerns developing and implementing innovative solutions that help governments and the private sector better address public health, environmental, energy, and homeland security issues.
Cadmus shares that ethos with Johnson's Center for Sustainable Global Enterprise, which Kline supports as an advisory council member. He is also a member of the Cornell University Alumni Advisory Board Committee on Sustainability, which provides support and counsel to the leadership of sustainability activities at Cornell University, principally through the David R. Atkinson Center for a Sustainable Future.
Kline's aggressive growth strategy looks especially prescient as the Trump administration moves into Washington, D.C., with a government-cutting agenda. Cadmus' broad client base means there will be opportunities for the firm. When looking out his window at the many-colored trees of a warm late fall outside Washington, D.C., Kline said the effects of climate change aren't going away, no matter how much people disagree about what could or should be done to stop it.
"No matter what the rhetoric is, people are going to need help. Sea levels are going to rise. There will be droughts, rising temperatures, and other effects," Kline said in his Bethesda, Md., office.
The Acquisition Strategy
Key to the Cadmus transformation has been a series of acquisitions. When Kline became CEO, he invested heavily in information technology and back-office infrastructure, recognizing that would create a strong platform to acquire other consultancies, said Ralph Jones, one of Cadmus' two founders and the person who hired Kline straight out of graduate school (the other co-founder is Gene Fax).
"He began investing in infrastructure up to a scale that could handle $500 million in revenue. He started this when we were at $35–40 million," said Jones. "As we evaluated potential acquisitions, we could find brilliant technical people in organizations that needed large-scale infrastructure. I never would have thought of it that way."
Under Kline, Cadmus acquired, among others, Quantec, an analytics firm in the energy industry, Constructive Technologies Group, which was focused on sustainability and energy efficiency in buildings and communities, and this year, Obsidian Analysis, a homeland security firm.
The last isn't an obvious play in the sustainability arena, but the acquisition enables Cadmus to serve client governments and companies that should be prepared for all threats — including, say, a 100-year flood.
"I am 100 percent committed to ensuring my children and everybody's children are left with a world in which they are able to meet their needs and achieve their dreams, no matter what political administration is in office."
"He's one of the best strategic thinkers I have seen," said Amy Marasco, a member of the Cadmus board and the founder of Marasco Newton Group, a 350-employee firm she later sold that competed with Cadmus as a government consultancy. "Cadmus has always been a strong, highly regarded firm. Now, it has become a major player."
Knowing his strengths and his passion, Marasco recruited Kline to serve on the board of her own new venture: The Nature Generation, a nonprofit that helps connect kids to nature, laying the groundwork for them to become environmental stewards. "I've seen him sit on the floor reading our Green Earth [Award] books to kids, and he has them fully engaged, be it on climate change or saving a forest or planting a meadow," she said.
Kline and his wife have five children — a 13-year-old son and two sets of boy-girl twins, ages 7 and 3. Though he has been known to spend all night at the office, he is usually at his desk from 8:30 a.m. to 6:30 p.m. "I'm committed to seeing every one of my kids before bed," he said. Kline also works for two to four hours starting at 10 p.m. every night. "I'm fortunate not to need a lot of sleep," he added, without a touch of irony.
The Hands-On Tactician
As Cadmus has developed a broader footprint, it's been crucial that Kline stay abreast of what's happening in different corners of the firm, said Peter Jardine, Cadmus vice president of corporate and business development. He does that by staying involved in client projects. For instance, Jardine said, Kline went to Africa for a week when the firm was starting an international aid practice. He was in California this year, participating in a meeting on emergency preparedness for homeland security clients.
"I've known leaders who have been high-level thinkers but didn't sweat the details," said Jardine. "Ian is not. He's incredibly diligent, ensuring that he knows his facts."
He's also good at projecting his warm personality to Cadmus' 14 offices, Jardine said. He remembered with a laugh the time that Kline broke into a jig while he waited for a companywide video conference to start.
That connection to employees serves him well when it comes time to push the company in a new direction. Marasco said Kline tends to build consensus before he articulates a vision. For instance, he explained to employees that the best way to grow the firm's impact would be through continued emphasis on mergers and acquisitions, which got tremendous feedback, she said. "He told us, 'The employees are jazzed by this. What do you think, board of directors?'"
Life Lessons in Resilience
Kline developed a sense of balance between tactical and strategic, between short term and long term, and between leading and letting others lead while he was growing up in rural western Maryland. There, he enjoyed running in the fields and woods and gained a deep appreciation for the natural world.
The son of a preschool teacher and an elementary school principal, he was the first in his town to go to an Ivy League school, he was told. His life changed the day he left for Cornell, though not in the way he expected. As he and his parents drove up Route 15 toward upstate New York, a driver came barreling through one of the intersections. The bike on the back of the car came smashing through the back window and hit him in the neck, injuring his spine.
Because he couldn't easily bend his neck, he struggled to study his first semester. Unable to play sports (he had been recruited to run track), he found a different community of people in an a cappella group and began leading campus tours. He joined the College Scholar Program, which enables students to design their own interdisciplinary majors. He developed the resilience that is key to being a leader in any field, but especially in a consulting firm, where the sales cycle is constant.
In long conversations on the phone with his parents that semester, he learned how to carve a new path when the first one didn't work, he said. "They told me, 'It's not going to be a fairy tale, but you're going to create something amazing.'"
After graduating with his bachelor's degree in social and environmental studies from Cornell's College of Arts and Sciences, attended the University of Southern California, where he earned his master's in public policy, specializing in environmental policy and management. A classmate whose brother worked at Cadmus and knew they were hiring advocated for Kline, and Jones took a risk on the young man, hiring him sight-unseen on the strength of his résumé and the recommendation. Kline turned down an offer for twice the salary at a large consulting firm because he liked the work at Cadmus.
In Kline's first job evaluation, his response to the question, "What are your objectives?" was "I want to be CEO of Cadmus," Jones remembered. "I rather liked that," Jones said.
But after six or nine months into the job, Kline was getting restless. "I was an idiot," he said, in retrospect. "I wasn't being asked to take leadership roles, and I thought I should have been."
He wrote his father a letter complaining about the situation — and heard back by phone a few days later. In that conversation, his father reminded him you have to give things time and underscored the value of the close working relationship Kline had already formed with Jones.
Within a few months, the situation had changed, and Kline was handed four or five projects to manage. Later, he went to an executive program at Harvard Business School that taught him more about business building. After that, he came back and helped to start three new practices within Cadmus.
A Natural Consultant
Kline showed signs of being a natural consultant early on at Cadmus, Jones said. He cited Kline's skill at leading a meeting of government officials in Washington, D.C., that focused on revising the formula by which funds were distributed to the states under the Clean Water Act.
The formula dated from the 1950s and was based on several factors, with an emphasis on population density. This meant that states like Rhode Island got a relatively large amount of funding and states like Arizona got very little. To complicate the situation, John Chafee, the senior senator from Rhode Island, was the minority leader of the Senate Committee on Environment and Public Works, and he opposed any change that would threaten to reduce federal funds for his state.
"There had been attempts by very sophisticated people to change that formula for years. Ian facilitated a meeting and got it changed," Jones said.
Kline has the ability to read a room, to connect with people, to know when to encourage others to speak and when to speak himself, Jones said.
When Cadmus' two co-founders decided to step down, Kline became the obvious choice, Jones said. They also wanted to hand over the firm to their employees, so they elected to sell the firm to an employee stock ownership plan (ESOP). After leading the firm through the transition to an ESOP, the founders promoted Kline.
Under the Cadmus ESOP, when an employee leaves, the company buys back his or her shares, so every employee has a vested interest in its success. The shares have appreciated 118 percent in value since Kline became CEO in 2007.
An introspective man, Kline is quick to learn from the mistakes that are inevitable for a CEO. His first board meeting was a disaster, he remembered. "I came in really pushing my agenda," he said. He was aggressive, dismissed objections, and called some members' points irrelevant. The next day, Jones asked to see him and told him that he'd been inappropriate. "You could have been fired," he said.
Kline remembered feeling a haze of defensiveness. Looking at his mentor, he thought about fighting back. Then he realized Jones had never spoken to him this way before: Kline had been wrong.
"I never want to have this meeting with you again," he told Jones, and then took each one of the board members to lunch individually to apologize.
Challenges in the Industry
Kline became CEO at a fairly difficult time in the industry. Federal spending has been steadily shrinking since 2011, and there's been a consolidation among consultants as a result.
The danger for a consulting firm's leader is the temptation to grab any contract that comes along in the struggle to survive. Even if that approach works, a consulting firm can grow unwieldy and inefficient. So a CEO's challenge is to keep the firm growing, but with a cohesive identity.
"No matter what the rhetoric is, people are going to need help. Sea levels are going to rise. There will be droughts, rising temperatures, and other effects." — Ian Kline
Kline said he uses three guidelines in his decision-making: Make an impact. Create opportunities for colleagues. Grow the business.
Cadmus will continue to acquire companies that will augment its technical capabilities in services ranging from managing climate security to regulatory support to communications, Kline said. The firm's aim is not to enter new markets; rather, it seeks to construct a portfolio of capabilities that can serve its clients' increasingly complex needs.
Cadmus' success in the sustainability space has led to deepening ties with Johnson. Kline visits campus and has hosted students at Cadmus so they can see how the consulting firm operates. He has helped give the Center for Sustainable Global Enterprise strategic advice on how to best grow, work effectively with the private sector, and better serve students and alumni, said Mark Milstein, clinical professor of management and director of the center. "He's approachable, intellectually curious, down-to-earth, and humble," Milstein added.
The brash ambition that hung him up as a leader when he considered leaving Cadmus and at his first board meeting is nuanced now, but has never waned. Gesturing toward a whiteboard wall covered one-half by numbers and agendas (the other half filled with drawings by his kids of cars and princess castles), Kline said he'll consider himself as having failed if the firm doesn't reach $1 billion in revenue in ten years, while making an impact.
Always tuned in to the environment, he was bothered by the warm fall in Washington, D.C., where temperatures were 20 degrees above normal. Climate change is on his mind all the time, he said. While he has spoken with other executives about how to manage the uncertainty of the new administration, he said he is not worried about the short term. His job is to manage Cadmus and create an impact — for the long term.
"I am 100 percent committed to ensuring my children and everybody's children are left with a world in which they are able to meet their needs and achieve their dreams, no matter what political administration is in office," he said. "We're talking ten generations from now."
Photo by Denny Henry