A Journey to the East and Back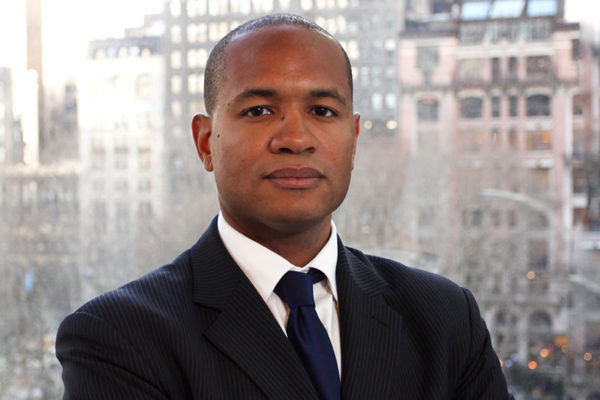 Morgan Alexander Jones, MBA '15, COO of US-China Strong
In a subtle but powerful way, Morgan Jones was exposed to Chinese culture even before he went to school. He was enthralled by "Journey to the West," a popular Chinese TV show that aired on American television. The series was subtitled, but ran completely in Mandarin, and Jones, then four years old, would mimic the language he did not yet understand. Now fluent in Chinese, today Jones serves as the chief operating officer of the US-China Strong Foundation, a nonprofit organization that fosters educational, cultural, and economic relations between the two largest economies in the world.
US-China Strong was previously named the 100,000 Strong Foundation, referring to its goal of sending a hundred thousand Americans to study abroad in China — a goal the organization met in 2014. Today, Jones and his team have their eyes set on even more ambitious targets. Together with sending undergraduate and graduate students to China and creating an alumni network of young scholars and professionals, they want a million domestic American students from kindergarten through high school to learn Chinese. The program, 1 Million Strong, kicked off with a joint announcement by then-President Barack Obama and President Xi Jinping during the latter's visit to the United States in 2015.
"One of the basic ways to start understanding Chinese culture is to learn the Chinese language." — Morgan Alexander Jones, MBA '15
The foundation's focus on language is strategic. "A lot of people think Chinese is hard," Jones says. At the same time, "A lot of business people want to work in China but lack that language component," he remarks. Yet in order to successfully engage China, he explains, "You have to start with understanding Chinese culture, and one of the basic ways to start understanding Chinese culture is to learn the Chinese language."
Dedicated to growing the next generation of leaders who have a deeper understanding of China, 1 Million Strong incorporates three major directives. First, US-China Strong works with educational organizations, on both state and federal levels, to help schools throughout the U.S. incorporate Mandarin into their curricula. Second, the teacher training program aims to train educators to enable them to provide better educational opportunities for language learners. Third, the tech component explores how technology can make Mandarin language learning accessible for students across the country — particularly those in rural or underserved areas — and how social media and other digital tools can amplify and expand the organization's aims.
On all three fronts, US-China Strong works with a diverse group of implementation partners — public and private organizations that cooperate and coordinate their efforts.
After graduating from Middlebury in 2004, where he studied Chinese, Jones lived and worked in China. While there, he witnessed the rapid growth and expansion of China's economy and in his free time he taught business English to students at Nanjing University. After returning to New York City, he worked under then-Mayor Michael Bloomberg in New York's Community Affairs Unit, where he first became interested in public-private partnerships. Gradually his interests in public-private partnerships and in business and economics converged: "I realized the importance of speaking the language of business, and I wanted to leverage that to help public industries perform better, have more funding, and impact a wide array of people," Jones says.
That realization led him to consider getting an MBA degree. At Johnson, he sought to combine his MBA training with his strong interest in China; he chose just the right place to do that. Here, Jones met peers from a diverse array of industries who shared his interest in China and had worked on China-related projects in their academic and professional lives. Jones credits classes he took at Johnson, especially those in negotiations and finance, for preparing him for his current role at US-China Strong. "While at Cornell, I was able to learn a lot from my classmates and share what I know about this different culture and this growing and changing economy that is China," he says.
As the COO of US-China Strong, Jones combines his MBA training with a deep knowledge of Chinese culture to oversee all parts of the organization's activities, work with strategic partners in both China and the United States, and make sure that the nonprofit's vision is effectively communicated to the general public.
Looking ahead, Jones expressed optimism in the future of U.S.-China relations. The Chinese-American community is growing fast. Cultural and economic ties, even in a relatively unstable geopolitical environment, are bound to deepen. Jones envisions US-China Strong as an integral part of that process. "It is all about bridging that gap between two of the most important and impactful economies today."