Finding Common Ground in Public Service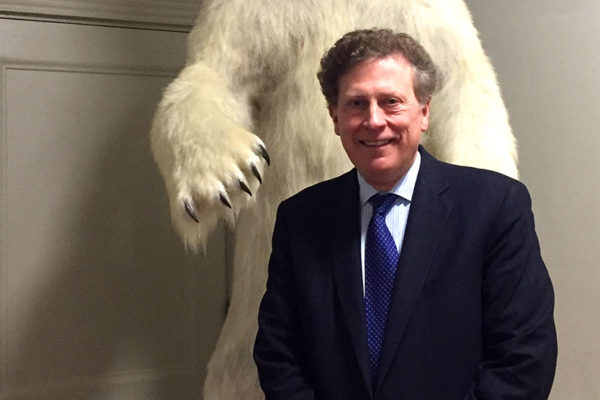 Scott J. Cameron, MBA '79
Scott Cameron is drawing on four decades of experience in public and private natural resource, energy, and environment management — and his proficiency in building bridges across diverse constituencies — to implement an ambitious change agenda at the U.S. Department of the Interior.
As principal deputy assistant secretary for policy, management, and budget, Cameron oversees the central management functions of a federal agency with 70,000 employees and a $14 billion annual budget.
"The Department of the Interior has a multifaceted mission," Cameron says. "Its eight bureaus range from the National Park Service" — which manages 59 parks, including Yellowstone, Grand Canyon, and Yosemite —"to the Bureau of Indian Affairs, which deals with some of the most impoverished communities in the country."
Since his appointment in January 2017, Cameron has focused on integrating the disparate missions across the department.
"To some extent, the department is really a holding company of fiercely independent subsidiaries, each of which has its own culture," explains Cameron. "The challenge is one of integration; to create synergies across these various capabilities, make sure they're not working at cross-purposes, and get them focused on a common objective — to the extent their underlying congressional authorizations allow them to have a common objective."
Under the current administration, that common objective centers around "functioning in an environment of constraint."
"We're in an environment where cash is short, and budgets are unlikely to go up at the national level," Cameron says. His focus is on reducing overhead to maximize available resources and identifying the inefficient duplication of services and "activities that are low value or not contributing to the mission."
Cameron has had a long and distinguished career in the public sector. He has also held elected public office as a director of the Northern Virginia Soil and Water Conservation District, served as a congressional staffer, and worked for the State of California, where he wrote and negotiated the first National Governors Association policy on invasive species.
A passionate advocate for more effective invasive species control programs, Cameron founded the Reduce Risks from Invasive Species Coalition (RRISC), a nonprofit that educates Americans about the significant risks posed by invasive plants and animals to the economy, environment, and public health of the United States.
"If you'd asked me 20 years ago what two things I would never do in my life, one would be running for elected office and the other would be founding an organization from scratch," says Cameron. Yet in his early sixties, he did both. Cameron and his wife, Holly, live in Alexandria, Va., and have a son, Carson, who is a student at the College of William and Mary.