Taking third at the Cornell International Real Estate Case Competition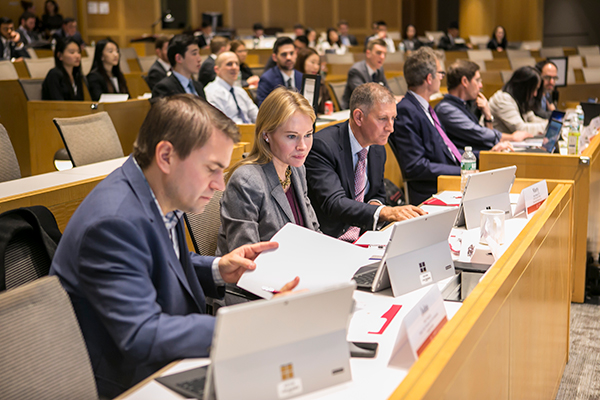 By Christie Choy '18
The Cornell International Real Estate Case Competition is an annual event that gathers undergraduate students from universities across North America, Europe, Asia Pacific, and Australia to analyze a real-world commercial real estate transaction and present a recommended investment strategy to a panel of judges who are leading real estate executives in the industry.
The 9th annual competition took place during November 2017 in New York City, and the Cornell team placed third among 27 competing teams. As one of six students representing Cornell's team, Fulcrum Capital, I have the honor of sharing my remarkable experience from being selected to join the team to presenting our analysis at the prestigious competition.
Team composition and training
Competing students must first undergo training in the eight-week course HADM4235: Cornell Real Estate Case Competition Course. Each week, the class split into two teams to practice analyzing case studies, developing PowerPoint presentations, and pitching investment recommendations. Senior lecturer and team coach Daniel Lebret then selected six students to form the final team representing Cornell. Members of the team were selected based on factors such as individual strengths, real estate aptitude, creativity, presentation skills, and most importantly, the ability to work harmoniously as a team.
While classes officially occurred once per week, we convened nearly on a daily basis to work through cases. One of the most challenging aspects was balancing workload from case practice while keeping up in other courses, being involved in extracurricular commitments, and for some members, undergoing full-time recruitment.
Case release and competition
Weeks of training and practice were put to the test when the case was released several days prior to the presentations. We were moderately surprised to find that the case revolved around a property situated in Madrid, Spain. Nonetheless, through working for 10 to 12 hours per day and quickly reaching consensus about our investment thesis, we made strong progress from start to finish.
On the morning of the presentations, the tension in the breakfast room was palpable as each team prepared for their presentation. The 27 teams were split into six pools, and only one team from each room would make it to the finals. Knowing there would be no second chance, we did not allow our nerves to jeopardize our performance. After being critiqued on our investment recommendations, presentation delivery, and ability to answer probing questions, Fulcrum Capital was selected to advance to the finals.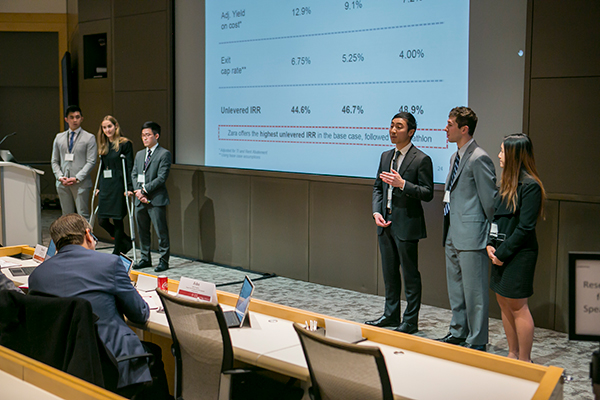 We put our best foot forward at the pinnacle of the competition while presenting our pitch to an auditorium filled with audience members and a panel of judges. While mildly disappointed that we ultimately did not win the competition, we were tremendously proud to have delivered a phenomenal presentation and finished on the podium.
Key skills and takeaways from the real estate case competition
Through the many hours put into case practice and the experience of the competition, some of the important skills I have adopted include:
Identifying sources for reliable commercial real estate data such as market occupancy, rent, absorption, capitalization rates, tenant improvements, sales comparables, previous transactions, etc.
Analyzing quantitative data and presenting return metrics in a manner that can clearly be understood by the audience
Crafting perspicuous and structured presentation slides by taking advantage of message titles, minimizing text and numbers, and considering the flow in presentation order
Determining the breadth and depth of information that is presented under a time limit
Developing an understanding of industry standards and experienced professionals' investment thought process
Embracing productive conflicts while collaborating and communicating efficiently in a small team
Perhaps the most significant takeaway from the entire experience is to be skeptical of every investment opportunity; as promising and lucrative as a deal may seem, all transactions are prone to a variety of risks, thus requiring a comprehensive downside protection strategy.
An invaluable opportunity
Being a member of the competition team was truly a unique and invaluable opportunity to work on an actual transaction, present strategic recommendations to an investment committee, and receive feedback from executives at influential firms in the industry. I would highly recommend any student aspiring to work in the real estate industry to participate in the competition because experiencing such a rigorous exercise equips students with extensive knowledge and practical skills that resemble the qualifications of a full-time analyst.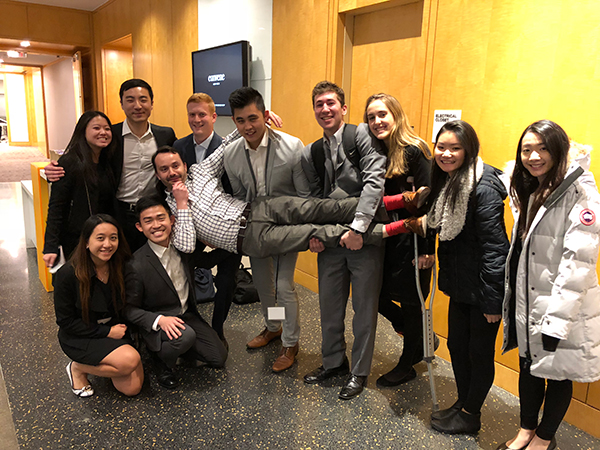 Among the most memorable parts of the experience for me was working alongside five intelligent and driven team players as well as delivering a presentation during the finals that represented a culmination of weeks of practice and years of real estate education. I would like to thank the School of Hotel Administration, competition organizers, industry judges, team coach, and competition sponsors for making the event a success, and I look forward to seeing this annual competition continue to attract even more schools worldwide.

---
About Christie Choy '18

Christie Choy '18 is a fourth-year undergraduate student at Cornell's School of Hotel Administration pursuing a minor in real estate and a concentration in finance and accounting. Upon graduation, she will relocate to Toronto to work for the Canada Pension Plan Investment Board (CPPIB). Born on the beautiful Canadian West Coast, Christie enjoys learning about different cultures through trying new food, going on hiking and skiing trips, as well as watching eSports games.