An urban farmer aims to address food insecurity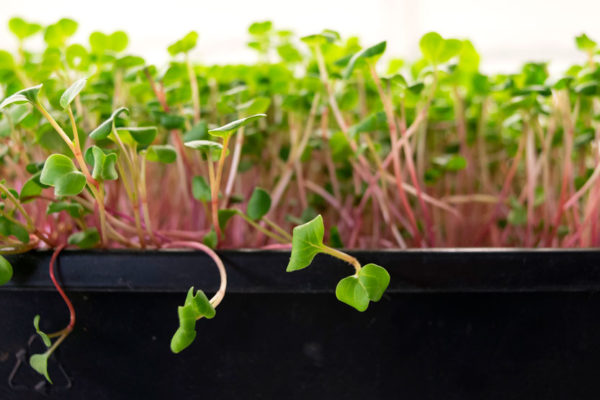 Harlan Blynn, MBA '10
Last year, Harlan Blynn was reorganizing papers in the office of his Denver-based consulting firm, Certain Rivers Strategic Marketing Services, when he stumbled across his Johnson admissions essay about urban farming. After rereading it, he suspended his management consulting practice to launch a new startup — an urban farm in Denver.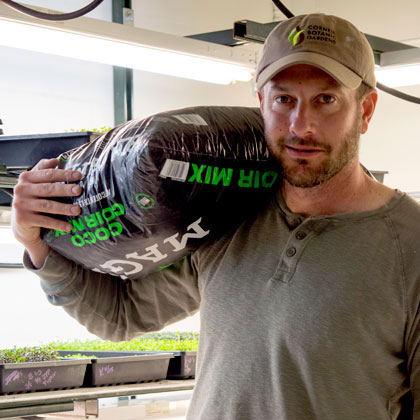 A lifelong gardener and already a successful entrepreneur, Blynn decided that he wanted to apply his expertise and experience in management consulting to something close to his heart: growing food on urban farmlands to combat food deserts. According to a 2017 report,
Uncharted Food Access: Tackling Food Deserts in Denver, nearly half of moderate- and low-income neighborhoods in Denver lack access to a full-service grocery store, and one in six families suffer from food insecurity. Blynn launched Topping Out Farms, an urban farm in the heart of Denver, to serve these communities.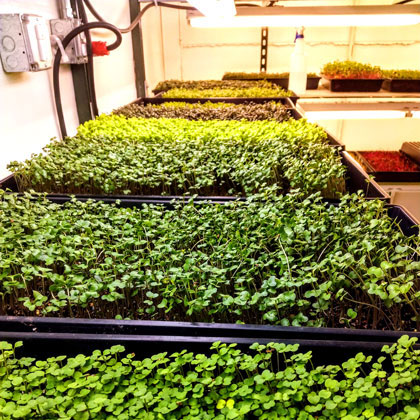 "I came up with the idea for Topping Out Farms by coupling the problems of food deserts with my personal passion of growing things and feeding people," Blynn says.
The Denver Green Roof Initiative was also an important impetus for Topping Out Farms and, through its repurposing of urban rooftops into viable farmland, Blynn envisions combatting food deserts from directly within the city center. The initiative, which took effect Jan. 1, 2018, requires any building with a gross floor area of 25,000 square feet or greater to construct a green roof that covers at least 20 percent of roof space. The purpose of this mandate is to create a more climate-friendly environment and reduce Denver's notorious urban heat island (UHI) effect. Green roofs can reduce energy consumption, help to manage storm water, create biodiversity for animals and, of course, host gardens and farms.
"Farming is one of the unintended benefits that will create a positive net present value for the Green Roof Initiative," Blynn says.
"Farming is one of the unintended benefits that will create a positive net present value for the Green Roof Initiative."
Before launching Topping Out Farms, Blynn developed his minimum viable product by growing microgreens (young, leafy vegetables) in both his backyard and his basement, packaged them in Ziploc bags, and sold them to friends and family and via word of mouth. Once he confirmed that his product was selling, he signed a lease and moved into his indoor farm, where he has been growing greens since Feb. 7. He'll join Denver's Union Station Farmers Market as a vendor beginning May 12 and expects to announce his first rooftop farm soon. When he ramps up production at his indoor farm and on rooftop gardens, Blynn intends to distribute and retail his microgreens within the underserved markets of Denver.
"I'm trying to [farm] within the food desert communities because I believe I'll have a greater impact on my larger initiative, which is not just to grow food, but to eliminate the nutritional gaps and the related issues that happen in food deserts," Blynn says. With that larger goal in mind, he is engaging with local food desert communities and talking to local champions to better understand how they perceive the issues around food access and understand how urban agriculture fits into their culture, he says.
Blynn participated in the Sustainable Global Enterprise immersion at Johnson and says he still draws on what he learned daily by using profit-driven, sustainable business practices to connect communities to a new food culture. He hopes that the knowledge he applies to Topping Out Farms will serve as a framework for others who may look to launch farms in urban communities.
"I view the [future] growth as something that will not necessarily come from my direct work, but more from franchising-type operations where I bring not only the skillset and knowledge of how to do it, but also a deeper understanding of how to make a farming operation profitable," Blynn said.