10 tips for entrepreneurs from unicorn founder Gang Yu
Serial entrepreneur Gang Yu, MS '86, addressed alumni at the inaugural event of the Cornell SC Johnson China Council of Alumni.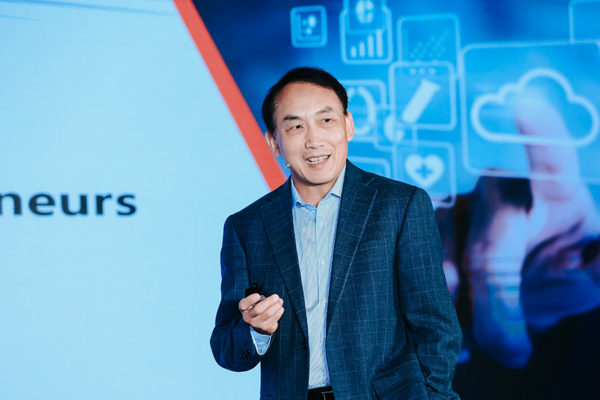 How do you gain a foothold as an entrepreneur in a rapidly developing country? China, the world's second largest economy, is home to 1.4 billion people and a rising middle class. It is the nation that innovated a unique Internet and e-commerce ecosystem that spawned such tech giants as Alibaba, ByteDance, and Tencent.
How can a new company skyrocket to unicorn stratosphere in such a competitive environment? Serial entrepreneur Gang Yu, MS '86 (Physics, Arts & Sciences), co-founder of grocery e-commerce platform Yihaodian in 2008 and now of healthcare platform 111 Inc., shared his own experience in doing just that when he spoke at a Cornell SC Johnson College of Business alumni event in Beijing on June 29. Yihaodian was ranked by Deloitte as the fastest growing business in the Asia Pacific region in 2011, having grown at an astounding 19,218 percent over a three-year period. Yu and his business partner sold Yihaodian to Walmart in 2015.
Yu earned a PhD in decision science from the Wharton School and served as a professor at the University of Texas at Austin before switching to a corporate career, becoming vice president of worldwide procurement at Dell and, later, vice president of Amazon's global supply chain before launching Yihaodian. He offered advice to would-be entrepreneurs when he addressed more than 120 Cornell alumni, faculty, and friends at the Hong Kong Jockey Club on Beijing's Financial Street, but also warned the audience that entrepreneurship is not a good fit for everyone and that to enjoy the high points one must also "endure the sufferings, loneliness, failures, and disappointments."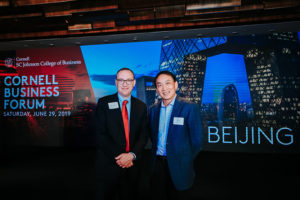 The evening was the inaugural event of the newly established Cornell SC Johnson China Council of Alumni, co-sponsored by the Cornell SC Johnson College of Business Office of Alumni Affairs. Council vice chair Gregory Yu '99, (Dyson) a managing director at J.P. Morgan, opened the event by speaking about the goals of the new council, which include fostering interaction and strengthening ties among Cornell, Johnson, Dyson, and SHA alumni in China.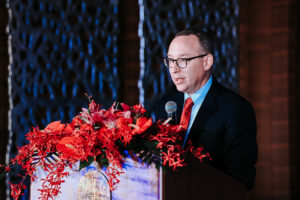 SC Johnson College Dean Kevin Hallock spoke next, discussing the formation of the college in 2016 and the challenges and achievements of its early years, including the new intellectual and interdisciplinary synergies among faculty, the hiring of new faculty, the enormous scale of the college, which now counts 3,200 students enrolled in its three schools, and recruiters' high demand for the college's graduates. He spoke of the college's dedication to diversity and inclusion, its strong and growing programs in New York City, and its aims to expand non-degree executive education. "The Cornell SC Johnson College of Business will be among the very best comprehensive colleges of business in the world, known for educating people-centered leaders who embrace technology for the betterment of business and society," said Hallock.
In his talk, Yu offered the audience ten tips for entrepreneurs:
1. Entrepreneurship is a marathon, not a 100-meter dash. Yu described his experience in developing applied models and algorithms for the aviation industry to show that the road to entrepreneurship can be a long and twisting. He confronted cash flow problems, had to abandon a year's worth of coding work, and spent far longer (four years) than he initially imagined it would take when he was developing Caleb Technologies. But in the end he did successfully build real-time operational control, decision support, and resource planning systems for the air and ground transportation industry that was adopted by a host of airline companies and valued at $4 to $9 million.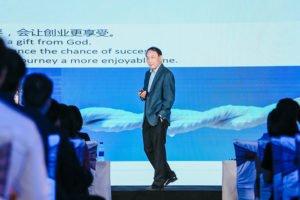 Yu also described his journey in launching Yihaodian. It was while working at Dell that Yu met Junling Liu, who later became Yu's long-term business partner. Michael Dell played matchmaker, according to Yu: He spoke to Junling about Yu, the "new leader just headhunted from Amazon."
Prior to launching Yihaodian, Yu and Junling spent four months debating a business plan, and when they needed to define their corporate culture, Yu set about drafting it. From a two-page document, Yu whittled it down to four words (or eight characters in Chinese) that would encapsulate the ethos of their company — what he called Yihaodian's cornerstone: integrity, customers, execution, and innovation.
2. Entrepreneurs must be ready to take the hard route; easy wins often result in low barriers or little value. After initial players in China's bike-sharing business showed it was a viable market, many players entered the space. The same thing happened in the group-buying business. Yu referred to these as examples illustrating that the initial idea behind these businesses was too easy. "Choose a model that is hard and has high enough barriers," he implored the audience.
Yihaodian, he said, was in the business of fast moving consumer good — groceries and other limited shelf life and bulky items — which made logistics complex. The upside: "high demand, high stickiness, and everyone needs them [groceries]."
Yu's newest startup is based on the same philosophy: choosing something that is hard. 111 Inc. may be Yu's biggest challenge yet: a healthcare platform aimed at enabling consultations with physicians via smartphone and filling prescriptions via an online pharmacy. "In China, the biggest pain-points in healthcare are [that] it's difficult to see doctors and expensive to buy drugs," said Yu.
China is ranked 141 out of 191 countries for healthcare efficiency by the World Health Organization. Getting a doctor's appointment in China can involve lining up for hours. And pharmacies are highly fragmented: Around half of the 480,000 drugstores in the country are mom-and-pop stores.
The scale of 111's ambition is dizzying: building a virtual infrastructure to connect people with doctors, pharma, hospitals, clinics, drugstores, and insurance companies. It is a tech-enabled business model designed to redefine healthcare in China. Not surprisingly, the barriers to achieving this ambition are equally immense, with myriad government regulations, policies, and legal issues to overcome, not to mention the practical challenges.
These are tough barriers, said Yu, and that's why healthcare is the last industry to be disrupted by the Internet. But the rewards of building something valuable lie within this difficulty.
3. Building a valuable business takes passion; passion will make the impossible, possible. With passion, nothing can block one's journey. When you face mountains, you can climb; when you encounter rivers, you can cross.
4. A great partner is a gift from God: It will not only enhance the chance of success but will also make your journey a more enjoyable one. Yu places so much importance on his partnership that every other Friday morning, as he told the Beijing audience, he will "close the doors and have a 'relationship improvement session'" with his business partner. In this session, the two will air any grievances they might have and generally lay bare their thoughts in order to maintain a healthy working relationship.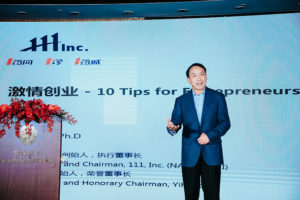 5. For a startup, decision speed often outweighs decision quality. For Yihaodian, Yu built a virtual supermarket in three weeks, tripled sales, and greatly enhanced corporate reputation. But the decision was one that was implemented quickly, rather than one that was wholly thought through.
6. One must dare to cannibalize oneself or someone else will. While speaking of Yihaodian's supermarket competitors, Yu mentioned Kodak. The venerable American company invented the digital camera but was afraid to cannibalize its film business, leaving the market open to Japanese camera companies — who ultimately left the film photography business, and Kodak, in the dust.
7. Past success does not automatically lead to future success; very often, it becomes baggage. If your business is successful, great. But don't fixate on your success, Yu advised the audience. Set aside an hour every day to learn something new.
8. Entrepreneurs must stay hungry, foolish, and have the heart of a champion. Yu spoke of the 2017 Super Bowl between the New England Patriots and the Atlanta Falcons, during which the Patriots famously overturned a major deficit to win the game in the fourth quarter and overtime. He also quoted from Angela Duckworth's bestselling book, Grit, saying "Finish what you begin," and adding: "It has the highest correlation with success."
9. One must create value before collecting rewards. Yu's determination to improve the efficiency of China's fragmented healthcare system will clearly add value. But it will take a deep dive in due diligence before his efforts reap any rewards.
10. What one regrets most in life is not what one has undertaken and failed at, but the opportunities one failed to grab. Although Yu has found success, his parting words to the Beijing audience were a poignant reminder that life is not about the destination. "Money becomes numbers," Yu said. "Fame becomes a symbol. What you remember are the people and the stories, the process, and the journey."
Yu's talk garnered an enthusiastic response from the entrepreneurial crowd that had gathered to hear his wisdom and insights. Alumni mingled both before and after the talk, catching up with their professors and connecting with one another.
Photos by Bo Niu /Bo Rui Sheng Ya Film and Television Culture Media