A disposition for diplomacy
Her zest for intellectual challenge, talent for process improvements, knack for diagnosing and solving problems, and immense pride in the United States sustained Virginia Bennett, MBA '89, throughout her career as a diplomat in the U. S. Department of State.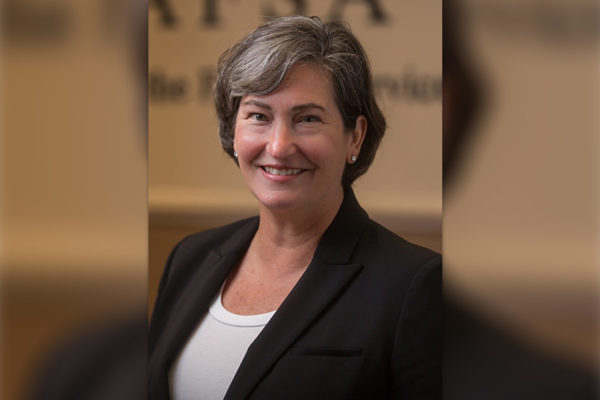 A craving for the kind of constant intellectual stimulation she enjoyed in the academic world is what inspired career diplomat Virginia Bennett, MBA '89, to join the U.S. Department of State as a Foreign Service officer. "I had been able to do a fair amount of traveling for somebody my age, and I thought the world was endlessly fascinating," she said. "I just thought it was utterly cool to get to be in different places to see what made them different, what were the similarities, and I wanted to keep soaking that up."
Over the course of her career in the U.S. Foreign Service, Bennett held overseas posts in Manila, Bogotá, Tokyo, and Athens. She was the lead U.S. negotiator on Security Council resolutions relating to the Iraq and Afghanistan wars following 9/11. And in her final role with the State Department, she served as the acting assistant secretary of state and principal deputy for the Bureau of Democracy, Human Rights, and Labor (2014–17).
Now, she's applying her expertise and deep experience in international affairs to her new role as senior director of international programs at CNA, a nonprofit research and analysis organization focused on developing solutions to complex problems of national importance.
Her MBA experience, Bennett says, is partly why she had a very successful career. "I remember Joe Thomas' Operations Management [course] and the rigor of breaking down decisions," she says. "I lived Dick Thaler's behavioral economics every single day in almost all of my tours because that's how you understand what's happening in society. I still quote Hal Bierman: 'Are we happy about that or are we sad about that?'" From Jay Russo, she adds, she learned the importance of projecting how things will play out, then looking back afterwards to evaluate and improve your decision-making.
"Cornell really equipped me with a way of bringing a kind of clarity in thinking and analysis to really complex decision-making," Bennett says. "Cornell taught me how to be a very good pragmatic problem solver and, maybe more critically, a very pragmatic diagnostician. Because you can spend a ton of time and energy, and if you're solving the wrong problem because you haven't figured out what the real problem is, you're not going to get anywhere."
Bennett joined the State Department after working as an inventory control analyst, first at the Ford Motor Company and then at Jones Apparel, operations management roles she describes as "trying to figure out how processes could be improved to optimize performance.
"That background made me probably the most efficient and methodical mover in the history of the American Foreign Service," she says, laughing. "I swear to God. I have a whole system. I figured out how to process-improve down to an art."
For example, "In my very first assignment in Manila," Bennett recalls, "I was a consular officer dealing with a lot of visa applications and passports, and I came up with process improvements. I charted the critical path to figure out what our constraints were on getting visas stamped and returned faster into people's passports, because the system was not working well and there was a huge backlog. I just went into corrections management mode, and it worked pretty effectively."
Getting to the heart of a problem
Bennett's skill at diagnosing complex problems came into play throughout her career and, in fact, became a hallmark of her reputation.
Bennett drew on those strengths when she was the deputy chief of mission and chargé d'affaires at the U.S. Embassy in Athens (2011–14), where she witnessed "a real fraying of the social fabric in Greece" — a proud and economically developed EU nation — when its GDP contracted by 26 to 27 percent. "All of a sudden you have people in extraordinary economic pain, including 65 percent unemployment under the age of 35. Our role there was to promote economic reform and a European solution to the structural impediments to sustainable economic growth and stability."
As the crisis deepened, Bennett saw soup kitchens that filled up at the end of the month with Greek families who had run out of food and funds, against the backdrop of increasingly violent protests over critical austerity measures. That's when she learned that the soup kitchens were not successful in getting many food donations. "I kept asking people, 'Why not? Why is it so hard?'" She asked people in the soup kitchen, she asked the general manager at IKEA, she asked people at NGOs — because she just couldn't understand why stores that had food with fast-approaching "sell by" dates wouldn't make donations and deduct the cost from their bottom lines, as they do in other parts of the world.
"It turned out," she learned, "that there was a real distortion in their tax code." In the United States, when you make a donation to a qualified charitable entity, you get a tax deduction. In Greece at the time, it was the inverse: If you gave something — those IKEA meatballs — to a charitable entity, you actually had to pay the VAT to the government on the value of your donation.
Once she'd diagnosed the problem, Bennett says, "I went to see the Greek finance minister, we had a conversation about it, and we got the law changed."
"I think the unique value of American diplomacy has always been that we talk to everybody and listen to everybody."
"I think the unique value of American diplomacy has always been that we talk to everybody and listen to everybody," says Bennett. "You have to have a full appreciation for the incredible complexities that shape a country, its people, its ethos, and its relationship with the United States. You have to know what is important to the United States, and why, and what you need to do for success. It's essential to see past all the itty-bitty granular data points to the strategic arc and wed those two together in such a way that the interests of the U.S. are served: That is first and foremost and always our objective in diplomacy."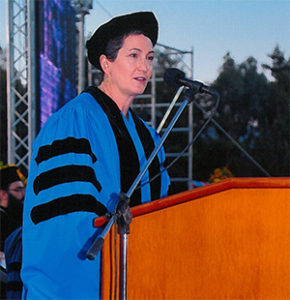 Inherent rewards of American values and diplomacy
"There is nothing like being up close and developing deep familiarity with other places to engender immense pride in the United States," Bennett says. "We have values codified in our foundational documents [stating] that people should be able to live their lives with certain freedoms. You can read about them in our Constitution, in the First Amendment, and in subsequent amendments. These are the values that the United States has been committed to and in whose name an awful lot of sacrifice has been made over the years; they are our national treasure. We don't think it's okay when people are told that they're not allowed to believe whatever their choice in religion may be. We think that repression has a terrible, destabilizing effect on a country over time."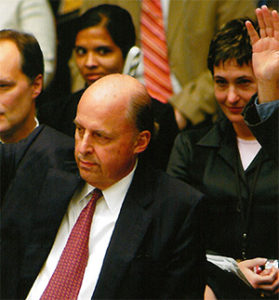 When asked, Bennett acknowledges that she is concerned about the state of American diplomacy under the current administration; PBS reported in April 2019 that U.S. ambassadorships to 52 countries and international organizations like the United Nations remained vacant, including critical posts in the Middle East and Latin America.
"The United States is very preoccupied with our situation at home, and we have just walked off the field in a lot of places," Bennett says. "If we're not there, we miss stuff; when you're not there to see it, you don't know what's happening until it's too late. There is a real role that diplomacy and diplomats play in not only seeing the early warning signs, but also identifying opportunities and helping small businesses."
That void should be sobering, Bennett says, not just for every American who cares about the security of the United States, but for every business owner and CEO looking for growth. As she points out, 95 percent of global consumers live outside of our border, according to the U.S. Chamber of Commerce. "We don't have an ambassador right now in a whole lot of places. How many people leave the CEO slot of a company in an acting capacity for how long? And do they really think that they're maximizing shareholder value over the long term by doing that?"
 "We have 274 embassies and consulates globally, more than any other country in the world, Bennett says. "That presence has made and continues to make a big difference to our economic trajectory. But China is closing in fast — they now have 268, I think, and that's huge growth. And why do they want it? Because they're opening markets."
"Where we walk off the field, others will eagerly exploit that," she says.
Bennett found her work as a diplomat both deeply demanding and deeply rewarding. "We had crazy lives; we worked crazy long hours," she says. At the same time, she loved "the luxury of intellectual challenge every single day, in every single place I ever lived. That was quite real. The world is incredibly complex, and developing that strategic expertise was a fascinating experience that I tremendously enjoyed."
Nevertheless, after nearly 12 moves and 25 years, Bennett is happy to be back in the U.S. living a quieter life more focused on family. She is grateful to her husband, Scott Sekerke, MBA '93, for all his support over the years: "He's had a series of jobs in the computer science world for 25 years, and I got to have a career. He's been an amazing, selfless partner." Now they are both enjoying life in the D.C. area with their teenaged daughter and their two King Charles spaniels.