Full STEAM Ahead
Hilary Lashley Renison '05, MEng '07, MBA '09, is founder of Tinker & Fiddle, a STEAM (science, technology, engineering, art, and math) organization for children ages 9 through 14.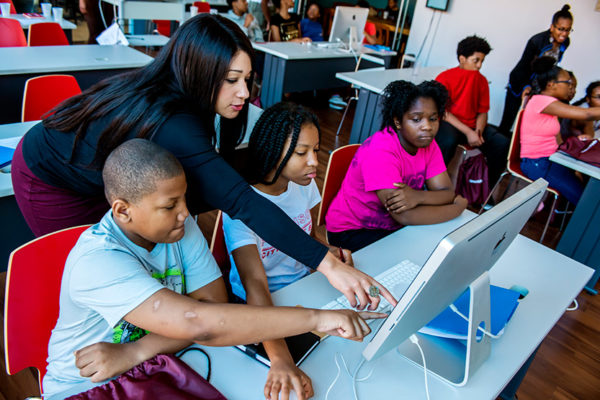 Hilary Lashley Renison enjoyed leading STEM (science, technology, engineering, and math) activities for area youth as a volunteer with GE, where she has worked for nearly a decade. The feedback from parents and students was so positive that she wondered if there was a demand for ongoing STEM curriculum outside classroom settings.
In Niskayuna, N.Y. — a town with one of the nation's greatest concentrations of PhD graduates, according to Lashley Renison — "kids learn to code as early as first grade," she says. "One town over, there are high school students who struggle to read at a fourth-grade level, or can't perform basic multiplication and division."
That led her to create Tinker & Fiddle, a STEAM (science, technology, engineering, art, and math) organization that encourages children ages 9 through 14 to learn and apply technology at the intersection of culinary arts, music, fashion, and gaming.
"Our target populations are groups historically underrepresented in technology," adds Lashley Renison, who grew up in a working-class family on Long Island and completed two engineering degrees at Cornell prior to her MBA.
A summer 2017 pilot program at the Museum of Science and Innovation in Schenectady was reprised the following summer at a makerspace in Troy. Over the course of six Saturdays, participants went from having limited experience with computers to building and coding their own websites.
Expanding on its summer programming, Tinker & Fiddle now runs an after-school program in Albany and does a number of pop-up events at local libraries. "Our 2020 goal is to be operating in the three city school districts of the Capital Region," she says. Eventually she hopes to take their content virtual.
Lashley Renison aspires to create a holistic experience for her students, where they can explore their strengths and weaknesses in a safe environment. "Engineering is applied science and math and requires one to work well with others and communicate complex ideas," she says. "Everyone leaves our course a bit more empowered in regard to technology."