Investing for good
Funding transformational life science and healthcare companies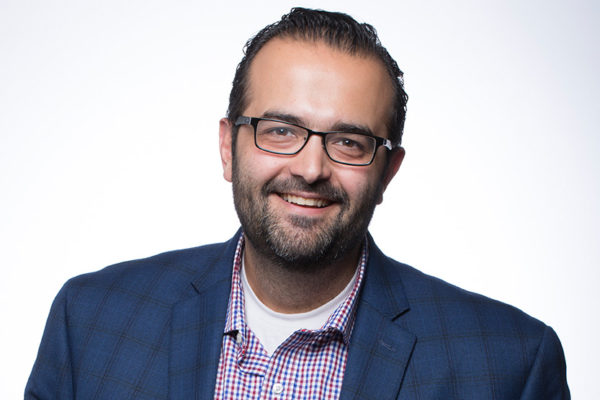 Alaa Halawa, MBA '16, was born curious. Growing up in Jordan, Halawa fostered a love of all things science and thought he might become a doctor one day. He held a particular fondness for genetic engineering but ended up pursuing an undergraduate degree in electrical engineering at the University of Jordan.
Early on, Halawa managed the installation of data center racks for Globitel, a telecom startup and, eventually, oversaw its product lines. Next, he joined the Mubadala Development Company as vice president of Mubadala Technology, where he was tasked with convincing businesses in the United States to bring their semiconductor research and development to the United Arab Emirates.
Halawa doesn't believe in sheer luck. "One needs to work very hard to find one's self in the right place at the right time," he says. That work ethic landed him in Silicon Valley for a presumed six-month stint in 2011, when he was charged with facilitating a CEO transition in Mubadala's semiconductor sector.
An exciting half-year turned into three, and Halawa started contemplating ways to incorporate finance into his career. "I had always been intrigued by finance and investments but never felt especially good at it," he says. "And, after nearly a decade in technology development and semiconductor research, a seamless career shift wasn't feasible."
Halawa embraced the MBA path and received his acceptance letter to Johnson's Executive MBA Americas program on the same day he and his wife learned they were pregnant with twins. In less than two years, Halawa had welcomed his sons, earned his MBA, and forged a new path developing Mubadala's venture capital investment strategy in California. It turns out he is good at it.
Since 2016, Halawa has been growing the fund, which focuses on technology companies that are transforming traditional industries. Targeting the life sciences and healthcare sectors specifically, he is actively investing in technology companies that are enhancing drug discovery and development, disease diagnosis, and healthcare delivery and provision.
Investing in life sciences and healthcare at the early stages inspires Halawa because of the tremendous opportunity to improve people's lives. "When you have a sick loved-one at home, nothing else matters," he says. "Ultimately, I am doing this to make a difference."
Erudite and driven, Halawa is also compelled to learn as much as he can to keep up with the rapid change inherent in advanced technologies. "We are building the plane as we are flying it," he says.
To stay ahead of the wave of change, Halawa is already thinking about expanding his credentials to include online degrees in bioinformatics, computational biology, and broad AI, because he believes deeper knowledge will serve to better inform his investment decisions.
When he isn't nudging the trajectory of healthcare and life sciences, Halawa and his wife are busy raising and chasing around their twin boys at their home in the San Francisco Bay Area.