Cornell Real Estate Club visits with alumni and leading firms in NYC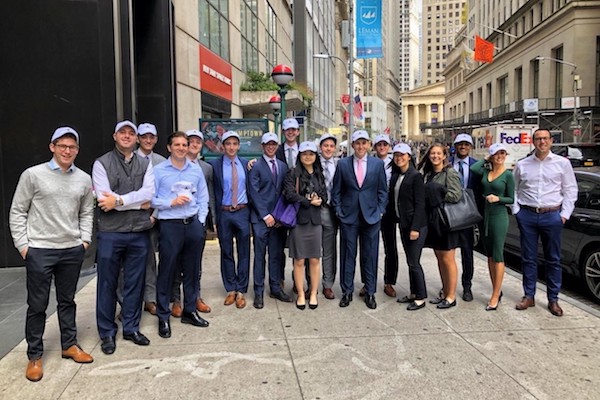 By Emily Wu '22 and Alex Radick '21 (CHE)
Each year, members of the Cornell Real Estate Club (CREC) travel to New York City for the Fall Real Estate Trek. This year, the two-day trip gave the group the opportunity to meet with professionals from Aulder Capital, Rialto Capital, Centerbridge Partners, Newmark Knight Frank, and JPMorgan Chase & Co. In addition, students attended the Cornell Real Estate Conference and reception hosted by the Cornell Real Estate Council.
Aulder Capital
The first visit on the trek was to Aulder Capital, a real estate investment firm. There, we met with members of the investments team, as well as the firm's managing partner, Michael Zito '01 (ILR). It was great to hear from professionals with different levels of experience, from analysts to vice presidents, about their work at Aulder.
Zito shared his personal work experience after graduating from Cornell and explained how he and his former classmate decided to start their own real estate private equity shop. Professionals at Aulder Capital also spoke about their desire to be owner-operators who care deeply about their residents' experience and their social impact.
Rialto Capital Management
Our second stop in New York City was Rialto Capital Management, a real estate investment and asset management firm. At Rialto, we were hosted by Jay Mantz, P '21, a president at Rialto, who had previously served as a member of Morgan Stanley's management committee.
During his presentation, Mantz discussed current trends in the United States real estate market and in the credit market. We learned about the ways in which the firm analyzes and assesses risk in its commercial mortgage-backed securities lending platform. In addition, Mantz gave our members helpful career advice as a parent of a current Cornell student. It certainly is impressive how much our Cornell community gives back to the current students.
Centerbridge Partners
Next, we went to Centerbridge Partners, a private investment management firm. We were served lunch before they discussed their company—a much-appreciated act of hospitality.
During Centerbridge Partners' presentation, we learned about the firm's investment strategy, which emphasizes not only the importance of buying hard real estate assets, but also of investing in operators and innovative companies to improve asset performance. As they explained their portfolio, our hosts often mentioned their recent joint venture with Blackstone to purchase Great Wolf Resorts, an owner-operator of family-oriented entertainment resorts. After the presentation, the Centerbridge team split us into smaller groups to further our learning.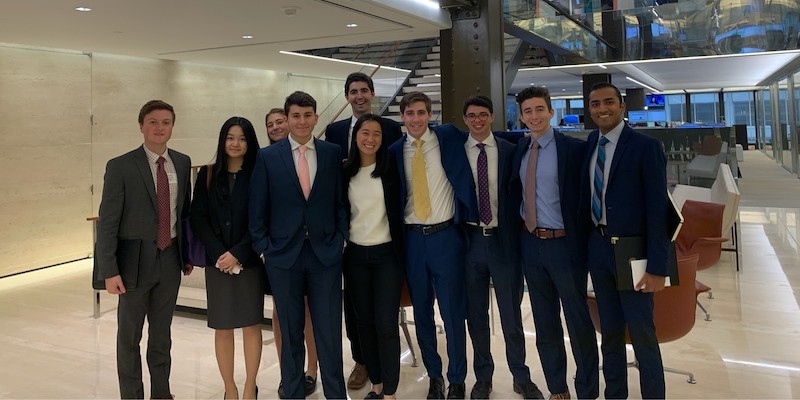 Newmark Knight Frank
After Centerbridge, we stopped at Newmark Knight Frank (NKF), a commercial real estate advisory firm. At NKF, we met a large team of analysts and associates from several different divisions, who discussed their day-to-day schedules and responsibilities with us.
As team members spoke of their backgrounds, we noted that many of them were Cornell alumni. In addition, the analysts explained that their company continues to expand as employees from other firms come on board. In particular, they mentioned the Eastdil Secured sales team, which joined NKF's capital markets team.
JPMorgan Chase & Co
At JPMorgan Chase & Co, we met with former CREC President Aaron Friedman '19. We enjoyed catching up with Friedman and hearing about his new role at JPMorgan Chase as an analyst in the Real Estate Investment Group.
We also engaged in a roundtable discussion with Friedman and his colleagues about career advice and achieving professional goals. We learned about future opportunities and hands-on internship programs offered by JPMorgan Chase.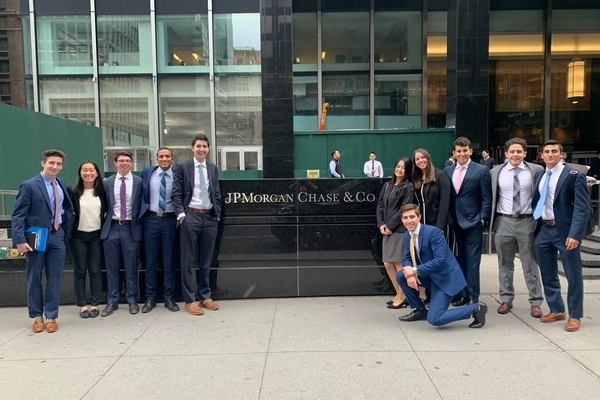 37th Annual Cornell Real Estate Conference
To wrap up the exciting trek to New York City, CREC attended the 37th Annual Cornell Real Estate Conference—titled 20/20 Hindsight and Foresight—hosted by the Cornell Real Estate Council. In addition to having the opportunity to meet, engage, and network with successful alumni in the industry, we had the pleasure of hearing from some of the industry's most highly regarded visionaries. We listened to multiple panels during the conference, including the CEO's Check In, KPMG's Global Proptech Survey, Proptech—The New Buzzword, Silver Tsunami, and Placemaking.
In addition, we took in talks by two keynote speakers: Jonathan Gray and Bill Ackman. The two shared their views about the future of the industry and participated in lively interviews.
Gray, the president and chief operating officer of Blackstone, received the Baker Industry Leader Award from the Cornell Real Estate Council. In a conversation with Kevin Jacob, chief financial officer of Hilton, Gray discussed Blackstone's success since he first joined after graduating from Wharton.
Famed hedge fund manager Ackman, the chief executive officer and founder of Pershing Square Capital Management, took part in a conversation with Dominic Chu, senior markets correspondent for CNBC. He discussed his investment strategy and large stake in Wendy's and Chipotle.
Ultimately, members of CREC were exposed to opportunities that the vast majority of students interested in real estate may never have. The trip was financed partially by the Student Activities Funding Commission, as well as the Center for Real Estate and Finance (CREF). Steve Carvell, the director of CREF and professor of finance in the Cornell School of Hotel Administration, was instrumental in securing funding for students to attend this trip at no cost to them. CREC is extremely grateful for the efforts of Carvell, as well as all the gracious Cornell alumni who helped make this trek a smashing success.