Research Recap: How Contactless Technology is Transforming the Hospitality Industry Forever

Living our lives in a pandemic is challenging us all right now and no more so than folks in the travel and leisure sector. We are seeing businesses of all sizes forced to pivot their operations not only to survive, but to cater to the changing needs of their guests.
Prior to the global pandemic, millions of Americans were steps behind the global commerce ecosystem when it came to payment technology—making purchases via card swipe, chip and pin entry, and even writing personal checks. A 2018 study by A.T. Kearney found that US contactless acceptance was at just 3%, while the UK was at 65%, and South Korea had a massive 98% acceptance. Digital wallets and contactless payments existed as huge opportunities for growth but were not as widely accepted across the US.
As a Brit living and working in the United States, it was clear to me on arrival in 2018, how the payment process was so much stickier than in Europe, where checks and card swipes were not the norm. I'd often walk into a store, gas station, or venue in Philadelphia or New York City and not know what payment experience I would have at check-out. In fact, the merchants had no idea whether their payment hardware was contactless/touchless enabled or even how to identify a contactless/tap to pay symbol, and it was surprising to me as someone working in fintech that most of the merchants didn't really care about my experience as, 'Ms. Consumer'.
Fast forward to 2021, and we've experienced a seismic shift towards online, touchless, and contactless commerce across the nation. Merchants are much more aware of the changing needs of the consumer. Certainly COVID-19 acted as a catalyst for this change, the push for a faster, more secure customer experience. The new normal in the United States is now a payment experience far more convenient and faster than the last—and I suspect there is no going back.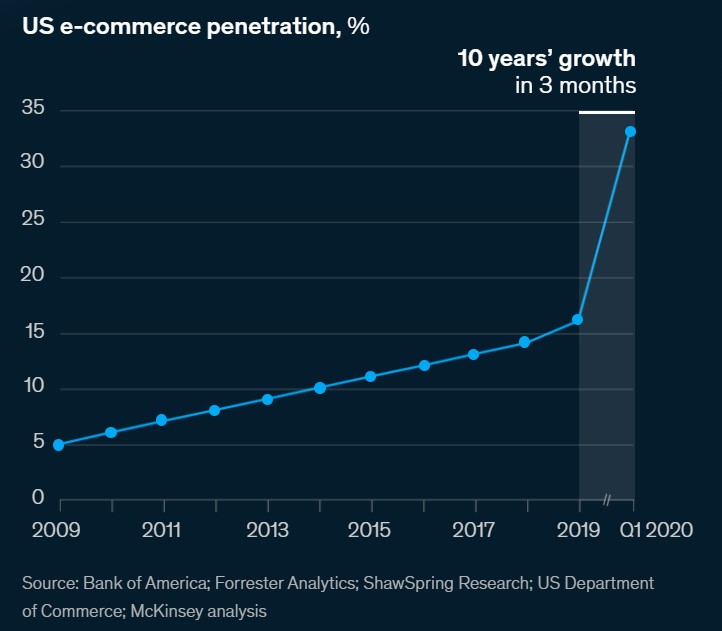 It is, therefore, unsurprising to see a significant adoption of touchless commerce and contactless solutions across the United States. Consumers have become heavily reliant on the internet, and online consumption is accelerating rapidly. A recent study by McKinsey revealed how US eCommerce penetration has seen 10 years' growth in just 3 months.
In our recent white paper, "The American Payment Revolution: Next Level Commerce," we outline commerce changes and opportunities across sectors, including hospitality, where guests now expect to have control over their experience from booking to check-in to payment.
How hotels can leverage contactless technology to enhance the guest experience:
Contactless check-in & check-out: When first arriving at a resort, many hotels have now implemented contactless check-in. Guests can now let the hotelier know they've arrived through an app and some can even generate a mobile room key. When checking out, guests can review charges and make any final payments through an app or web link. It is even now possible to check-in and check-out without any human face-to-face contact.
Amenity access: When it comes to resort amenities, new apps have emerged that allow guests to book seats at the pool or beach, or reserve a spa appointment all completed via a smart device. This gives the guest complete control over access to the amenity sites while ensuring proper social distancing.
Enhanced customer experience: With in-app capabilities, guests now have full control over their stay. For example, they can add late checkout, provide room preferences, and add extras to their stay.
Customized loyalty: Through innovative technology, hotels can use their guest's data to push loyalty and rewards in real-time. They can encourage their guests to dine-in by sending a 10% off restaurant coupon or fill seats at the pool by providing one free chair with every booking.
Most industries have been hit hard economically including the hospitality industry, which has suffered one of its toughest years on record and is arguably the most challenged vertical when it comes to enacting COVID-19 safety protocols. There is no doubt that implementing new, smarter commerce technology will become the norm as guests' higher expectations demand not only safety and security but also frictionless and highly customized experiences.
"The American Payment Revolution: Next Level Commerce" was published by FreedomPay in 2020. Read the full white paper here.