6th Annual Titans of Real Estate – Honoring Brian Kingston, CEO of Brookfield Property Partners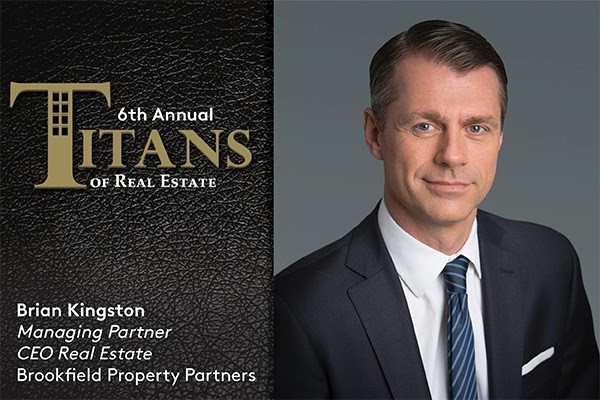 On Tuesday, April 6th, 2021 Cornell University's Center for Real Estate and Finance and the Cornell Baker Program in Real Estate hosted the 6th Annual Titans of Real Estate event virtually honoring Brian Kingston, managing partner and chief executive officer of Brookfield Property Partners in an interview with Richard Baker '88, governor, executive chairman, and chief executive officer of Hudson's Bay Company.
Broadcast from the newly designed Sak's Works location at Brookfield Place in Lower Manhattan, this year's discussion focused on Mr. Kingston's career path, the structure of Brookfield as one of the world's largest owners of real estate, and the performance of different asset classes throughout the pandemic as well as into the future.
Brian Kingston – staying open to different opportunities led to a successful career with Brookfield
Mr. Kingston started at Queen's College University in Canada in the early 1990s with the certainty that he did not want to pursue a career in accounting. This had changed by the time he graduated and he accepted a role as a certified accountant at Ernst & Young. While at Ernst & Young, Mr. Kingston worked with companies across a variety of different industries, from a duck hunting lodge north of Toronto to global insurance companies, seizing opportunities to learn about different businesses and meet people from around the world. Ernst & Young was a fitting start to a career that would take him, quite literally, around the world – from Toronto, Canada to Sydney, Australia, to New York City.
When Mr. Kingston started at a predecessor to Brookfield, real estate was not a major focus for the company, but the conglomerate was narrowing in on real assets of all types – from traditional real estate to infrastructure and energy assets. Although he was working on restructuring insurance companies at the time, a chance encounter while working on a Sunday set him on a course that led to operating real estate companies for the Canadian asset manager across the globe. Brookfield held a significant investment in the Canary Wharf Group of London, whose stock price had just dropped after a financial disclosure. Somebody needed to build a financial model for the asset, and Mr. Kingston just happened to be in the right place at the right time. This "baptism by fire" led to him being selected to operate an Australian real estate company owned by Brookfield, spending five transformative years living in Sydney. Based on these experiences Mr. Kingston stressed to the audience, composed of many current Cornell Baker Program students, the importance of keeping your head up and staying open to different opportunities.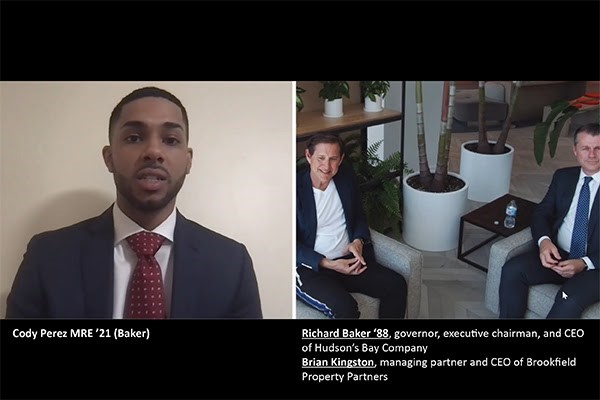 Importance of the Brookfield brand
Brookfield Asset Management is the ultimate parent company of Brookfield Property Partners and the rest of Brookfield's businesses. With $60 billion in assets under management, the asset manager controls a variety of funds individually focused on real estate, infrastructure, traditional private equity, and renewable power.
Within the Brookfield Property Partners portfolio, the focus is on stable, secure, cash flowing properties.  The firm avoids high risk development, focusing on stable, mature markets where the high-end product that Brookfield owns and operates can outperform lower quality assets. A prime example is Manhattan Place, on the Far West Side of Manhattan, adjacent to the quickly evolving Hudson Yards district.  Manhattan West, which contains 7 million square feet of office and retail, a hotel, and 850 apartments, exhibits the qualities that Mr. Kingston views as the future of real estate – a mix of places to live, work, and play. This has been a huge draw to both residential and office tenants in major cities across the world, including London, Sydney, Perth, Toronto, Shanghai, Berlin, and New York City. When asked by Mr. Baker about the importance of the Brookfield brand, Mr. Kingston stressed it as a key aspect of the company's success. Having a global reputation as a top landlord helps attract the top companies in the world to their buildings and has led to some commercial tenants leasing space in multiple Brookfield buildings for each of their local offices. One such example is J.P. Morgan, which leases space in six different Brookfield locations.
Portfolio performance during the pandemic and beyond
Operating through the pandemic, the credit quality and long-term nature of leases in Brookfield's office portfolio have led to generally favorable results. With a 93 percent occupied portfolio composed of high credit tenants in stable industries, and an average remaining lease term of eight or nine years, earnings were relatively unaffected in the office arena. The one issue Mr. Kingston emphasized is a lack of new leasing activity as firms delay making decisions regarding their space.
Remarking on a trend that predates the pandemic, Mr. Kingston and Mr. Baker agreed that there is more of a focus on hospitality services within office buildings. "Increasingly what we're seeing is this convergence between goods and services." Tenants want services, experiences, and amenities surrounding their space, which serves as a competitive advantage for the highest quality new assets.
Speaking specifically about New York City, Mr. Kingston predicted that the rollout of COVID-19 vaccines will lead to a major reopening across the city at some point during the summer of 2021. Although daily office occupancy has been low, in the 20-50 percent range, he predicted a rise to 60 percent this summer, with 70 percent occupancy some time in the fall. Summarizing a key point, Mr. Kingston stressed that unlike other historical times of distress, the current market environment has not been related to real estate issues such as oversupply or a pullback in the capital markets. What we saw instead was the global economy simply "hitting a brick wall" over the past year. Citing the continuation of Google and Facebook to develop office space and sign major leases in New York City, Mr. Kingston declared "New York office is going to be booming."
Titans of Real Estate is an annual event hosted by the School of Hotel Administration's Center for Real Estate and Finance and the Cornell Baker Program in Real Estate, with the generous support of the Cornell Real Estate Council. This year's event featured opening introductions by Andrew Karolyi, acting dean and dean of academic affairs, SC Johnson College of Business. We'd like to give a special thank you to our sponsors: Jones Lang LaSalle (JLL) and Rubacha Philanthropies. Watch the full recording of the 6th Annual Titans of Real Estate honoring Brian Kingston.