Re-Electrified After Circuit Breaker: Singapore's Restaurant Recovery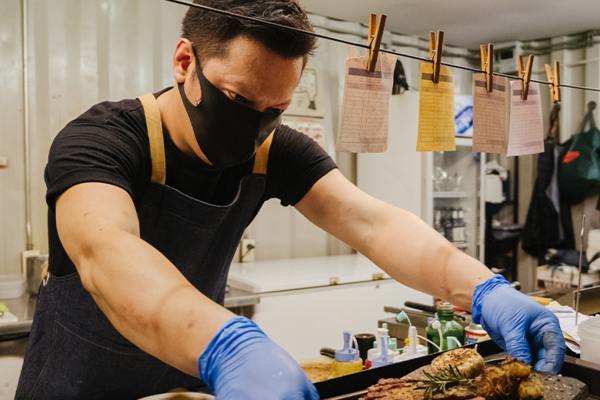 The pandemic has thrown the food and beverage industry into an existential struggle: how does a business that trades in social interaction create a safe, responsible environment for guests and staff? Lilly Jan, lecturer at the School of Hotel Administration, recently talked with Singapore-based restaurateurs Ivan Brehm, chef and owner of Restaurant Nouri, and Travis Masiero '03, owner of the Travis Masiero Restaurant Group, about their businesses' adaptations to pandemic restrictions and their plans moving forward in a webinar titled Reopening Restaurants After COVID-19: Lessons from Asia.
As United States coronavirus cases skyrocketed through the winter, American restaurateurs have struggled to plan and adapt to changing guidelines. In Singapore, however, government support and guidelines have been clear and consistent. As of February 2021, many parts of Asia have begun reopening, with restaurants directed by governmental guidelines to protect staff and guests.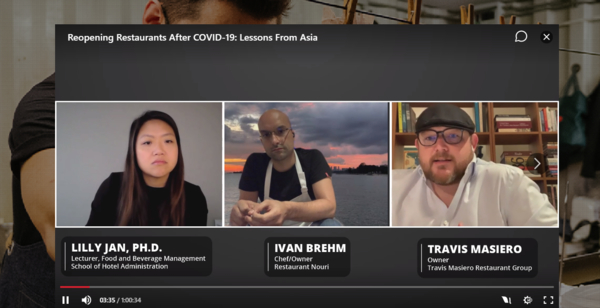 Circuit Breaker…and then recovery with a vengeance
Singapore recorded its first COVID-19 case in late January 2020, and by early April the Singapore government had declared and implemented Circuit Breaker, the policy under which all non-essential businesses closed and policies and protocols were established for mask-wearing, travel, food establishment practices, and other behaviors. These restrictions were tightened through April 2020, began to relax in May 2020, and as of early February 2021, Singapore's restaurants have reopened with restrictions, including curfews and travel bans. An energized "revenge dining" recovery is underway. Ivan Brehm reported, "People have been locked up for some time, and now [they have] the opportunity to go out and eat and drink…with a lot of spending power…We're trying to make the most of this phase to ward off the uncertain future." Masiero agreed that even with strict measures to comply with, this has been "an amazing moment for us. To be in the city, with no tourists, just the local support…it rivals any of the greatest periods I've experienced in terms of business." Though the market is expected to correct, Masiero said he and his team are just happy "to be open and serving people."
Lockdown pivots and post-lockdown optimism
Both chefs attribute their survival to creativity, agility, and teamwork. "When they announced that restaurants would either close or only do delivery or takeaway," Travis Masiero recalls, his primary goal was to keep his staff employed. Of his group's four restaurants, two were mid-priced pizza shops already doing delivery, "so they didn't require re-thinking." The other two were high-end restaurants serving the same menu, but one was unsustainable "so we took that one and focused on being creative." Projects like serving whole-roasted chickens for families and baking fresh English muffins on the weekdays didn't generate profit but gave the team a sense of possibility. "Tasting with Travis," his nightly Instagram glass-of-wine video chat, created excellent engagement with customers every day of Circuit Breaker. "We learned so much…and our team came out of this so much closer and so much better prepared to work together."
Brehm's pivot came with some identity-searching, he admitted. "As a chef, I had to overcome the bias" against takeaway and delivery as being anathema to high-end service. "But we could see the wave coming, and I remember sitting with the team and saying, we're going to try every crazy and wacky idea…that's in line with our concept." These included: creative collaborations with a late-night dim sum shop, pasta and cheese artisans, and a home cook; packaging vegetables from their partner farm in Malaysia into home delivery boxes; redirecting some staff to logistics and delivery roles; and pivoting digitally to launching a website as their sales platform. "We learned a ton…it was a phenomenal time as a restaurateur…and a pretty interesting time to be alive."
Truly local delivery
"Initiatives that managed to be rooted in the community seem to be a lot more sustainable in these times of crisis." Food delivery became essential, but Grab and other delivery platforms (like Grubhub) charge high fees, so Brehm instead engaged local cab drivers for delivery. Masiero noted being contacted directly by customers at lockdown; he also used local livery drivers for delivery, adding personal touches like notes in the bags with perks. "We are mindful of the fact that these are the people who continue to make our businesses successful."
Marketing strategy for re-opening
At re-opening, said Brehm, "the amount of interest in dining out was overwhelming…people were quick to respond to reservations, booking way ahead of time as well." His advice to restaurants coming out of lockdown: "If you already [have] a loyal following, just tell your guests that you're open and you're ready to receive them," explaining the guidelines clearly. "Being visible and accessible in your communications is really important," added Masiero. Brehm's group relies on Instagram, WhatsApp, and direct messages from his team to customers, as well as direct mail and reservations systems.
Re-opening and staying motivated
To eat at restaurants in Singapore, guests must sign into a contact-tracing phone app, have their temperatures taken, wear masks at all times except when eating or drinking, and are not permitted to mingle at all. "The first few weeks were a challenge," Masiero admitted, but the stakes are high: the government imposes stern penalties for non-compliance, including high fines for restaurants and guests, and potential deportations. Staff struggled to balance strict enforcement with service-style friendliness, and Brehm worked to keep their spirits up by keeping an upbeat mood. This worked for a while, but as hospitality jobs use workers' physical, emotional, and psychological skills, he saw staff fatigue and offered stress relief like time off and fun staff activities. Have guests responded well? Some look for ways to circumvent the rules, but most would rather err on the side of caution. "People don't want to be made an example, and Singapore does tend to do that."
Still growing
Somehow, both Brehm and Masiero have new restaurants opening this year. "I know it looks crazy from the outside," said Masiero, but because not all restaurants can survive, "Those in a position to have cashflow are getting lease opportunities that would not normally be available to them." Market conditions allowed Masiero's team to bring a longstanding Mexican concept to life, just as one of his flagship restaurants was forced to close due to its landlord's bankruptcy. Staff will transfer from the old to the new restaurant, Nixta, opening in early 2021. "These types of things can happen to anybody, and they can happen to good businesses, and you have to be agile and be able to take circumstances that appear and figure out how to make them positive." Brehm's new project, Appetite, was about to open when Circuit Breaker happened. Crafted deliberately on a smaller scale for a more intimate experience, its small loss was recovered through other initiatives.
Cost effects: Food and beverage, payroll
Lilly Jan observed that most everything in Singapore is imported, and wanted to know how Brehm and Masiero managed costs before and after lockdown, specifically food and beverage spending and payroll costs. Brehm's response was to make his food "slightly more casual to accommodate the decrease in perception and more accessible prices…to keep our guts but still deliver a competitive product." As food costs went down, his team started making sauces, jams, preserves, and also selling other people's products, working closely with suppliers to sell and use products not being used by middle-tier restaurants.
On the payroll side, Masiero described a completely different landscape from what Americans know. In Singapore (and many other countries), workers receive a salary and holiday pay. The Singapore government helped decisively during lockdown, providing restaurants with subsidies (75% of all staff payroll for three months) to protect from layoffs, and facilitating rent relief for most restaurant owners. That support, said Masiero, "helped us to do our part to make sure our staff members are well looked-after." The government also provided tech support for digital offerings and education grants for master classes and workshops retraining staff in business management, etiquette, cake decorating, and more. These efforts developed staff and saved jobs without lay-offs. "When we re-opened everyone had more skills and talent than they'd had before."
Sustainable Shifts
Some adaptations will last. Brehm observed that selling other products, like home delivery of specialty dishes made with guest chefs, is a good way to supplement income. "I'm a little less arrogant…the intention was always to connect with guests in an intimate and personal way, and now we can do that in an incredible way in the person's home; it's a good shift in my mentality." Masiero will continue limited delivery from his high-end restaurant, and both intend to maintain their digital integrations for online ordering, delivery planning, and payment. Both will continue their community-styled delivery services.
As Brehm noted, "We have been global, but COVID has made us more local."
The Cornell SC Johnson College of Business and its various schools and departments are at the forefront of impactful research. The School of Hotel Administration's Centers & Institutes, including the Center for Hospitality Research and the Cornell Institute for Food and Beverage Management, provide a hub for students, faculty, leaders, and innovators to connect. For more on restaurants post-COVID, watch Reopening Restaurants After COVID-19: Lessons from Asia keynote.