Jonas Weil Entrepreneurship Fellowship Elevates Sovi, One Sip at a Time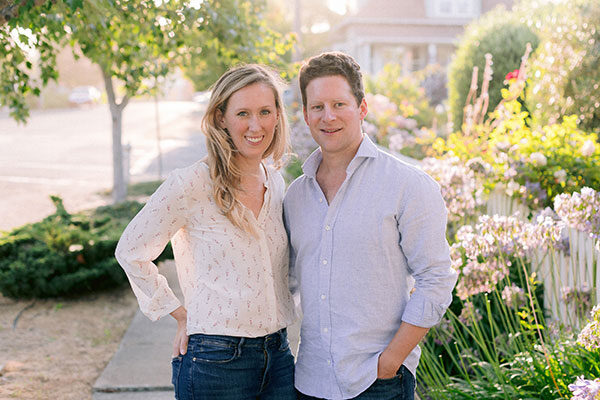 By Lauren Simpson
With a passion for wine paving her path, Julia Littauer, MBA '20, embarked on her entrepreneurship journey by launching Sovi, a brand of nonalcoholic wine that allows consumers to enjoy a glass while focusing on a more balanced lifestyle. Having recently celebrated the one-year anniversary of the company, Littauer reflects on the integral role that being awarded the Jonas Weil Entrepreneurship Fellowship played in Sovi's success.
Transforming a passion into a business
Littauer's passion for wine was born after she experienced a life-changing bottle of wine while studying abroad in Italy as an undergraduate. From becoming a sommelier out of college to cofounding Sovi in 2021 with her husband, Alex Littauer, MBA '20, Littauer has been certain that working in wine was where she belonged. What was uncertain, however, was how she and her husband could afford to pour their hearts and souls into their new business after graduating from the Two-Year MBA program at the Samuel Curtis Johnson Graduate School of Management. That's where receiving the Jonas Weil Entrepreneurship Fellowship made all the difference.
Since 1997, the Jonas Weil Entrepreneurship Fellowship has assisted more than 70 entrepreneurial Johnson alumni with student loan repayment, allowing recipients to focus more on starting their businesses and spend less time and energy worrying about their student loans.
"When you're starting a new company, you can't pay yourself a salary right off the bat and having loan repayments every month is a big thing hanging over your head," Littauer said. "I was very grateful to be able to apply for the Jonas Weil Entrepreneurship Fellowship and get it."
Full steam ahead
Because the Jonas Weil Entrepreneurship Fellowship has made it possible for the Littauers to give their undivided time and attention to their startup—which might not otherwise have been possible—Sovi is able to position itself more effectively as a premier brand in the nonalcoholic wine industry.
"This first year was a lot about testing out, 'Do people want this product, and can we make a good version of it?' It showed us that the answer to both of those is 'yes,' so we now need to figure out how to accelerate the growth of the business," Littauer said.
With Sovi fostering an inclusive wine experience for everyone from the designated driver to the marathon runner, it's not surprising that consumers nationwide have latched on to what the company has to offer. While it was the nonalcoholic beer industry that took off first, Littauer realized while listening to a guest speaker in a wine marketing class at Cornell in 2020 that the nonalcoholic wine trend might be next to catch fire. She was right.
"Both my husband and I have a lot of experience in wine, and the fact that we didn't know about nonalcoholic wine at the time shows how uncommon it was," Littauer said. "It has grown a lot as a category since, taking after the trend of nonalcoholic beer, but we're in this set of brands that are early adopters."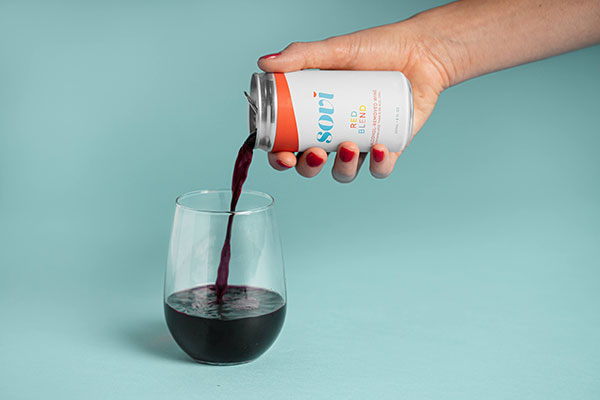 Trusting the process
While the Jonas Weil Entrepreneurship Fellowship made it possible for Littauer to find Sovi's niche in the wine industry, Littauer's participation in eLab, Cornell's student accelerator, also played a role in the company's success. The work she did at eLab helped her uncover just how viable Sovi's business concept truly was, even if this discovery came in a roundabout way.
Initially, Littauer and her husband were trying to address the problem of shopping for wine—something that can be difficult and overwhelming for the average consumer who might not be a wine expert. Through their customer discovery efforts in eLab, they found out that it was a challenging pain point to address. Combining that realization with Littauer's inkling that nonalcoholic wine was about to take off, the idea for Sovi was sparked in the spring of 2020.
"It was really useful to have gone through all of the motions with our previous concept and then to take everything that we learned and apply it to Sovi," Littauer said. "We discovered that this concept actually worked a whole lot better than our old one did."
With Sovi's first year in the books, it's onward and upward for the company, which has several new products on tap, including a white wine to complement its rosé and red. With the solid foundation that the Jonas Weill Entrepreneurship Fellowship has provided for Littauer, Sovi is poised to continue making its mark in the wine industry, one sip at a time.
Lauren Simpson is a marketing and communications coordinator at the Center for Regional Economic Advancement at Cornell University