Student Delegate Takeaways from COP27: Successes and Failures
By Courtney Schneider, MPA '23

In November 2022, I was fortunate to be among a small group of Cornell students selected by the Cornell Atkinson Center for Sustainability and professor Allison Chatrchyan, senior research associate in the Department of Earth and Atmospheric Sciences, to attend the 27th annual Conference of the Parties (COP27) hosted by the United Nations Framework Convention on Climate Change (UNFCCC). Each year for two weeks in November, COP hosts global representatives from government, private industry, and civil society alike, all strategizing to "keep 1.5°C alive" with the goal of limiting annual global temperature increases to 1.5 degreesCelsius above pre-industrial levels.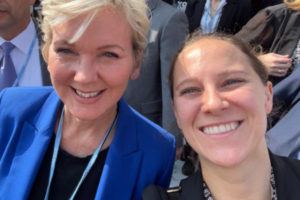 In the COP Blue Zone, which includes the official plenary space, negotiation rooms, pavilions, and side event space, there were two main events occurring: official negotiations and discussions among invited observers, like myself. While party delegates representing global governments sat in closed negotiating rooms reviewed draft commitment text word-for-word, those with observer or non-governmental organization (NGO) badges spent their day visiting over 150 pavilions and attending meetings, side events, or panel discussions of their own.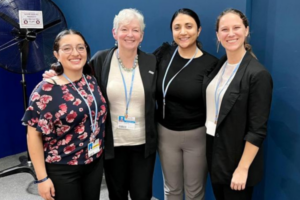 Wearing an observer badge myself, I spent most of my time sitting in on discussions centered around decarbonization strategies and technological advancement. Outside these events, I bumped shoulders with experts and diplomats like Jennifer Granholm, US Secretary of Energy; John Kerry, US Special Presidential Envoy for Climate; and Ko Barrett, NOAA's Senior Advisor for Climate; and engaged in discussions ranging from community empowerment to nuclear fusion and the decarbonization of hard-to-abate industries.
Justice through finance
I attended COP during its second week, a time when tension was at its highest. Party negotiations were wrapping up, and delegates found themselves working into the early hours of the morning to make change happen. The week was full of anticipation, information, and idea-sharing, all centered on one important theme: collaboration.
Many argue that the financial burden of this collaboration should fall on countries who have contributed the most to climate change; a call to action that culminated in the creation of the Loss and Damage Fund. The primary focus of COP27 is to serve as a climate justice initiative that seeks reparations for damages incurred — but not caused — by the developing world. Those who historically contribute the least to climate change are often impacted the most by its effects and are not in the financial position to recuperate their losses. This fund provides the developing world and island nations with much needed financial support to support and uplift disadvantaged communities.
Negotiations were slow-moving, with discussions that lasted well into the night. In a historic and highly anticipated move, party delegates reached an agreement to establish the fund, but it took until Sunday morning — two days after the close of the conference — for this to happen.
Money is not the problem
As we are all well aware, climate change is expensive, both in its impacts and mitigation strategies. Many countries report a struggle in securing the funds necessary to reach their goals. This leads to commitments not being met and deadlines being unfulfilled, but the issue extends beyond that: Even if every country managed to achieve its stated goals, we would still not be on track for the goal of 1.5°C degrees.
The problem is not money—it is behavior and risk.
"Our emissions are not our enemy; they are our creation…We are fighting a war against our own habits."
– John Kerry, US Special Presidential Envoy for Climate
As was echoed by many COP27 panelists, there is plenty of finance available in the private sector. It is the job of policymakers to act in ways that signal the importance of investing in climate positive change: it is important to structure programs in ways that show solutions are both possible and advantageous, and we must educate appropriately. When it comes to government spending, these solutions must be moved from capital to operational budgets, pushing the private sector to innovate and aid in both the financing and de-risking of projects.
All this considered, not every nation has the luxury of implementing the potential solutions discussed at each COP. We cannot, for instance, rely on electric vehicle deployment in a country that has limited access to electricity. This dichotomy between solutions and capacity is a real problem at the forefront of many conversations both on the global stage at COP and in the classroom at Cornell.
What COP27 got wrong
The Loss and Damage Fund was one of many victories at COP27, but the conference also had its fair share of defeats. This came in many forms, including Saudi Arabia's massive pavilion touting their oil export-funded climate initiatives, and OPEC's pavilion where an Argentinian delegate proudly discussed the country's commitment to scale up natural gas as a sustainable alternative.
Most surprising, however, was Russia. Due to the country's ongoing invasion of Ukraine, much conversation surrounded the repercussions from both an energy and social lens. The country had no designated pavilion at COP27 and stayed out of sight, but their delegates boldly hosted an official side event one evening to discuss ongoing climate initiatives. This was the only event in the COP Blue Zone—an already secured area—that required additional security at the door. The event made headlines for the protests that ensued, with a number of people escorted out while loudly condemning the delegation and the Russian Federation as "war criminals." All the while, the Russian delegation remained stone-faced and silent, continuing as if nothing had happened as the protests subsided. Then a shocking comment came from one of the Russian delegates:
"Collaboration is the only path to peace and prosperity of our countries."
–COP27 Russian Party Delegate
This comment was rife with political tension, but also exemplifies a major problem that plagues COP and the broader sustainability movement: Impact-washing. The comment is true; collaboration does need to happen. But coming from Russia, and particularly now, this means extraordinarily little. A country like Russia repeating the same statement throughout the conference spurs broad distrust that, unfortunately, is not misplaced: Each year, COP brings together global decision-makers who commit to grandiose plans, but once everyone packs up and returns home the real action regularly falls short. Even the UNFCCC's executive secretary recognizes this:
"There is absolutely no point putting ourselves through all that we've just gone through if we're going to participate in an exercise of collective amnesia the moment the cameras move on…The transparency of commitments from countries, businesses and institutions will be a priority of the Secretariat."
– UNFCCC Executive Secretary Simon Stiell
Takeaways
Stiell's remarks are correct: It is our responsibility to hold not just ourselves, but also our representatives accountable for both making and maintaining commitments. While COP serves as a positive driver for change, the issues are just as important as the successes.
During my time as an Environmental Finance and Impact Investing (EFII) Fellow with the Center for Sustainable Global Enterprise, I have focused in-depth on how to foster accountability in a lasting and meaningful way. I have returned from my COP27 experience with renewed optimism for the future and a clear vision of how I, together with my Cornell colleagues and peers around the world, can tackle the climate crisis. I have learned that solutions may not be easy, but they do exist, and it is imperative that we address any problems along the way.
Acknowledgements
My experience at COP27 was eye-opening and incredible, and it would not have been possible without support from the Cornell Brooks School of Public Policy. Thanks to both their funding and Cornell's dedication to cross-departmental collaboration, I was given the opportunity of a lifetime, providing me with valuable career insights and facilitating important global connections that will undoubtedly shape my future.
About Courtney Schneider, MPA '23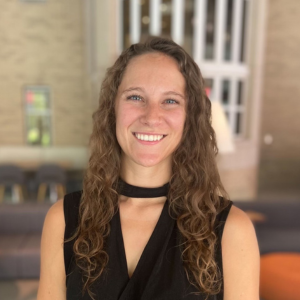 Courtney Schneider graduated from the Cornell Brooks School of Public Policy concentrating in environmental policy with a certificate in environmental finance and impact investing. Courtney gained broad policy exposure during her master's, including her work as a student consultant to the Peruvian Ministry, her experience as a Cornell delegate at COP27, and her role as project manager for the Ithaca Green New Deal. Courtney is also an EDF Climate Corps Alumna ('22), through which she consulted the NYC DCAS in capacity-building for their ongoing fleet electrification project—work that has since been recognized and referenced by the NYS fleet team.