FourTips for Student Entrepreneurs from Rob Karp '19 – Miles Ahead CEO and Entrepreneur in Residence

By Isabel Walter '24
At 14, Karp started his company MilesAhead, a luxury travel agency. While in his undergraduate education at the Cornell Peter and Stephanie Nolan School of Hotel Administration, Karp continued to build his company and managed the impossible combination of being a student, having a social life, getting enough rest, and excelling as an entrepreneur.
On Monday, September 18th, 2023, Rob Karp '19 spoke to students in an event held by the Air and Sea Hospitality Club at the Leland C. and Mary M. Pillsbury Institute for Hospitality Entrepreneurship (PIHE). During the fireside chat, Karp shared words of wisdom and lessons he learned along the way. Here are some of our favorite takeaways:
Think outside the box and be resourceful when pursuing big ideas
"Be scrappy! Be persistent and resourceful, but most importantly, have fun". Karp shared this advice after a student questioned how he took his company from an idea to a profitable business. Whether it be calling up potential clients, classmates, or figuring out your own code, you have to hone in on your motivation and grit to do the non glamourous things required in maintaining a successful business.
Combine Work and Friends
"I worked on MilesAhead with my friends every day after class." Karp reflected positively on the hours of time he was able to share with friends by bringing them into his business. In doing so they were able to work, study, and socialize in a very fun and collaborative environment, together.
Leverage Cornell's Resources
"I would go to the Pillsbury Institute all the time after class. My friends and MilesAhead team felt comfortable, learned in, and identified with the space." During his time at Cornell, Karp utilized resources like the PIHE and Entrepreneurship at Cornell's eHub for advice and motivation with his business, "the limitless resources and opportunities are here for students to take advantage of."
Follow your passions, but don't neglect relationships
Karp cautioned students to maintain balance rather than spend all their hours studying and working, reminding them that "You'll be working for the rest of your life, but It will never be this easy to get 24 hours straight with your best friends ever again".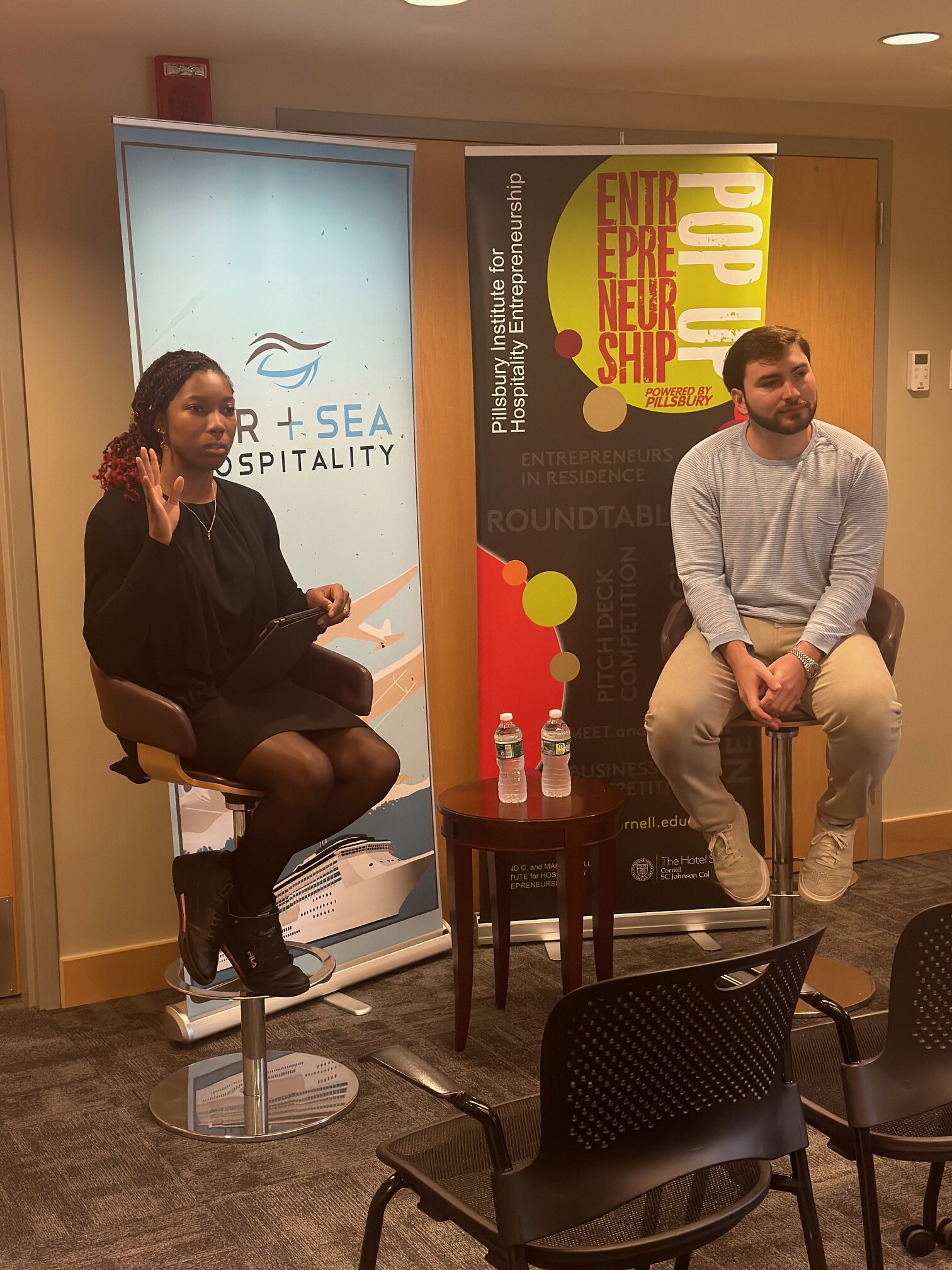 Karp was grateful to be back to share advice and answer questions from the audience.
His company will be tapping into the Cornell connection as they recruit for full-time and internship positions at MilesAhead. Karp is pleased to continue his relationship with Air and Sea Hospitality and the Pillsbury Institute, maintaining his connection with the Cornell community.
The club's vice president and event moderator, Kayla Goodwin '25, commented on the importance of collaborations such as these: "We really are grateful to Rob and the entire MilesAhead team for giving back time to Cornell students. It's very important to bring visibility to spaces like the [PIHE] and give students time with successful alumni they feel they can relate to. People like Rob and the other entrepreneurs in residence have the power to simultaneously inspire young entrepreneurs and demystify the journey. Hotelies are encouraged to dream big, which is fantastic, but it's easy to become discouraged when you feel like you have a big idea with nowhere to put it". The Pillsbury Institute and Air and Sea Hospitality Club appreciate the hours of time and life lessons Rob Karp shared.
About the Air & Sea Hospitality Club: The Air & Sea Hospitality club aims to be Cornell students' gateway to the exciting worlds of aviation and cruise lines. The club gives its members the opportunity to explore these industries and their passions through opportunities including educational sessions, seminars with industry experts, excursions, and more. Questions about the club, its events, or opportunities with MilesAhead can be directed to airandseahosp@gmail.com or kng23@cornell.edu. Students interested in joining the club may reach out via email or register on CampusGroups.
About The Leland C. and Mary M. Pillsbury Institute for Hospitality Entrepreneurship (PIHE): The PIHE engages leading industry experts and faculty to educate students and provide them with experiential opportunities to learn all aspects of entrepreneurship. To support these critical goals, the Pillsbury Institute offers students, entrepreneurs, and faculty an expanding range of courses, programs, and activities focused on advancing students' entrepreneurship knowledge and mastery. Questions about PIHE programs and events can be directed to program manager, Michelle (Ciaschi) Mahool.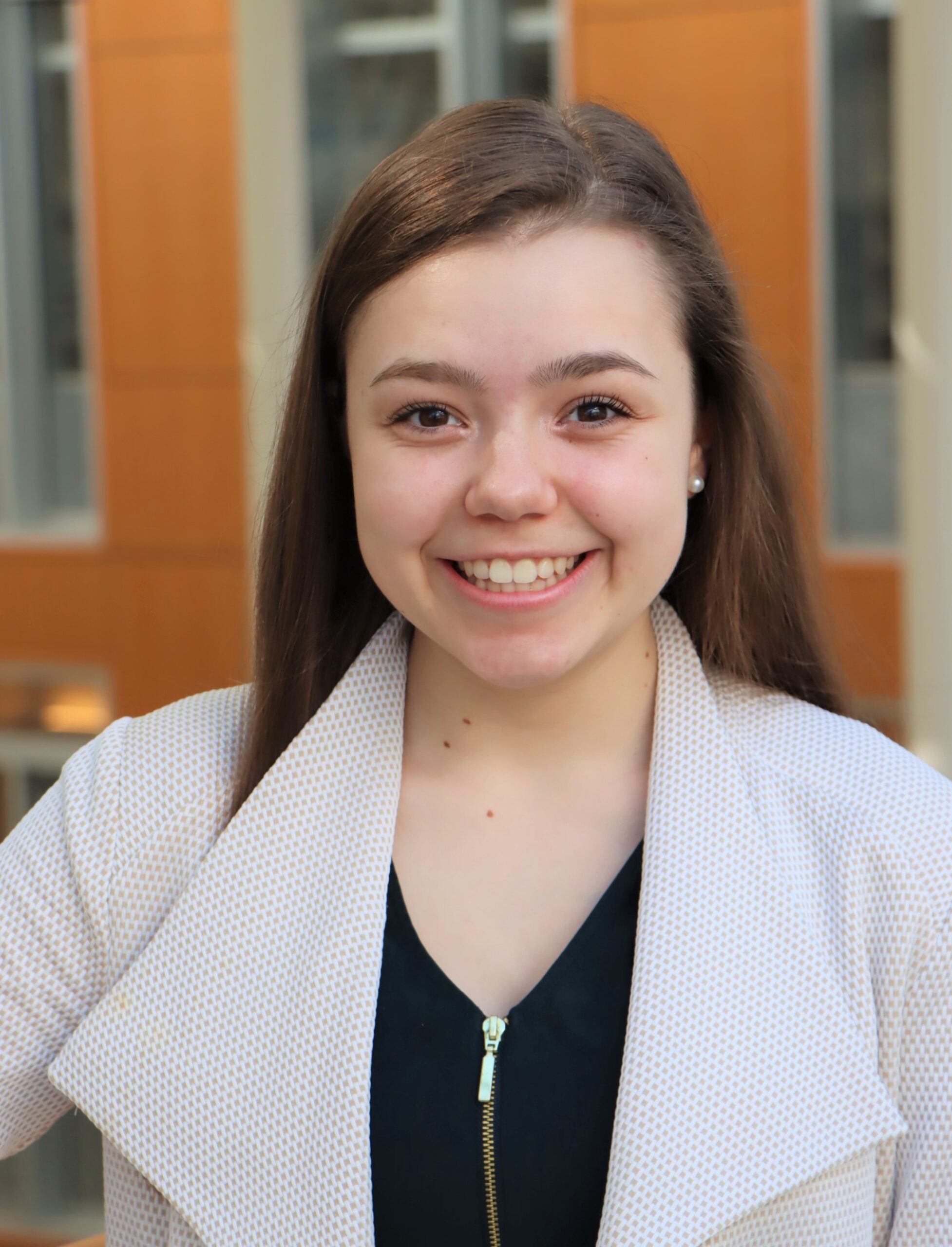 Isabel Walter '24
Isabel Walter is a senior in the Nolan School of Hotel Administration. She spent this past summer as a Finance Intern for The Walt Disney Company and is the VP of Cruise Planning for Air & Sea Hospitality.