Product Management: A Pivotal Position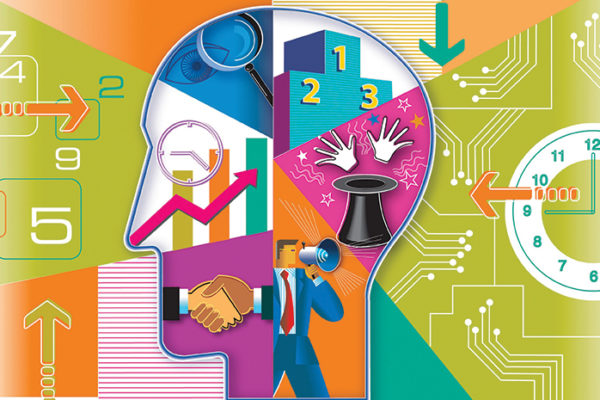 Some call it a "mini-CEO." To others, "chief influencer" sounds more apt. Whatever descriptor you use, the role of product manager has captured the imagination of today's MBAs.
When a product is a piece of technology, or when it relies on a technology foundation, it takes a special kind of person to shepherd that product through the stages of its life. It takes someone who can speak the language of engineers but also thinks like a management executive.
Such people are called product managers, and good ones can be tough to hire. Technology companies often struggle to find candidates who combine technical and cultural knowledge with business management skills, says Douglas Stayman, associate dean of Cornell Tech in New York City. "They want an MBA who not only understands technology, but understands technologists and how to use technology and has a different cultural awareness," he says.
Cornell Tech's curriculum is designed to fill that need — for example, with its Product Studio, where technology and business students collaborate on digitally enabled products for local businesses and nonprofit organizations. In Ithaca, Johnson also produces many MBAs with the right blend of skills to step into product management roles.
According to a March 2016 story in the Wall Street Journal, "product manager" at a technology firm is the new dream job among business school students.
"People want to have influence on the types of products and services that are being developed, the features they have, and the way they are meeting customer needs," observes Cynthia Saunders-Cheatham, executive director of Johnson's Career Management Center. That desire is drawing a growing number of MBAs toward careers in product management.
Simply put, a product manager takes charge of a product from conception onward. Working at the center of a multidisciplinary team — which might include colleagues from engineering, marketing, finance, operations, and other functions — the product manager oversees product design, production, promotion, improvement and, if need be, end of life.
"The product manager understands the business needs and customer needs, and how to translate those needs into technical requirements." — Yvonne Chou, MBA '07, Amazon Fashion
"The product manager is the one bridging the gap. They understand the business needs and customer needs, how to translate those needs into technical requirements, and what technology assets we have to build to address them," says Yvonne Chou, MBA '07, senior manager of product management at Amazon Fashion in Seattle.
While balancing business and customer requirements, the product manager also negotiates between colleagues whose concerns are mostly technical and colleagues whose concerns focus on business imperatives. "It's someone who can steer the ship and have an eye on both sides and tries to integrate everything," says Shawn Mankad, assistant professor of operations, technology and information management at Johnson and co-director of the Digital Technology Immersion.
Typically, a product manager works at a company that sells technology or technology-enabled products. The job evolved from what consumer packaged goods (CPG) businesses call "brand manager," a title that dates back to the 1930s, says Manoj Thomas, associate professor of marketing at Johnson. But the technology industry has given the job a couple of twists.
"The role definitions for product managers are not as clear as they are for brand managers," Thomas says. And while brand managers almost always hold MBAs, until recently tech companies have looked mainly to engineers or computer scientists to manage their products.
Today that's changing. At some companies, marketing savvy and general management skills have gained ground as key competencies for product managers, Thomas says. "Those companies might choose to staff those positions with MBAs rather than with engineers."
Or they might seek candidates who come from both worlds. Thomas's Product Marketing Insights course attracts many students who enter Johnson's One-year MBA program with technical degrees, and many of those go on to become product managers. At Cornell Tech, where the melding of technology and entrepreneurship is central to the entire curriculum, the MBA program was conceived with product management positions in mind. And in Ithaca, the Digital Technology Immersion provides strong grounding for aspiring product managers.
Cloud, Genes, Credit, and Coffee
The new breed of product manager typically builds a background in a technical discipline and then earns an MBA. One example is Gbadebo Aderibigbe, MBA '16. With an undergraduate degree in computer science and experience as a software engineer, Aderibigbe moved from Johnson into a job as senior technical product manager at Amazon Web Services (AWS) in Seattle. His realm is the AWS Marketplace, a cloud-based marketplace where companies sell software that works with or on AWS.
Aderibige's area of focus is the customer experience — "anything that touches the customer who is looking to engage with the third-party software." That could include, for example, a customer who wants to buy software to run on a server platform called the Amazon Elastic Compute Cloud (EC2). "There, I work to continually improve the experience of purchasing and using the software that might run on a virtual server."
Biotech companies, such as Thermo Fisher Scientific, a large, multinational player in the life sciences industry, also hire product managers. Chengya Liang, MBA '13, serves as associate director of product management for Thermo Fisher's clinical next-generation sequencing (NGS) business at the company's South San Francisco site. With an MD in her background, plus a PhD in biomedical sciences, Liang manages NGS immuno-oncology products, used to discover biomarkers and to stratify patients for clinical trials. She also manages a large NGS library product portfolio.
"I wanted not only to be an independent scientist, but also to be able to influence the life science and diagnostic healthcare industry on a large scale." — Chengya Liang, MBA '13, Thermo Fisher
After working as a research scientist, Liang came to Cornell to pursue an MBA because she wanted to increase her potential impact. "I wanted not only to be an independent scientist, but also to be able to influence the life science and diagnostic healthcare industry on a large scale," she says.
Part of Liang's job is to lead a global, cross-functional team that works on new product development. "That includes the research and development, operation, quality, marketing, and commercial teams," Liang says. She also oversees a large portfolio of existing products, develops business strategies based on market trends and needs, works with marketing and commercial teams on global launches of new products, and establishes strategic alliances with external partners, among other functions.
Like Aderibigbe and Liang, many product managers rely on their own technical expertise to inform their conversations with engineers who build and maintain products. But just as not every product manager works for a technology firm, not everyone who holds that title knows how to code. Rachel Flynn, Cornell Industrial and Labor Relations '06, Cornell Tech MBA '16, worked in human resources consulting before taking a product management position at American Express. From Cornell Tech, she moved into her current job as head of product at MM.LaFleur, a New York-based e-commerce fashion retailer.
Flynn's team at MM.LaFleur works on both customer-facing products and internal platforms — the portfolio of digital tools that helps her colleagues do their jobs. Those tools range from warehouse management software to e-commerce functions that help to sell products. "One of the projects we'll work on this year will be to make sure that when you look at products online, you see items that are in stock in your size and that are aligned to your preferences," she says.
Although Flynn lacks an IT background, her experience in HR consulting helped to prepare her for managing products that help people do their jobs more effectively, she says.
Beyond the Tech World
While the title is strongly identified with technology, financial services and retail companies also hire product managers. Andrew Goodman, MBA '14, for example, is vice president of co-branded card product management at Citi in New York. As part of a team responsible for credit cards co-branded with Hilton, he focuses on customer service strategy.
"For any customer service issue escalations that can't be handled at the operations center and need to come to the business, I'm the business," Goodman says. He also runs special promotional events for Citi Hilton card members — say, a dining event at a new Hilton property — and lends support to the colleague who runs marketing campaigns that target existing customers.
Even further afield from the technology world is Deborah Philips, MBA '14, who helps to develop premium beverages, part of the "Reserve" coffee line, for Starbucks' new Roastery coffee bars and cafés. Philips' current title is brand manager, but she first came to Starbucks as product manager, global innovation, at-home coffee, and single-serve.
At Starbucks, "product manager" is an entry-level position usually filled by a recent MBA, Philips says. As an employee advances to brand manager and senior brand manager, the job becomes more complex and carries more responsibility, but the focus stays much the same, she says. And the work of a brand manager at Starbucks is much like the work of product managers at tech firms.
Philips conjectures that Starbucks borrowed the product manager title from some of its tech-oriented neighbors. "It's probably because we sit here with Microsoft and Amazon in Seattle that the title makes sense." It's not uncommon for marketing professionals to move among those large local employers, she says.
The Lure of the Role
Many routes lead MBAs to product management, but often the attraction is the same: the chance to do work with tangible results.
Product management is a pivotal role, says Stayman. "You really make a difference. You're a leader in developing a product that has an impact on your organization and society."
In that pivotal position, a product manager gains broad experience that could lead to career advancement. "You get the strategy, the marketing. You understand the profit and loss and how things work day to day," Goodman says. "It's not often that early in one's career you can say you have exposure to almost all aspects of business management."
"You come to understand the whole business from multiple perspectives. That's an excellent experience for somebody who aspires to lead a business in the future." — Chengya Liang, MBA '13, Thermo Fisher
Such exposure — serving as the "CEO of a product" and working with a diverse, global, cross-functional team — provides a unique opportunity, says Liang. "You come to understand the whole business from multiple perspectives. That's an excellent experience for somebody who aspires to lead a business in the future."
"I enjoy the ability to influence the product line and, by extension, the product's future revenue stream. That sense of ownership motivates me." — Deepak Kallakuri, MBA '11, Oracle Cloud Services
As director of product management at Oracle Cloud Services in Redwood Shores, Calif., Deepak Kallakuri, MBA '11, oversees a $300 million portfolio of managed cloud services. That includes working with customers to learn what new features they want to see and then working internally to translate those desires into functions.
"For example, I work with engineering and the user interface designers on how the software should work and what we want the customer to see," he says. When he launches a new offering, he spends a good deal of time with sales teams at Oracle and its channel partners, talking up the product to help stimulate sales.
"I enjoy the ability to influence the product line and, by extension, the product's future revenue stream," says Kallakuri. "That sense of ownership motivates me."
For some product managers, variety is another attraction. "Every day is something different," says Meghan Servello, Cornell Tech MBA '16, and a product manager at the Brooklyn-based e-commerce company Etsy.
Like Flynn, Servello manages software tools used by employees. One tool she worked on recently helps Etsy's trust and safety team review sellers who might take part in marketing or media opportunities. But another day might find her refining tools that help the member operations team answer customer inquiries or mediate a dispute between a buyer and seller.
"By partnering with engineers, I am highly involved in the problem-solving elements required to build a great product." — Meghan Servello, MBA '16, Etsy
Servello earned a BS in computer science and learned about product management while interning at the document management company Mimeo. There, she observed that a computer science background helps product managers communicate well with engineers. "While product management does not require me to code as a primary function of my job, by partnering with engineers in this role I am still highly involved in the problem-solving elements that are required to build a great product," she says. For her, that combination of elements is a great fit.
Influence Without Authority
While a product manager's position in the center of a many-spoked wheel offers sizable rewards, it also produces a serious challenge: how to wield influence when you're not formally in charge.
"You're working with all these different people, but you don't manage anyone specifically," says Servello. "You have to understand the motivations of the customers, the stakeholders, other people on your team, people on parallel teams who have interests in using the same resources you do. You have to convince them that the project you're working on has impact; they should get excited about it and come work with you."
Chou also points to the complexity of working with many different stakeholders. At Amazon, her product is the customer experience in the area of the website that sells clothing, shoes, and accessories. To build features such as compelling product images and efficient search tools, she works with people who "own" the technology platforms as well as people on the business side of the house.
"Every one of the stakeholders you work with is also a customer, which is great, but it can also be a challenge to have everyone understand the different perspectives of all the customers we serve," Chou says. "Product Managers lead discussions to bring together feedback from internal stakeholders and external customers. The varied opinions typically lead to great discussions that result in the best products for our customers."
When working with engineers or scientists, the product manager must take special care to champion the needs of customers who use the product, says Liang. "Our R&D scientists always have brilliant ideas, but sometimes a particular idea might not be the best fit for the specific customer segment that a product targets," she explains. "Often you are leading without authority, and leading brilliant scientists and a diversified team. To narrow down those different ideas to best fit into our customers' specific requirements can be challenging."
Effective Strategies
One secret for gaining buy-in is to get out in front of important issues. "You have so much ability to influence people if they haven't already formed an opinion," says Philips. Listening and making people feel heard are also important, she says. So is explaining the "why" behind your requests.
If Philips simply asks the Starbuck's R&D team to develop a beverage that meets certain criteria, the team might not respond well, she says. "It's better to say, 'Here's who our consumer is, here's the challenge we're trying to address, and here's the strategy we've come up with to address it. Could you create XY&Z to accomplish that?' Not only will they get more engaged in problem solving, but they might see an opportunity I didn't see."
"A customer's needs continually evolve, so your understanding must as well." — Gbadebo Aderibigbe, MBA '16, Amazon Web Services
Getting a handle on customers' needs can be a challenge as well. "No good product manager will ever claim that they have perfect understanding of their customer," Aderibigbe says. "A customer's needs continually evolve, so your understanding must as well."
At Amazon Web Services, customers range from developers and small entrepreneurs to large enterprises, all with different desires. "I have to understand how those desires translate into software goals," Aderibigbe says. "Then I brainstorm, design user experiences, and have engineering discussions with my colleagues. I try to guide product launches that simplify, innovate, and achieve those goals."
Sometimes customers can't perfectly define the improvements or experience they want, Aderibigbe says. "But they feel, or can tell you, that something is missing. It's my job to dig deeper and understand what that need actually is, so we can dedicate ourselves to meeting it."
Engaging with customers may also help a product manager gain greater influence with internal stakeholders. That's what Kallakuri found in an earlier job as product manager at the machine vision company Cognex Corporation. "I would meet with something like ten customers before I went to engineering with my requirements," he says. He found that sharing specific feedback from individual customers proved extremely persuasive. "It's hard to argue with actual data."
Bringing engineers in to talk with customers can help a product manager build trust and win support for a particular vision, Kallakuri adds, because that way "they get that feedback firsthand."
Whether the customers are external or internal, and whether the product in question is a physical item, a software solution, or a user experience, for many product managers with MBAs, the role provides the same basic satisfaction: the pleasure of seeing a product take wing.
"The most rewarding thing is when you launch a product and you get customer feedback saying, 'This is exactly what I wished I could have, or this helps me do something much better than I could before,'" says Aderibigbe. "It tells you that for all the blood, sweat, and tears you put into a product or a release, it fulfilled your mission."