The Digital Revolution Takes on Healthcare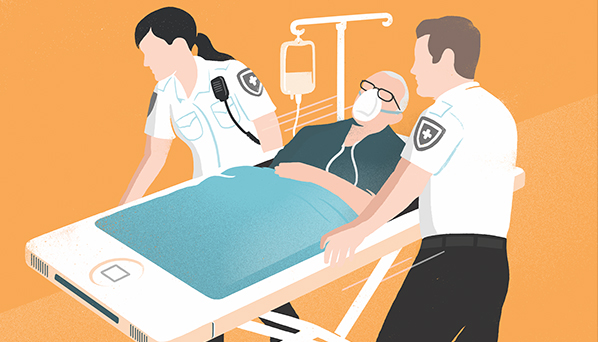 Digital technology is disrupting old models and driving innovation in healthcare, an industry that is ripe for change.
On March 26, 2017, an EMT in Parsippany, New Jersey, encountered a patient with clear symptoms of an acute stroke. The EMT needed paramedics to officially diagnose the stroke in order to transport the patient to Morristown Medical Center for tPA, a powerful clot-busting agent.
But time was running short, and the drug would have the best chance to work within 60 minutes of the stroke occurring. Using a mobile smartphone technology called Twiage, the EMT was able to bypass traditional radio communication and send photos of the patient's stroke symptoms with descriptive text to the emergency room nurse at Morristown Medical Center, who instructed him to bring the patient to the hospital directly instead of waiting for paramedics.
Using a built-in triage algorithm, Twiage sent a GPS tag and an estimated time of arrival (ETA) to the hospital. When the ambulance arrived, a room had already been prepped, and the nurse was able to quickly triage the patient's stroke symptoms based on the secured photo. For the patient, a potentially debilitating event became relatively minor, with a much better prognosis for recovery.
Absent the new technology, the first responder would have had to step away from the patient to radio hospital staff an assessment and ETA. And according to a study of three Twiage client hospitals in the Steward Health System in Massachusetts, emergency room personnel would have taken about 14 minutes longer to prep a bed. All the while, the ambulance would have stood idle outside. In total, door-to-room assignment time — the time between arrival at a hospital and getting to a bed for intervention — would have been about 30 percent longer.
"Radio technology has been the status quo communication system for ambulances since the 1960s. People outside the industry can't believe how antiquated the system is." — John Hui, MBA '15, co-founder of Twiage
That's a lot of wasted time for an inferior outcome, says John Hui, MBA, '15, Twiage co-founder. "Radio technology has been the status quo communication system for ambulances since the 1960s, but it's not because better technology isn't available but because of the risk-averse nature of healthcare," says Hui. "People outside the industry can't believe how antiquated the system is." Twiage's innovation in emergency care coordination has been recognized by some prestigious industry organizations. In 2016, the American Medical Association awarded Twiage first place in its Healthier Nation Innovation Challenge, and the American Heart/Stroke Association awarded Twiage the People's Choice Award in its Annual Health Tech Competition.
From mobile technology like Twiage, to telemedicine, big data, and IT applications, digital technology is transforming healthcare in ways both large and small. In many cases, entrepreneurs like Hui are working with administrators and other leaders from across the healthcare system to address a complex market that's ripe with opportunities to reduce waste, humanize care, and improve people's lives on a large scale.
An Industry Ripe for Change
Though many entrepreneurs and healthcare experts are focused on North American opportunities, some problems — particularly providing access to good healthcare in rural communities — cross borders and boundaries. On April 25, 2017, Dr. Raj Panjabi, co-founder and CEO of Last Mile Health, was awarded the TED Prize, along with $1 million. His Community Health Academy aims to connect makers of potentially life-saving technologies like diagnostic smartphone apps with health workers in the field, all with the goal of serving the estimated one billion people without access to good care.
The scale of the global healthcare industry is mind-boggling. In the United States alone, health expenditures accounted for $3.2 trillion in 2015 — nearly 18 percent of the country's total GDP, according to a 2016 report by the Obama Administration published in the journal Health Affairs. And with a growth rate of 5.8 percent per year, health spending is predicted to top 20 percent of GDP by 2025, with nearly one in five Americans on Medicare by that time.
Healthcare economists estimate that about one-fifth of healthcare spending is wasted on wrong or unnecessary treatments. Other estimates, including a 2012 report published by the Institute of Medicine (renamed the National Academy of Medicine in 2015), put healthcare waste closer to 30 percent, making it a trillion-dollar problem — or opportunity.
Hui, who grew up in China but came to the United States as an immigrant during his college years, didn't stumble on the idea for Twiage by mistake. For the past 14 years, he has been working in various industries in healthcare as a serial healthcare entrepreneur and angel investor. Before Twiage, which Hui expects to scale from 12 hospitals to 50 hospitals by the end of 2017, Hui started two other healthcare companies, including Reliant Diagnostics, a radiology management company, and Superus Health, a medical tourism agency that helps patients from China receive high-quality medical services in the U.S.
The Affordable Care Act was partially designed to reduce waste in the healthcare system — to facilitate a shift from fee-for-service care to outcome-based care. In the fee-for-service model, doctors and health providers receive compensation based on the services, tests, and procedures they complete for the patient. Outcome-based care instead rewards positive patient outcomes.
But rather than relying on large-scale government policy to change the system, a new set of technologies across telehealth, big data, and IT may be able to eliminate up to $300 billion of that waste while improving outcomes. Many healthcare insiders argue that digital innovation in the space is long overdue. "I've seen a lot of improvements in technology, with CT scanners, MRI, and imaging technology, how we're treating cancer, chemotherapy, etc. But the basic delivery of healthcare hasn't changed much in the last 50 years," says Bruce Korus, MPS '74, a graduate of the Sloan Program in Health Administration and a healthcare consultant who worked for over 30 years as a health administrator.
"By using models popularized by the tech industry, health services can shift from hospitals and clinics to homes and smartphones." — Bruce Korus, MPS '74, healthcare consultant
Korus, who organizes monthly conference calls with healthcare leaders in Silicon Valley and beyond, says that by using models popularized by the tech industry, health services can shift from hospitals and clinics to homes and smartphones. They can also better integrate holistic and behavioral health into medical care while providing services that are easier to use and more affordable. All of these, says Korus, can fuel innovation while helping decrease burnout among health providers, an endemic problem.
Even if the broader industry is resistant, the venture capital community is pushing for change. Funding has been pouring into healthcare startups. According to research firm CB Insights, global equity funding to private digital health startups grew for the seventh straight year in 2016, hitting a high of $6.1 billion. That's up from just over $1 billion in 2010 and just over $0.5 billion in 2009.
Some sectors within the digital healthcare tech startup space are beginning to move toward the earliest stages of maturity. While the large majority of equity financing rounds went to early-stage, seed, and Series A companies in 2016, a few more mature companies like Oscar Health Insurance and Flatiron Health also raised large funding rounds. Others, like Truven Health Analytics and NantHealth, respectively, were acquired or IPO'd at valuations in the billions.
Going to market: Who pays?
Innovating in healthcare isn't a plug-and-play scenario, however; the system is rife with nuance. As Hui says, healthcare has traditionally been a risk-averse field, and while entrepreneurs and technologists from Cornell and elsewhere continue to bring new treatments, medical devices, and products to market, they are finding an incredibly complex — and constantly changing — market.
For example, unlike in a traditional business-to-consumer model, healthcare payments can come from multiple sources, making revenue models complicated. "The million-dollar question is, 'Who is going to pay for it?'" says Hui. "Sometimes companies have fancy technologies, but without understanding the payment reimbursement model, they will not succeed in the healthcare industry," says Hui. He says Twiage charges hospitals a SaaS-based annual subscription based on how many EMS transports they receive, but to increase adoption, the solution is free for first responders.
The pace of innovation in digital has surpassed technological improvement in physical counterparts, such as medical devices. "There are all kinds of tools to make it easier to do innovation and develop new products — materials, computerized design systems, CNC, 3D printing. All that stuff didn't exist 20 or 30 years ago," says Mike Berman '79, MBA '86, who spent five years leading the cardiology business at Boston Scientific before becoming an early-stage venture investor 17 years ago. "But the tides pushing against innovation [in the medical device space] are much greater. The cost to bring a product to market is much greater than it was 30 years ago."
Before 1976, companies didn't even need FDA preapproval to bring a new device to market, Berman says. And though good for patients and the healthcare system overall, the level of evidence needed to win acceptance and eventual approval from Medicaid has continued to grow. "In pharmaceuticals, it's the reverse of Moore's law — the cost of developing a new molecular entity keeps doubling every five years or so. The same is true of medical devices," says Berman.
And even if the product makes it to market, health plans, including Medicare, may not pay for it. Take CardioMEMS, a battery-free sensor that is implanted into the distal pulmonary artery to continuously measure pressures in the heart, potential heart failure deterioration, and to guide medication adjustments. "These have been shown to prevent heart failure hospitalizations, which are expensive," says Berman. The company was founded over fifteen years ago, and although the device finally got FDA approval in 2014, Medicare has yet to decide whether to pay for it. If approved for reimbursement, the company that makes the device stands to grow quickly, "but it was tough going," says Berman.
In the digital space, there are fewer hurdles to overcome and plenty of opportunities to reduce costs and drive better health outcomes. Many healthcare entrepreneurs have big goals — like finally creating a better system of managing digital health records.
New leaders for a new era
But the "Uber for healthcare" concept, whereby startups adapt and scale based on successful Silicon Valley models, rarely works in the healthcare space, says Dr. Thomas Campion, assistant professor of Healthcare Policy and Research and director of Research Informatics at Weill Cornell Medicine in New York. "Outside ideas are helpful, and entrepreneurs can help drive innovation, but these entrepreneurial efforts really need to make sure they try to understand the complexity involved in healthcare," says Campion, whose work focuses on making electronic health record data available to scientists.
To provide more context for that complexity, Weill Cornell Medical and the SC Johnson College of Business will launch a new Executive MBA/MS in Healthcare Leadership program in the fall of 2017. The program focuses on healthcare throughout the United States, especially systems that are experiencing vast changes in structure, payment, and regulatory requirements. "So many people have learned healthcare policy, delivery, or administration through mentorship or apprenticeship," says Dr. Rainu Kaushal, chair of Healthcare Policy and Research at Weill Cornell Medicine and a physician and health services researcher, who will direct the new program. "But the system has become so complex that we really need to have training in the fundamental competencies behind it."
"Leaders really need to steep themselves in the healthcare system in order to see how technology can improve it." — Dr. Rainu Kaushal, chair of Healthcare Policy and Research at Weill Cornell Medicine
The EMBA/MS in Healthcare Leadership zeroes in on real-world challenges facing healthcare. So while students will complete coursework in healthcare policy, leadership and strategy, finance, accounting, and general business, they'll also engage in a six-month capstone project with a healthcare organization facing specific management challenges. In addition to engaging with real-world organizations facing real problems, Kaushal says, leaders really need to steep themselves in the healthcare system in order to see how technology can improve it.
Telemedicine Takes on Physician Shortages
Existing models like telemedicine, where doctors serve patients through remote technologies, including video, have the potential to humanize healthcare while making it more efficient and affordable. "It's not telemedicine, it's simply the new medicine. It just happens to be delivered via video," says Jamey Edwards '96, MBA '03, CEO of Cloudbreak Health, a telehealth company based in Los Angeles. "It's not a new concept. It's just one whose time has come and whose adoption is growing rapidly."
"It's not telemedicine, it's simply the new medicine. It just happens to be delivered via video." — Jamey Edwards '96, MBA '03, CEO of Cloudbreak Health
When done right, telemedicine can cut down on wait times, increase doctors' time actually serving patients, and even save lives. What's more, since rural hospitals increasingly suffer from a shortage of specialists, like neurologists, telemedicine can "beam" a neurologist into an ambulance or ER, diagnose a stroke victim, and allow a nurse to administer the critical tPA injection much more quickly, as in the Twiage example. And because a small hospital can use technology to diagnose such critical issues, it won't lose ambulance traffic to hospitals with specialists on site.
Telehealth can also help keep patients in their communities while receiving ongoing treatment, and that can improve long-term outcomes, says Edwards. At the same time, by increasing doctor productivity and enabling them to spend more time with patients, telemedicine can help alleviate the burnout that 49 percent of health providers say they feel, according to a study conducted by the Mayo Clinic.
In 2015, the Kaiser Permanente nonprofit hospital chain conducted more interactions between patients and healthcare providers virtually than through in-person visits, according to CEO Bernard J. Tyson. "For the first time, last year we had over 110 million interactions between our physicians and our members," said Tyson at last year's Dreamforce conference in San Francisco, adding that 52 percent of them were done via smartphone, videoconferencing, kiosks, and other technology tools.
"Patients don't want to take half a day off of work to come in and see us." — Heidi Steeves, MHA, '89, a senior administrator with Northwest Permanente
In virtual care and telemedicine, the technology doesn't need to be particularly advanced to be valuable, says Heidi Steeves, MHA, '89, a graduate of the Sloan Program in Health Administration and a senior administrator for specialty care with Northwest Permanente, part of Kaiser Permanente. "Patients don't want to take half a day off of work to come in and see us. They see even higher value in telemedicine than a regular office visit, because they didn't have to take that time off work to see the doctor," says Steeves, adding that the value is reciprocal. As Kaiser Permanente adds members, virtual care helps it to manage physical space limitations and see more patients, as virtual care appointments often take less time than in-person visits.
Keeping healthcare accessible
The healthcare system seems to have a never-ending flow of issues that technology can address. The implications for rural physician shortages are huge, especially for small towns where the hospital is not only a healthcare resource, but also the major employer. For them, shortages go beyond physicians, extending to other specialists that a hospital absolutely needs in order to stay in business, says Mary Giannini '71, MBA '74, a graduate of the Sloan Program in Health Administration and a healthcare lawyer who manages compliance for Medication Review, a telepharmacy company based in Spokane, Wash.
Medication Review helps hospitals of all sizes manage remote prescription order processing, but its service has proven particularly valuable for those in small, rural communities. Giannini says that many small hospitals can no longer afford to have a pharmacist available to oversee prescriptions 24/7, though they are required to — or face closure by the state. Using a computer, phone, or Skype, the system allows remote staff to review the order with a sophisticated on-premises medication disbursement system. "Frankly, today, if a little hospital didn't have the option to use telepharmacy, it might have to close, because it wouldn't have the ability to properly fill prescriptions," says Giannini.
"If a little hospital didn't have the option to use telepharmacy, it might have to close, because it wouldn't have the ability to properly fill prescriptions." — Mary Giannini '71, MBA '74, a healthcare lawyer for Medication Review
>When hospitals close, the impact on communities can be devastating. Lack of emergency care and increases in travel time, particularly for people with chronic conditions, including veterans and older people, exacerbate inequities in the system.
But telehealth is already showing signs of stemming that problem, expanding access, and reducing chronic inequities. A 2014 study by the Richard L. Roudebush VA Medical Center in Indianapolis found a 96 percent overall satisfaction rate among veterans using the center's telemedicine platform. Veterans traveled almost 800,000 fewer miles in the two-year span, saving the hospital more than $330,000 in reimbursements.
Cutting Costs via Big Data and AI
Like telemedicine, big data and artificial intelligence can help improve the quality of care and deflect or reduce the frequency of patient visits. Technology can also help with diagnosis. WebMD has long been a go-to website for making a home diagnosis, but Palo Alto-based HealthTap layers on artificial intelligence and machine-learning capability to help home-based caregivers diagnose and triage many potentially serious issues. For minor problems, the patient can avoid an in-person doctor visit. But when the system detects a red flag, it encourages the user to seek more intensive medical tests or interventions.
Without expert assistance, patients often seek unnecessary diagnostic tests, creating a huge drain on healthcare resources. But for disorders like Alzheimer's disease, early detection is key to mitigating the disease's effects and costs. "Expert consensus suggests that without significant advances in Alzheimer's treatment, the costs of managing the ensuing dementia will eventually bankrupt Medicare," says Dennis Fortier, MBA '90, president and CEO of Medical Care Corporation (MCC), a Newport Beach, Calif.-based neuroinformatics company that develops assessments for cognition. "[Dementia] is expensive because in its early stages it inhibits your ability to manage your medications, and overall health generally suffers. In later stages, when cognition is severely impaired, a person may be institutionalized," says Fortier. That can cost $50,000 per person per year.
About 10,000 baby boomers are turning 65 every day. Many, noticing mild changes in their memory, fear the worst, and ask their doctor to evaluate them for an underlying condition like Alzheimer's. Increasingly, the doctor orders blood work, a neuropsychological battery, and an MRI of the brain, along with a neurological consult. Since early detection and timely intervention against underlying conditions can reduce costs in the long run, Medicare typically covers the total price of such a workup, around $3,000.
In a fee-for-service model, the doctor orders the tests, gets paid, and everyone is happy. But healthcare organizations focused on improving outcomes and cutting costs see such tests as unnecessary and wasteful. These organizations are motivated to fully evaluate emerging medical conditions without performing unnecessary tests on healthy patients.
For MCC, which Fortier says is a data analytics company at its core, there's a big potential payoff in helping stem waste in the healthcare system. Using a sophisticated mathematical algorithm, they've created a simple test, which Fortier says is 97 percent accurate, to help answer a very simple but important question: Is a patient with subtle memory loss experiencing normal aging, or does he or she have an underlying medical condition like Alzheimer's? Only the latter group will benefit from an expensive medical evaluation while those in the former group can put their worries to rest.
Fortier says that about half of patients expressing a memory concern to their doctor are aging normally. Among the other half, the majority will have very manageable underlying conditions such as poorly controlled diabetes or hypertension, thyroid dysfunction, depression, or a sleep disorder. Some will have a more serious condition, but all will benefit from timely detection.
Compared to today's more typical approach, MCC's test is simpler, more scalable, and only costs $85 — less than 3 percent of the usual $3,000 bill. Fortier describes a process that sounds closer to Amazon than Aetna: "We collect the data electronically from the physician's office, transmit it to our servers for analysis, and deposit the results into the patient's record in real time," he says.
In many ways, it doesn't matter to the patient how they get the answer to a critical question — or to a specific health outcome. "It's all about the tech fading into the background," says Cloudbreak Health's Edwards. In healthcare, "the technology shouldn't be a novelty but integrated into daily practice. If we get to that point, we'll have been successful."
---
Telemedicine Shows Early Signs of Maturity
Because it offers such obvious benefits, the global telemedicine market is poised to grow at more than 16 percent per year over the next decade and reach approximately $78.3 billion by 2025, according to a January 2017 report from Accuray Research. Investment continues to flow into the space, with total funding to telemedicine startups pushing above $1.2B since 2013, according to CB Insights.
Indeed, telemedicine remains one of the segments within digital health that is closest to reaching maturity. Other big segments, like wearable technology, Internet of Things (IOT) applications, and personalized health, remain in relative infancy.
Big health providers are firmly on the bandwagon, and virtual medicine in all its forms is spreading rapidly. One Medical Group, a healthcare provider based in San Francisco, was founded on the premise that using telehealth and other IT tools would enable them to cut administrative costs by two-thirds relative to traditional insurers.
---
Breaking the Barriers to Great Healthcare for All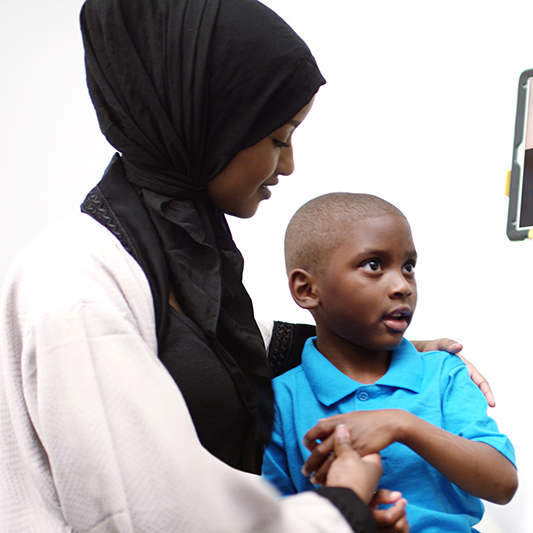 Patients shouldn't have to travel to assemble the best team of doctors for their particular care requirements, says Cloudbreak Health's Edwards. "I'm a disciple of Peter Diamandis [physician, futurist, and chairman of the X Prize Foundation], who says the world doesn't have a food shortage, just a food distribution problem. We don't necessarily have a physician shortage in this country; we just need the ability to access them where and when patients need them," Edwards says. "We need to extend care beyond the four walls of the hospital."
Cloudbreak Health is doing just that. Originally founded as Language Access Network (LAN) in 2003, the company began as a video medical interpreting pioneer with the vision of solving one of the nation's biggest healthcare disparities: how to provide quality care to low-income, limited English proficient (LEP), deaf, and hard-of-hearing patients. "It's scary enough to be in a hospital when you speak English, and it's downright terrifying if you don't," says Edwards. "Communication is the number one tool a provider has in diagnosing a patient. Imagine the inefficiency, unnecessary testing, and poor experience that can result without it."
Through its locally hosted video platform, Cloudbreak, which relaunched in its current form in 2015, offers patients the ability to quickly access a certified medical interpreter by audio in 250 languages and by video in 60 languages. And Cloudbreak has recently expanded beyond interpretation into telepsychiatry, telestroke, and tele-ICU. The company has also developed a skills-based routing platform to forward relevant requests to the right specialists who can assist.
Cloudbreak's unified telemedicine platform simplifies accessing clinical and other resources, taking a complex service and offering it in a new, more accessible way. Edwards refers to this approach as Telemedicine 3.0, for which Cloudbreak Health was awarded the 2016 Patrick Soon-Shiong Innovation Award. Nationwide, over 650 hospitals are using Cloudbreak's platform, which is handling more than 65,000 encounters per month, making it one of the leading telemedicine companies in the country.
Cloudbreak Health's experience offers a microcosm of improved technology merging with acute need. Video streaming technology has improved drastically in the past five to ten years, but for telemedicine, the quality of the signal needs to be even better. "If you lost part of the frame, you were losing part of the dialogue. So we connected over our private path broadband network," says Edwards. Despite the higher costs, hospitals continued to opt in because of the network's higher quality and security.
Edwards says the company is growing rapidly with a 50 percent year-over-year growth rate and is currently seeking Series B investment. And even though its technology inhabits a fraction of the hospitals around the country, Cloudbreak's strategy is to expand quickly over the next 18 months.