Tru success: Alexandra Jaritz '97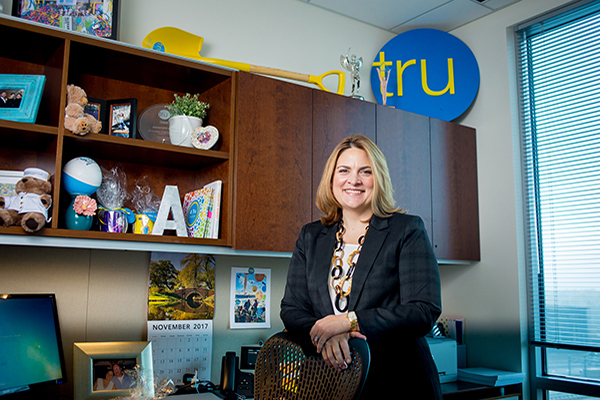 Alex Jaritz '97 believes deeply in the value of travel to broaden people's perspectives, and in the importance of hospitality in opening doors to life-broadening experiences. As Hilton's senior vice president and global head for the new and game-changing brand Tru by Hilton, she has created a platform that will open many doors to a large and underserved market, the young-at-heart midscale traveler. Even before its official launch less than two years ago, the brand was generating exceptional buy-in from new franchisees.
Breaking ground—and records
Jaritz was recruited to Hilton in June 2015 by the company's then-global head for focused service brands, Phil Cordell, to join him in inventing and developing a brand that would appeal to travelers who were looking for, but not finding, a hotel brand where they wouldn't have to sacrifice a consistent, quality midscale stay for a great guest experience. As an article on nyse.com described the collaboration, "The two put together a lean, agile strike force within the company," a characterization that is surely a first for a hotel branding and development effort. And that strike force did indeed advance with lightning speed: 27 months after Jaritz and Cordell first gathered their team to brainstorm the brand, the brand has more than 470 development deals in various stages of development, an industry record.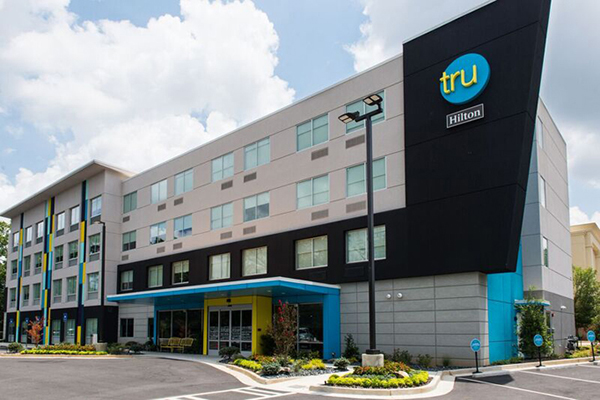 "Tru by Hilton is the fastest-growing brand in Hilton's history, and Alex has been a major contributor to this success," said Kevin Jacobs '94, Hilton's chief financial officer. "After launching Tru by Hilton in January 2016, we opened the brand's first property, Tru by Hilton Oklahoma City Airport, just 16 months later. That timeline is unprecedented, and Alex's leadership and drive played a huge role."
As the brand embarked in August 2016 on a series of ten groundbreakings in 30 days, Jaritz remarked, "With the number of hotels focusing strictly on Millennials, we're proud to be different with a hotel designed to attract a broad spectrum of travelers who share a common 'zest for life' mindset, whether they are Millennials, GenXers, or Boomers." The company knew, Jaritz said, that there were about 18 million new customers who wanted something different from the current offerings in the $80-$100 price range. "They wanted more of a modern experience, a little more of a social experience," she said.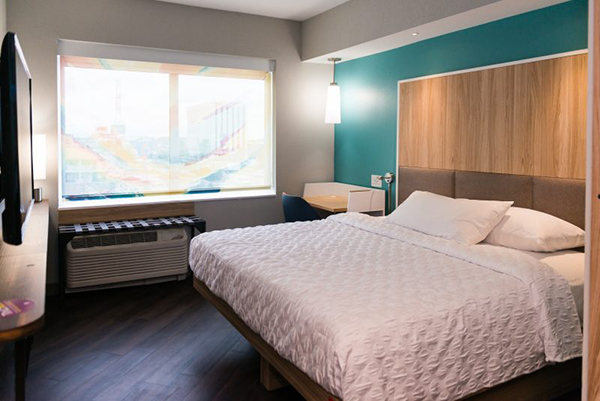 The Tru difference—which has made headlines from Fortune to USA Today—includes maximally efficient and convenient, much smaller guest rooms with all the features that guests want most—and none of the ones they don't. The square footage not locked inside guest rooms is lavished on the lobby—2,880 lively, colorful square feet of freedom with zones for lounging and socializing, working quietly, and active play, plus an Eat. & Sip. market, open 24/7, that's stocked with gourmet snacks and drinks including single-serve beer and wine. The exclusively new-build properties also feature thoughtfully appointed fitness centers and conveniences like free, wireless printing that's accessible throughout the hotel.
Passion, perseverance, and perspective
Jaritz came to Hilton from Choice Hotels International, where she was a widely respected corporate officer and senior vice president of brand strategy and marketing. As such, she had responsibility for nine brands, representing 5,000 hotels and gross room revenues in excess of $5 billion, across the midscale, economy, and extended-stay segments. She also directed product innovation, procurement services, and franchisee relations and portfolio management and led the development of successful brand-refresh strategies for Comfort Inn, Comfort Suites, and Sleep Inn.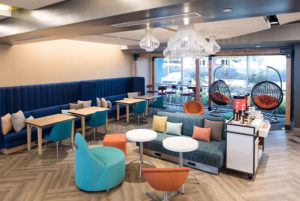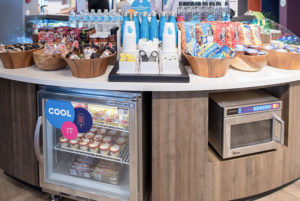 Jaritz began her post-Hotel School career by working on initial public offerings at Lehman Brothers. Her very first day on the job turned into an all-nighter, and her year-long stint at the since-felled Wall Street giant proved that she could work hard. But the experience also showed her that her heart wasn't in finance. She found a new job in hospitality consulting and, with it, the recognition that she was in the right career. "You need to feel passionate about what you do, and then the hours don't feel so tough," she said. "If you're not passionate about it, and you make a lot of sacrifices, then to what end?" She left her second job to earn an MBA at Duke University's Fuqua School of Business, and then joined Choice Hotels International.
Several aspects of her education at Cornell have served Jaritz especially well in her career. The first is teamwork, something that is built in everywhere in the Hotel School curriculum. "What has stuck with me is the importance and significant value of working collaboratively with team members who bring different perspectives and experiences to align toward a common purpose, and how invigorating and exciting that can be, let alone the business impacts it can drive," she said.
"Another thing that has stuck with me," she continued, "is the way that Cornell has trained me to frame business challenges from a holistic perspective across all business functions rather than to look at things through a functional lens. And finally, the importance, in whatever we do in business, of always, always being mindful that people are our biggest assets. Hire the right people with the right skill sets, give them the tools, motivate them, and then get out of their way and let them do what they do best."
Cultural impressions
Jaritz's hospitality education began in a childhood spent all over the world, living in the hotels where her father worked as a career general manager. As she expresses it, "Hospitality is in my DNA." Particularly formative were the years from nine to 19, which she spent living in Thailand. There she learned the warmth of the culture perhaps in double measure because she learned it from people working in hospitality.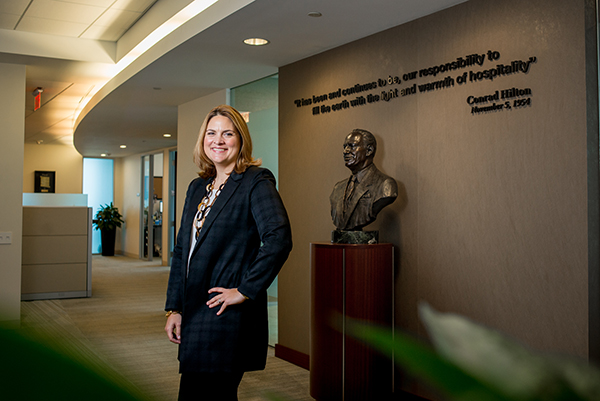 Jaritz's career is still unfolding with, as she calls them, endless possibilities. She is interested in an international position within Hilton, and she'd like her daughter, Caroline, to experience living abroad just as she did as a child. "The unique perspective that comes from living in different parts of the world and experiencing many cultures is something you can't teach in a classroom, or through reading a book," she said.
"I just always thought it was beautiful to make people smile, make them feel comfortable. And I've lived in so many parts of the world that I know what it's like to be a stranger, or a foreigner, or not feel like you fit." So when it came time to think about what Tru by Hilton would represent, Jaritz knew she wanted it to breathe approachability, warmth, and the "grounded" feeling she learned growing up in Thailand.
For example, one of the many operational decisions she made was to relax the dress code for employees; the uniform is jeans and a T shirt. "It's very fun—it's a lightweight kind of feeling. If you have tattoos, that's okay with Tru as a service provider. If you have a pierced ear, that's cool with us. Just be who you are. We want our guests to feel who we are, too." That's Tru hospitality.