What Happens Now?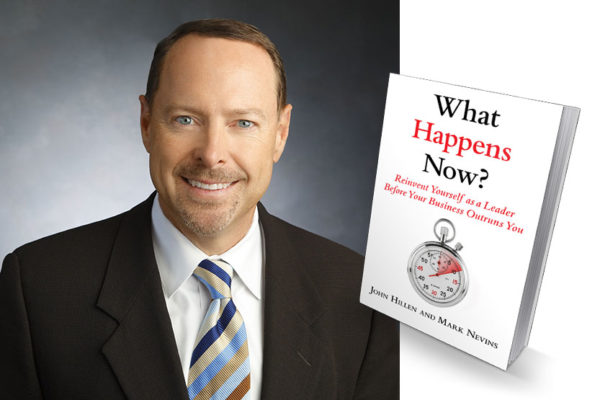 A new book co-authored by John Hillen, MBA '04, examines common leadership stalls and how to overcome them.
In their new book, What Happens Now? Reinvent Yourself as a Leader Before Your Business Outruns You, John Hillen, MBA '04, and his colleague, Mark Nevins, explore a series of "stalls" that many successful leaders paradoxically encounter during times of growth or success. From failing to create an organizational story that delivers meaning and purpose (purpose stall), to struggling to get a team of high performers to work as a team (teamwork stall), to neglecting outside stakeholders (stakeholder stall), Hillen and Nevins identify the seven circumstances where leaders find themselves suddenly out of their depth.
A telling example from the book: A senior executive named Rebecca was head of a major business unit of a Fortune 100 company and widely recognized by her team for being competent and having "tremendous strategic vision." She knew the business — and her customers — better than anyone in the industry. But members of her team also universally confided in the authors that that Rebecca's team didn't work as one — they lacked trust, and a sense of territorialism was rampant.
Rebecca was tempted to blame the team for not performing. But the challenge was hers as a leader. Though clearly a top performer, Rebecca had stalled in her leadership, because she "doesn't come across as open or receptive to the team's ideas." In other words, she was a whiz at strategy but not at engaging the team in a way that made them jell as a high-performing group.
Rising leaders face both growing complexity and growing sophistication as their enterprises achieve greater scale and scope. And in today's world of integrating big data and driving digital transformation, it may come as a surprise that successful leaders aren't primarily hampered by complex business challenges.
Rising leaders face both growing complexity and growing sophistication as their enterprises achieve greater scale and scope.
In fact, it's actually their effectiveness in addressing these very issues of complexity that often enables leaders to rise in their organizations. They may have instituted new reporting structures, new back-end databases — even new hiring processes.
But their comfort with complexity will no longer serve them when problems of sophistication arise. Problems of complexity are normally measurable and include managing systems and processes. "If complexity calls on you to change the mechanics or structure of your organization, sophistication calls for you to change yourself and others," write Hillen and Nevins.
Whole industries have been built around tools of complexity challenges, Hillen said in an interview. "And we have very few tools for sophistication because it's a more painful exercise, and it starts with looking in the mirror."
A great personal example from the book: When Hillen was CEO of a company called GTEC (Global Defense Technology & Systems), he successfully grew the company from $140 million to $200 million in sales in 18 months. Needing an infusion of capital to continue the growth trajectory, Hillen attempted to take the company public.
Hillen practiced his pitch to investors 100 times and thought he could rely on the same message he'd successfully delivered to employees and customers — "cool tech, cool mission, committed high-security-clearance employees." But even though he delivered it with great passion, his message fell flat. Investors wanted to hear about how an investment in GTEC could create wealth for their clients — GTEC's potential investors. "Hillen stalled because he hadn't addressed the nuanced interests of parties who could make or break GTEC's future success … He was exposed because he had not grasped the sophistication of the stakeholder network … he was being called to manage," write the authors.
Like Hillen's stall, the detailed examples in the book mostly come from senior leaders the authors have worked with, and they use examples from nonprofits like Big Brothers Big Sisters, as well as the military and for-profit enterprises. They diagnose stalls at all levels and in all kinds of organizations.
But like most good doctors, Hillen and Nevins don't stop at diagnosis; they offer concrete techniques, both simple and complex, designed to treat the seven stalls, which also include struggling to explain and lead change (leading change stall), when authority slips in the eyes of followers (authority stall), failure to focus time and energy for maximum impact (focus stall), and failure to effectively develop other leaders (leadership development stall). Simple tools like the "index card test" can be surprisingly effective, write Hillen and Nevins. In that test, senior leaders simply list the three most important things for the company over the next year to gauge organizational alignment and remedy the team stall. The insight they need is gleaned from seeing how many of their executives have similar or radically different goals.
Hillen and Nevins are preternaturally qualified to understand and remedy the seven most common leadership stalls because they've encountered many themselves. Hillen, who earned a PhD from Oxford, is a former U.S. Army officer and decorated combat leader, a U.S. Assistant Secretary of State, and public and private company CEO. He's now a professor in the School of Business at George Mason University. Nevins earned a PhD from Harvard before holding leadership roles at Booz Allen Hamilton and Korn Ferry and is now a consultant and adviser to various elite companies. The two met as co-moderators of an Aspen Institute workshop where they examined the nature of a good society and the role of leaders in it. Both have been studying and teaching about leadership for decades.
"We trust organizations less when we think they are poorly led or poorly run."
So why write the book now? In an interview, Hillen said the message of the book resonates now because there's a crisis in confidence: Most people don't trust large companies and organizations. "There is so much fractured trust with large organizations, and the many big-business scandals over the past 20 years have not helped," Hillen says. According to Gallup and other research organizations, big business has around an 18 percent trust rating, but small businesses garner upwards of 72 percent public trust, Hillen says. "Why? We trust organizations less when we think they are poorly led or poorly run. It's a logical conclusion to suggest we struggle to scale leadership effectively and run big institutions as well as we might run small ones. Turns out that executives need completely different skill sets, approaches, and philosophies at almost every level of growth in an organization."
Aside from acknowledging that nearly every leader will encounter at least one of the seven most common stalls in their career, perhaps the most powerful premise of the book is that you can't hire your way out of a leadership stall. Though many leaders will seek outside experience from people "who have done it before," problems of sophistication are those that require introspection and internal personal change to overcome. "Sometimes you'll have to ask the fateful question: Do I need to build new skills, buy them by hiring others, or sideline myself as unfit for further growth?" write the authors.
Rather than deferring to others, the authors argue that solutions to sophisticated leadership challenges lie within. "If you are thinking about buying or bailing, you may have misunderstood the challenge posed by your stall — or you are backing away from it," write the authors. Hillen and Nevins hope that after reading What Happens Now?more leaders will have the tools to diagnose and address their leadership stalls, improve their communication, and move confidently forward through their careers.