Ethical Fashion
A look at the apparel industry's true costs; the global fashion revolution's call for greater transparency, sustainability, and ethics; and Cornell faculty and alumni who are driving change.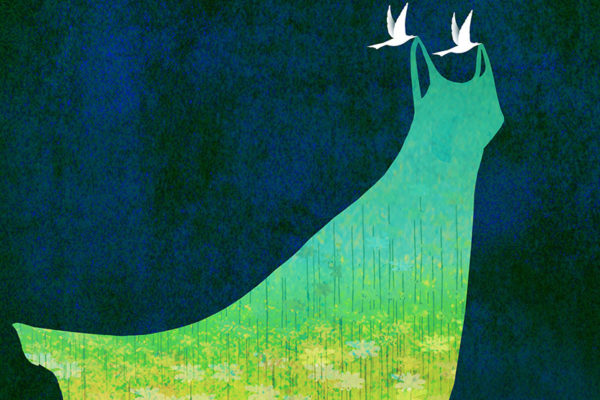 What's on your fashion wish list?
Many people today would like to believe the fiber for their clothes is grown and harvested responsibly by farmers who are compensated fairly for their labor and goods and who grow their crops with minimal chemical usage and water waste. They'd like to believe the workers who make their clothes do so in spacious, well-lit, and well-ventilated work environments where they are treated with respect, are paid a living wage, have access to healthcare, and get adequate time off. Ideally, the factory will be powered by renewable energy, making it carbon neutral. Better yet, the brand recycles clothing to create new products, furthering fashion's ability to become a truly circular economy.
The reality is far different.
According to "A New Textiles Economy: Redesigning Fashion's Future," a report published in 2017 by the Ellen MacArthur Foundation, it takes up to three kilograms of chemicals and 4,300 liters of water to produce one kilogram of cotton fiber (depending on climatic conditions), while dyeing and finishing can use an additional 125 liters of water per kilogram. The resulting waste water, still filled with dyes and hazardous chemicals, enters rivers and streams and ground water, negatively impacting farmers' health, devastating local ecosystems, and contributing 20 percent of industrial water pollution globally. That takes a heavy toll on many of the key cotton-producing countries that are already under high water stress, including China, India, the United States, Pakistan, Turkey, and Brazil. In 2015, greenhouse gas (GHG) emissions from textiles production totaled 1.2 billion tons of CO2 equivalent, more than those of all international flights and maritime shipping combined.
Lured by the prospect of earning enough money by working in a textile factory for a few years before returning home to their villages, millions of workers around the world — most of them young women, predominantly in China and Southeast Asia — regularly work 12-hour days with few breaks. Many are treated with scant respect by their supervisors, live in crowded dormitories, and earn wages so low it's hard to get by, let alone get ahead.
And rather than repairing, recycling, or upcycling their clothes, Americans will simply throw away more than 35 billion pounds of textiles in 2019, according to the Council for Textile Recycling — a figure that has nearly doubled since 1999. "Overall, one garbage truck of textiles is landfilled or incinerated every second," according to the Ellen MacArthur Foundation's report. "In addition to these significant value losses, high costs are associated with the disposal of clothing. For example, New York City alone spends more than $20 million a year landfilling and incinerating textiles, most of which constitutes clothing."
As a February 2019 article in Fast Company puts it: "Research has shown that the fashion industry is the second largest polluter of the planet and one of the largest contributors to modern-day slavery."
This version of the apparel industry is neither ethical nor sustainable. And that is driving change.
Consumers for sustainable fashion
"I think we're at a tipping point, because more people are aware of the issues around climate change, particularly young people, says Tasha Lewis, associate professor in the Department of Fiber Science & Apparel Design in the College of Human Ecology. In Lewis's course, Global Fashion Management, students explore social and economic impacts of producing ethical fashion. "I believe environmental issues and resource scarcity will drive a lot of changes in fashion. Fashion uses a lot of virgin material. As we think about the resources we use to make fashion, and as those become less available or even more expensive, there will be a shift. We'll see changes."
Consumer awareness is on the rise, and people clearly care about the environmental impacts and unfair labor practices rife in today's apparel industry. More than two-thirds of respondents to the CGS 2019 U.S. Consumer Sustainability Survey revealed that they consider sustainability when making a purchase and are willing to pay more for sustainable products. "Gen Z shoppers led the way, with 68 percent having made an eco-friendly purchase in the past year," notes the survey report. Over a 12-month period, fashion search engine Lyst tracked more than 100 million searches on their shopping site and found a 47 percent increase in searches containing sustainable-related keywords, including "vegan leather," "organic cotton," "sustainable denim," and "ethical brands," as reported in their Year in Fashion 2018 report.
By the same token, "most apparel companies are working toward ethical fashion and sustainability," says Suzanne Loker, professor emerita in the Department of Fiber Science & Apparel Design in the College of Human Ecology. Loker and Lewis, who have collaborated on multiple projects over the years, emphasize the importance of engaging consumers as "important actors in the journey toward a circular economy in textile and clothing products" in a book chapter they recently co-authored: "Industry Leadership: Sustainable Fashion Through User Consumer Engagement: North America," published in Global Perspectives on Sustainable Fashion (Bloomsbury Visual Arts, 2019). "User consumers are ready and willing, if given the information, options, and incentive, to alter behaviors around apparel disposal and reuse," they write.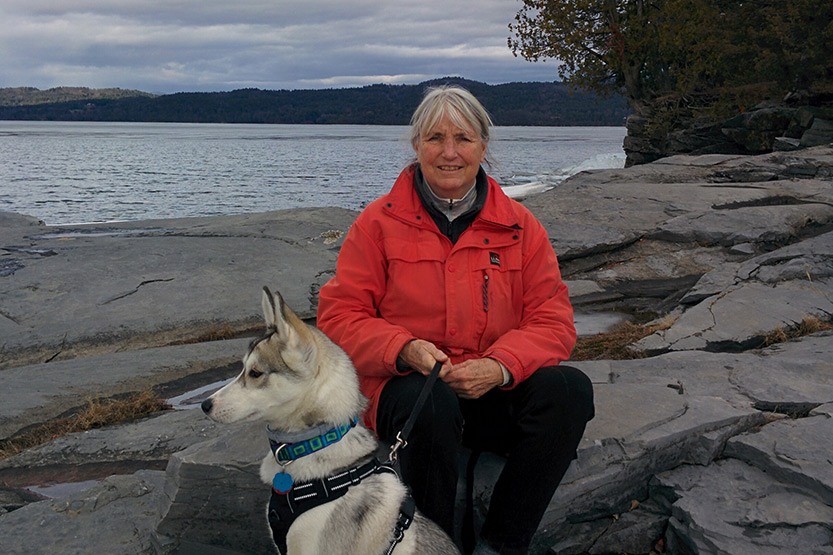 How we got here
Starting in the 1990s, large Western brands took their production offshore, to Southeast Asia, the Caribbean, and Eastern Europe first, where labor costs were lower; it was an economic decision, explains Loker. A few companies, like Levi's, owned factories in foreign countries and were leaders in establishing codes of conduct outlining standards for labor practices, working conditions, and practices affecting the environment. But most firms that outsourced did not own factories. Nike, for example, contracted with a manufacturer or a middleman organization. "They might have known the name of the factory; they might have asked and been told about wages and room and board," says Loker. "But they didn't have control over what the factory was doing."
Furthermore, Loker says, factories frequently subcontract with other factories or vendors to complete an order. "A Western brand was told their goods were produced in factory A," she explains, "but sometimes that factory couldn't produce everything, so they subcontracted — sometimes three or four times. So the Western brands really didn't know how their clothes were being manufactured; there was no traceability."
That is still the case today.
"It's very difficult for brands and retailers to trace their supply chains," says Natalie Grillon, MBA '12. "Consumers don't realize that, in the vast majority of cases, the brands selling products cannot trace where the raw materials for their products came from. They may not know where the yarn or fabric was made. They may place an order with a broker who then finds facilities and subcontractors to do this work for them.
"But this is changing," says Grillon, "not only because of the risks in that strategy but also because of the demands for increased accountability from activist organizations, consumers, and industry NGOs."
Open Apparel Registry: Connecting the stakeholders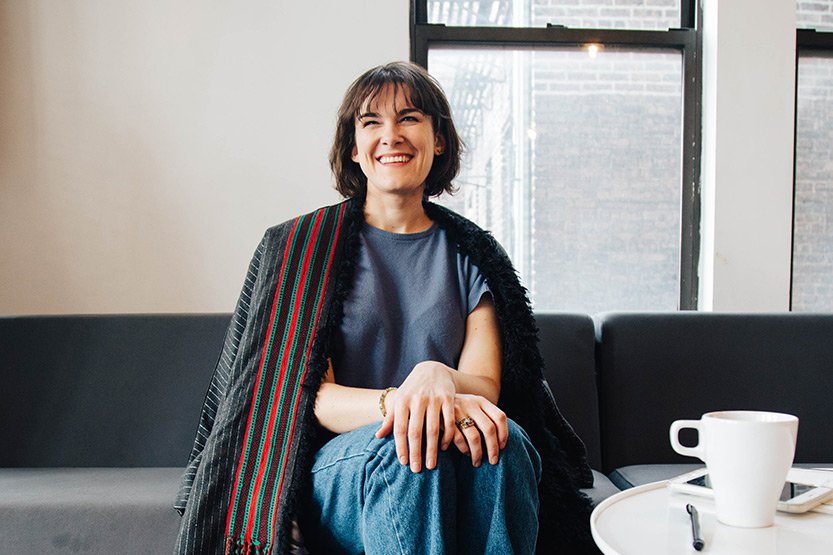 Previously, there was no single directory that existed listing consistent names and addresses for apparel industry manufacturing facilities around the world, and that has been a big problem impeding supply chain transparency, information sharing, and collaboration.
"No one organization can solve the myriad problems in this industry; there are so many different, distinct problems," says Grillon. "So we have to collaborate, we have to partner. But how can you do that if you don't know where you can collaborate and partner with other organizations?
"Factories move, they're bought, they give themselves new names, and the brands and retailers and other stakeholders don't have the most up-to-date information about where a facility is located," says Grillon. "So much data is gathered at the facility level, but it exists in silos with no way to share that data across software systems without a unique ID number. An ID number lets the software systems know that they're speaking about the same facility. Everyone agrees that if we get the names and addresses right, then we can start sharing all different sorts of data among ourselves.'"
So Grillon and her team launched the Open Apparel Registry (OAR) to tackle that problem. OAR's mission is deceptively simple: list an accurate, consistent name and address for each and every factory and manufacturing facility in the apparel industry and assign each a unique OAR ID number — "like a Social Security number for facilities," notes Grillon. This enables contributors not only to see where a facility is via geocoding and to verify accurate addresses; via each unique OAR ID number, they see where they overlap with other organizations that source from the same factory, so they can share data going forward. OAR's data consistency and ID also enables participants' software systems to connect with each other so they can collaborate, notes Grillon. "Because it's open, this dataset can help people to connect and understand relationships," she says.
An open dataset comes with its own set of problems, however, and realizing OAR's mission was a conundrum, since the team had to figure out how to reconcile myriad data discrepancies. "Anyone can upload to OAR," says Grillon, "and one brand's database might list ABC Facility at 123 Drive, but another database might list the same facility as Alpha Beta Cee Facility at 123 Unit 2, with different districts or zip codes." OAR partnered with Azavea, a software firm specializing in open data and geocoding, to develop a name and address algorithm that detects matches when contributors upload their lists of facilities, then links matching facilities under a single OAR ID number.
Launched on March 28, 2019, so far OAR contributors — including brands, retailers, multi-stakeholder initiatives, and NGOs — have uploaded over 22,000 facilities to the database.
Numerous organizations involved in the apparel industry, ranging from nonprofits working on modern slavery to brands and retailers, are finding OAR useful not only in facilitating transparency but in improving the names and addresses of facilities on their own lists. Brands and retailers that contract with the same facilities are able to connect and share data and tackle issues together.
By the same token, brands or retailers that want to launch an initiative in a factory — such as a worker training, worker empowerment, or a women's rights initiative — can do so in partnership with other brands, enabling them to cut costs by delivering just one training rather than multiple brands delivering the same training in the same facility multiple times — a situation that is unfortunately not unfamiliar now.
OAR's database can help all organizations involved when a crisis looms. "Let's say there's a report of a worker strike and owners are refusing to negotiate with workers," says Grillon. "The NGOs or other organizations on the ground can use OAR, look up that facility, see that it is affiliated with X brands and other organizations, and reach out to them to let them know of the issue. OAR facilitates a better flow of information for those kinds of situations."
Ethichain: Tracking every move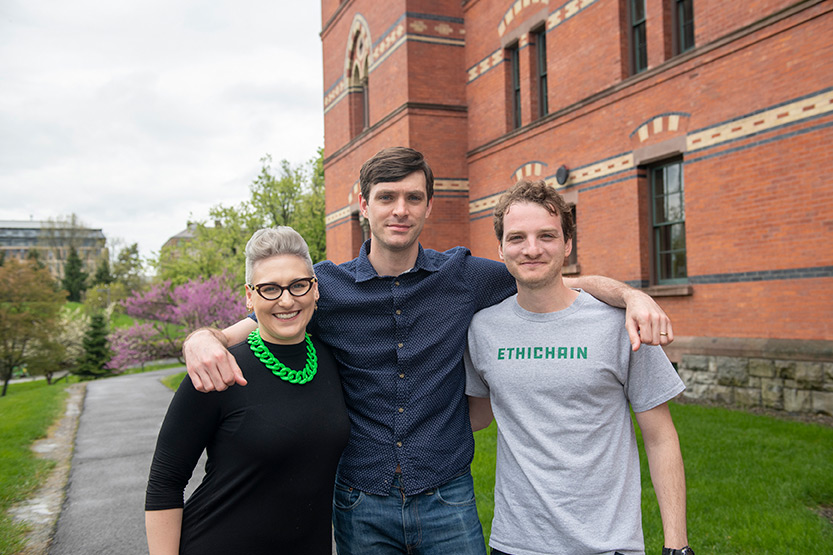 A shared concern about unethical labor practices in the fashion industry led Andre Bordokan, Sara Schmitt, and Sean Leland Swinford, all MBA '19, to develop a software solution designed to facilitate supply chain transparency, first as a team project in their Entrepreneurial Business Ownership class, and later as participants in eLab, Cornell's student startup accelerator. Ethichain, their proposed startup, uses a tracking system based on RFID technology (think of those metallic, microchip-looking stickers you see on high-value items in a store).
The idea behind Ethichain is to track every stage of the work in progress in a brand's supply chain, right from the beginning. How? When a factory cuts pieces for a garment from the fabric, it has to tag each individual piece "so you know this is a large from this batch or this is a small," Bordokan explains. "Our idea is, when you tag it, you place an RFID sticker on the largest piece of each individual piece of clothing — an added task that's almost marginal for companies to do, because they already do it." Sensors installed in key areas of the building would track where those pieces are at all times. "You could not move things without our system knowing," Bordokan says.
Brands would work through the manufacturers they contract with to install this tracking system in the factories where their clothing is made, says Schmitt. Then, using Ethichain's software system interface, brands could track production in real time. "As each piece of clothing moved through each stage, you would see a progress bar moving along," adds Swinford.
That tracking system will tell brands whether they are seeing the quantities they expect to see flowing through these factories at each stage, says Schmitt. "If they see a drop-off in number of units after the fabric is cut and sent somewhere else to be sewn, they can follow up to ask 'Where's the rest of it? Are you outsourcing? Where is it being sent?'
"It's all about knowing when the outsourcing occurs, because that's when the unethical labor creeps into their supply chain," continues Schmitt. "Many brands want to know when their suppliers are outsourcing so that they can make sure they are comfortable with where it's being sent. Or they may say, 'I don't want it outsourced at all. I want you to make it because I've audited you and I trust you, and I don't trust that subcontractor.'"
Under Ethichain's proposed system, Bordokan adds, manufacturers that want to outsource would have to notify the brands and wait for them to approve any new subcontractor's facility. Then Ethichain would install the RFID tracking technology there, too.
Bordokan, Schmitt, and Swinford got an enthusiastic response to their pitch at eLab's Demo Day, and a VC firm called Bordokan about it afterwards — even though the MBA grads were clear that they will not be able to carry Ethichain forward themselves, for personal reasons. But they all hope to pass the baton forward. "Even if we can't see it to fruition, it would be great if somebody could jump on," says Swinford.
The future of fashion
"Fashion is now part of a bigger picture," says Loker. She is optimistic about the future of the fashion industry because of consumers' growing awareness about what's going on with their clothing. She links it to their awareness about food and housing and "everything that connects to them — with air, with water." And she's encouraged by systemic changes she sees in the way people think about clothing and by efforts to make the industry more sustainable: clothing swaps, buying second-hand and vintage clothing, recycling plastic bottles for polar fleece.
"I saw an email from Cornell news about a clothing swap on campus," Loker says. "This is a real change; we're figuring out ways to reuse our clothing. We're thinking 'okay, if we want something new it doesn't have to be brand new, it could be somebody else's but new to me.'"
In 2017, Loker did a series of video interviews with ten Australian entrepreneurs in sustainable fashion. One of them, Karina Seljak, is the co-founder of Seljak Brand, which makes recycled wool blankets from the offcuts of a manufacturing process at a wool mill in Tasmania. Another, Edda Hamar, founder of Undress Runways, produces fashion runway shows that promote sustainable and ethical designers. In Loker's interview with her, Hamar speaks of "a new idea which is a platform where you can rent out your own clothes … the share economy for the fashion industry. You can compare it to Airbnb and Uber.
"The bigger picture for the Undress platform is that we can connect to wardrobes globally," continues Hamar in the interview. People in Australia who might travel to a colder climate don't want to buy a winter coat for one week in Paris, she says. "So we'll be able to fly into Europe and tap into local freezing wardrobes, borrow a winter coat and give it back when we're finished. And the same goes for the other way around. You know, people that live in very cold climates can travel lightly and borrow what locals are wearing in different countries that they travel to."
"Because the industry recognizes they need to change not only for workers but for issues around the environment and climate change, you're starting to see more options being made available to consumers, so that they can make better choices and don't have to do as much work to make the right choice," says Grillon. "That is encouraging and it's happening more quickly, which is great.
"The outdoor and the athletic industry has made great strides because of who their consumers are and what they are looking for," Grillon adds. "Adidas launched a fully circular shoe recently, and Nike has been innovating in this space for a long time. Levi's has done a lot of work over the last five to ten years to improve their supply chain and integrate sustainability throughout their product development. They're starting to look at materials they can use that have a lower impact on the environment. Big companies are finally looking at their entire supply chains. And when that scales up — you look at the scale of a company like Target, the Gap, or H&M — it can make a really big impact."
Upcycling: A solution for textile waste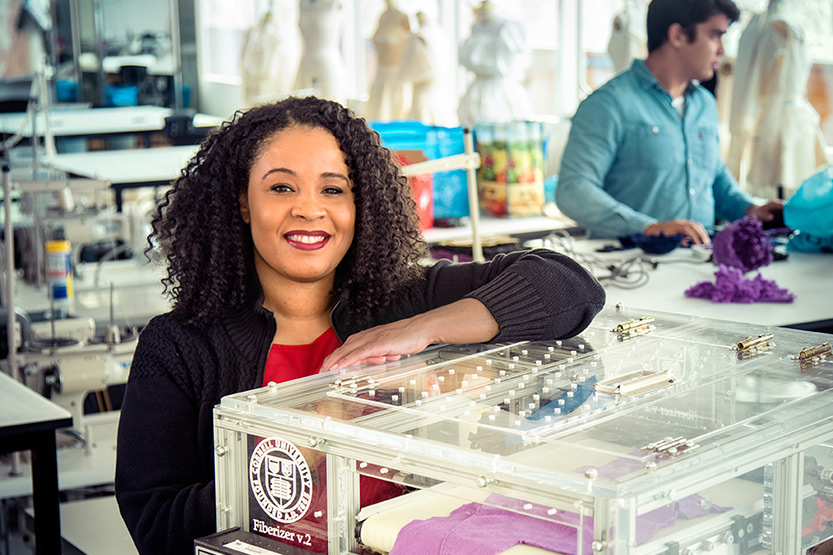 Tasha Lewis, PhD '09 (Human Ecology), associate professor in the Department of Fiber Science & Apparel Design in the College of Human Ecology teaches Global Fashion Management, a course in which students explore the social and economic impact of producing ethical fashion. In an episode of Cornell's "What Makes Us Human?" podcast, Lewis says: "My own research aims to address the problems of textile waste with a business model solution that redesigns and upcycles used clothing. Upcycling, or creative reuse, is probably the best solution for diverting waste."
Early in her career, Lewis visited a couple of entrepreneurs who were recycling clothes in Haiti. When she arrived there, they took her to the second-hand market where they sourced the garments they used in their production. "It's a market where used clothing from developed countries, mainly the U.S., was sent to be sold," says Lewis. "And the enormity of how much clothing was there was phenomenal, it blew my mind. I had never seen that before. It hit me: 'This is what happens when we empty our closets.' I didn't realize that before. And I just stood there, looking."
Americans throw away about 80 pounds of clothing per person every year. "I realized that this isn't something we're going to be able to do forever. So how do we come up with solutions?"
"That was my turning point," says Lewis. Since then, her research has focused on how to turn the tide of the waste the fashion industry generates.
The work the clothing entrepreneurs were doing in Haiti was "really exciting in terms of recycling but also economic development," Tasha says. "It is labor-intensive to take garments apart, but that's what I saw them doing. They would get men's blazers, take them apart, and make women's wear — skirts and jackets." However, this upcycling process resulted in a lot of leftover scraps, and they wanted to be more sustainable. So they asked Lewis, "What can we do with these scraps?"
That set Lewis, her colleague Professor Anil Netravali, and her graduate student research team on a quest that resulted in the Fiberizer, a fabric-shredding machine they hope will contribute to an upcycling, zero-waste solution for the textile industry. It's a departure from the current industry practice of using coarse cutters and grinders to create carpet padding or insulation — where "you just throw in shoes and fibers and mix it all together and kind of get a mishmash — what we call down-cycled," explains Lewis. Her team's focus was to refine the process, experimenting with specific fibers to create different types of shredded fiber for different applications, including growing plants in natural fibers like wool and customizing it to clothing manufacturers' specific needs. Eileen Fisher became an industry partner in this effort, providing raw material for experimentation, data about their materials, and access to their recycling facility in Irvington, N.Y. Their experiments gained traction and earned funding support from the Environmental Protection Agency and the Walmart Foundation.
Lewis would like to see more brands engage in product stewardship, taking products back when the consumer is done with it (as Eileen Fisher and Patagonia do now) and implementing solutions to reuse the fiber within their own supply chains. "We need more supply chain infrastructure right now, but I think that's where we will be going," Lewis says.
The impact of fast fashion
"In the last 15 years, clothing production has approximately doubled, driven by a growing middle-class population across the globe and increased per capita sales in mature economies. The latter rise is mainly due to the 'fast fashion' phenomenon, with quicker turnaround of new styles, increased number of collections offered per year, and — often — lower prices." — A new textiles economy: Redesigning fashion's future, Ellen MacArthur Foundation, 2017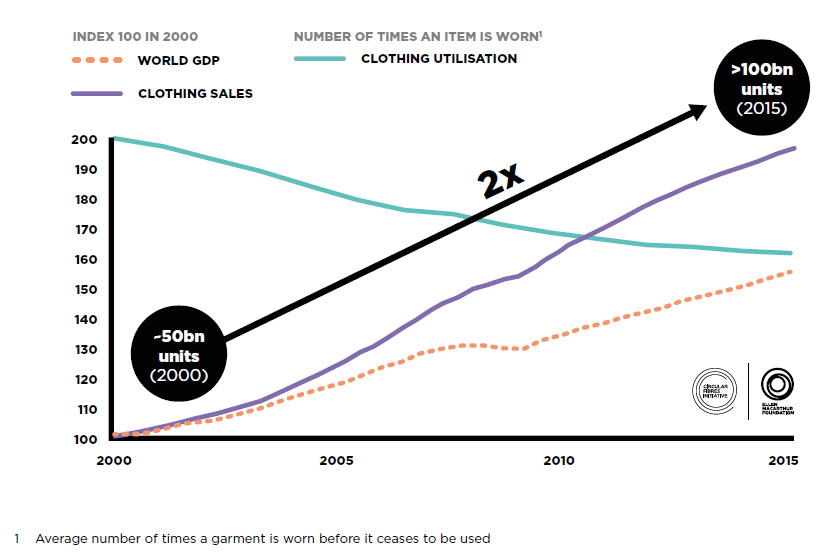 "Increasingly popular 'fast fashion' strategies in apparel shorten lead times that are allowed from time of order to time of delivery. Brands and retailers want to use 'real-time' consumer behavior information and sales data to determine what customers might want now or next. … The crucial question is — what does a factory have to do to produce the same volume of garments, perhaps at higher quality levels than ever, in three to four weeks less time than before? The answers are extended work hours or forced overtime, home work, unauthorized subcontracting, child labor, and other unfair work practices." — Social Responsibility in the Global Apparel Industry by Suzanne Loker, Marsha A. Dickson, and Molly Eckman (Fairchild Books, 2009).
"Global clothing production has doubled since 2000, reaching 100 billion garments for a planet of 7.3B people in 2014. The average person buys 60 percent more items of clothing and keeps them for about half as long." — 2018 Impact Report, Fashion Revolution
"Some of the fast fashion companies have their one-off sustainability collections, but really what's important is that they're also looking at their entire supply chains and how they can start to make each and every product sustainable through circularity initiatives, better raw material sourcing, and worker engagement." — Natalie Grillon, MBA '12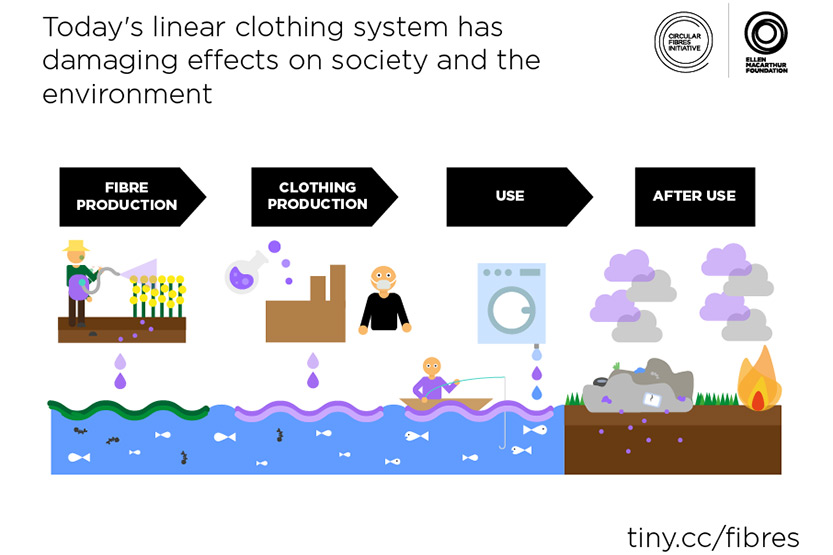 Glyph: Pure, minimalist fashion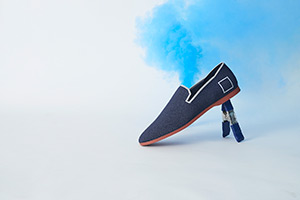 Cornell Tech MBA grads and minimalist fashion entrepreneurs Pranav Sachdev and Alan Lau, MBA '17, founded Glyph digitally knit, vegan, and recyclable shoes.