Looking back: ODI celebrates 20 years since its founding
Johnson's Office of Diversity and Inclusion marks 20 years of supporting woman, URMs, and LGBTQ leaders.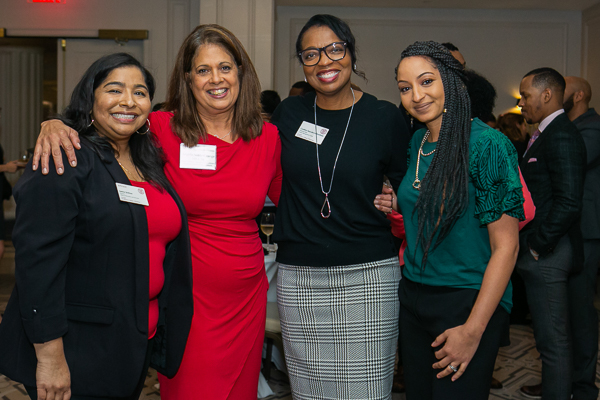 Twenty years ago, Johnson launched the Office for Women and Minorities in Business (OWMB), predecessor to the Office of Diversity and Inclusion (ODI), with Angela Noble-Grange, MBA '94, a serial entrepreneur, as founding director. She proposed creating the new office to increase programming designed to attract and retain diverse students and to foster a greater understanding of what it means to create an inclusive environment among Johnson students, faculty, and staff. OWMB was established with the support of Dean Bob Swieringa, Dick Shafer, associate dean for corporate relations, and Natalie Grinblatt, director of admissions.
"If those people hadn't said yes, we would not be celebrating 20 years of the Office for Diversity and Inclusion right now," says Noble-Grange, now a senior lecturer at Johnson. "It was a signal to the inside and outside world that Johnson cared about diversity and we were going to change the face of corporate America. That was our vision: to make corporate America look more like America."
From the outset, as the first organization devoted to women and minorities in business, ODI has been a model for other business schools interested in launching similar offices. Early on, when admissions colleagues at competitor schools looked here for inspiration and approached Noble-Grange, she decided to freely share what she learned in getting the office off the ground, thinking "the more of us do this, the better it is for everybody," she said.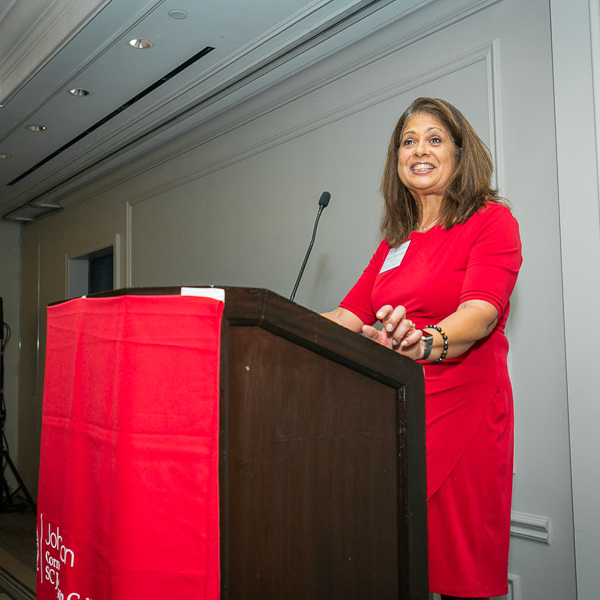 "What happened as a result of creating this office is that people felt free to express who they were," Noble-Grange said when she spoke at the 20th anniversary celebration at the InterContinental New York on December 9. "They felt like they belonged. And as a result of that, they were able to contribute great things to the Johnson community rather than spending all of their energy worrying about whether they belong. And the magic that I never could have imagined just started happening over and over and over again."
This timeline of diversity and inclusion at Johnson encapsulates key milestones in Johnson's commitment to diversity and inclusion and outlines what the Office of Diversity and Inclusion has achieved over the years through its influence, support, and programming
Diversity and inclusion is integral to life at Johnson
Today, the Office of Diversity and Inclusion is really fundamental to life at Johnson, affirms Dean Mark Nelson. "It's part of the fabric of our community," he said, speaking at the ODI anniversary celebration. It begins with attracting prospective students "who reflect the diversity of business and the world, and we have fabulous people coming in who are a mosaic of what the world looks like."
Once students begin their program, "You have to be intentional about the experience that you create," he continued. "And once again, ODI is fundamental to making that happen." ODI raises awareness of diversity and inclusion issues and concerns right at the outset, during orientation, Nelson said, and continues to build awareness and support throughout the Johnson experience in numerous ways. Among these are bystander and ally training and hosting open conversations about "fiery topics," where students, faculty, and staff confront some of the headlines of the day. ODI asks students, faculty, and staff to think about the unconscious biases diverse students might be facing and to think about ways we can be aware and combat that and make sure that we're treating everyone equally, respectfully, and fairly. ODI hosts major events like Johnson's Diversity Symposium and the Diversity Awards dinner that bring alumni back to campus to interact with current students. ODI staff support many student clubs and their activities and events; in fact, in 2019, the office hosted or collaborated on 67 events overall.
In addition, ODI's office in Sage Hall operates as a safe space where people come together. "They create that safe space for current students, alumni, guests — anybody," said Noble-Grange. "They're always there. Every time I come downstairs after teaching, it always feels like a little bit of a party in there. Students are studying and people are just joyful and happy."
Bringing people together
Nelson credited ODI director Jamie Joshua for driving the strategy that raises awareness and brings people together and for creating an inclusive culture that supports and nurtures diverse students throughout the Johnson community. "It's just this incredible blend of energy, inside knowledge, and dedication from Jamie that sustains our current efforts at ODI," he said.
"While Jamie is considering different parts of our community, she's not focusing only on subsets," Nelson continued. "She's focusing on the community overall. She's not identifying silos — she's bringing people together. And that's what it means to be part of Johnson." 
"With the consistent support of our administration and our students, faculty, staff, and alumni, we're still here today and we're growing every day," Joshua said when she spoke at the ODI anniversary celebration. "We continue to support underrepresented minorities, women, LGBTQ+, and veterans. We look to reduce the barriers of attending diversity conferences for our underrepresented students. We work closely with our student clubs to make sure that there's programming for their membership and the community. We continue to see how we can support our international student population because we're aware of the challenges that face them, especially in this current sociopolitical climate. I'm also excited to announce that this year's class has started a new club, Access Johnson, to support and have conversations about the experiences of students with disabilities and neurodiversity.
"As we celebrate this milestone, we are also looking to the future and how we want to continue to change the business landscape for the next 20 years and beyond," Joshua said.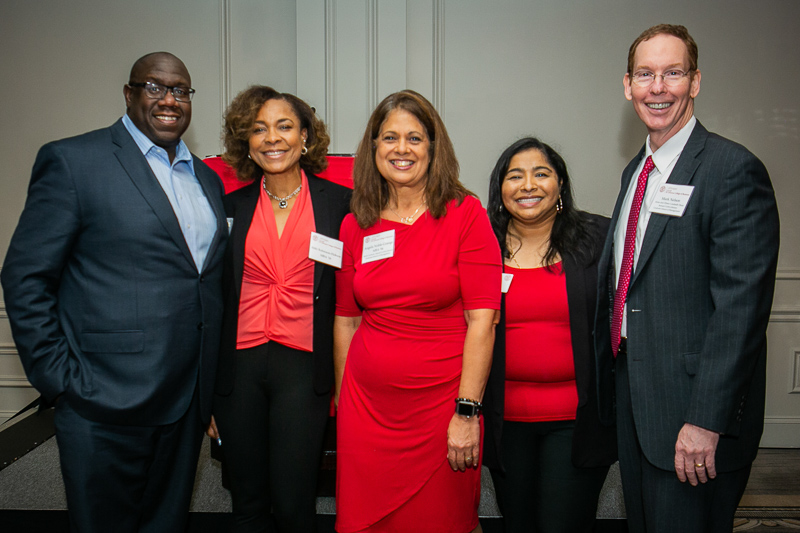 ---
20th anniversary reflections
Many alumni shared their gratitude for the Office of Diversity and Inclusion in writing, at the 2019 Diversity Symposium and Awards Dinner, and at the 20th anniversary celebration in New York City. Here are just a few.
Inspiration, motivation, and encouragement
Shartoyea Scott Dixon, MBA '06
Vice president, Management Leadership for Tomorrow
"Angela Noble-Grange was extremely important in my decision to attend Johnson. During my visit to campus, Angela always made me feel so welcome, with a smile, kind word, or introduction to a great student or professor. Angela was a strong advocate for my admission to the school, as well as for me to receive the Park Fellowship. From the beginning, she was a source of inspiration, motivation, and encouragement. She was a guide and mentor who helped me to overcome imposter syndrome, to confidently own the spaces in which I existed, and lean in to my leadership potential. While I am still mastering the skills today, the seeds were planted by Angela in our many conversations throughout my time at Johnson. I am forever indebted to her."
---
The importance of creating safe spaces
LaTranda Martin, MBA/MILR '11
Organization design and change management director, Estée Lauder Companies; and former president, Black Graduate Business Association
"When I think about ODI, the first thing that comes to my mind is the creation of safe spaces where all Johnson students feel fully engaged and empowered to positively contribute to the academic environment. I firmly believe that a truly diverse and inclusive environment promotes critical thinking and yields more authentic communication and interaction within the Johnson community by exposing and challenging all students, faculty, and staff to consider the experiences and perspectives of others…

While diversity programs have been around for decades in many of the top companies globally, most continue to struggle with promoting a culture of inclusiveness. I firmly believe that attracting diverse talent to my team is insufficient in the absence of creating 'safe spaces' for these individuals to leverage their own perspective, ideas, and experiences to drive innovation. Johnson's ODI opened my eyes to the 'art of the possible' and sparked my lifelong commitment to paying it forward through advocacy for more inclusive and diverse policies within my places of employment.

Twenty years is a significant milestone that should be lauded and celebrated because it underscores the value ODI provides for students, faculty, and staff of all backgrounds across the Johnson community. Congratulations, ODI, on the first 20 years. Wishing you continued success."
---
Fierce and fearless
Sara Schmitt, MBA '19
Senior program manager, global specialty fulfillment-delivery at Amazon
"I will never forget Ann Richards encouraging all of us at Johnson Women in Business 2017 to be 'fierce and fearless.' Angela exemplifies what it means to be a mentor and a coach: supportive, tough, generous, honest, strong, and courageous. Learning from her was an absolute delight."
---
A part of the Johnson mosaic
Baron Muñoz, MBA '21
"JMB is the reason I fell in love with Cornell. The program that ODI put together is unlike any other diversity programs from any other places I've visited, and I really appreciate how everyone, from current students to faculty to staff, made me feel like I was already part of the Johnson mosaic."