Million Meals Mission provides meals to food-insecure communities around the world
Startup Snapshot: Samay Bansal '21, founder of Million Meals Mission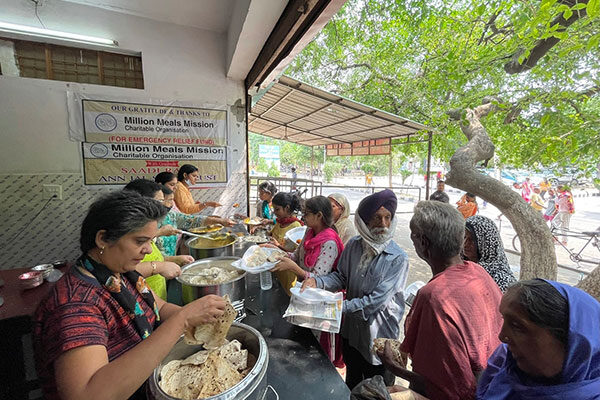 School of Hotel Administration graduate Samay Bansal '21 is founder and managing director of Million Meals Mission, a nonprofit that provides meals to food-insecure communities around the world and educates individuals about global food insecurity issues.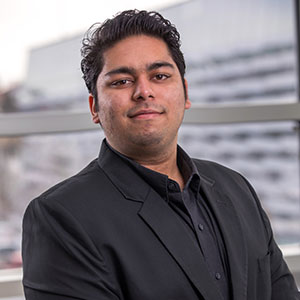 In November 2020, Bansal, who works full time as a business analyst with McKinsey & Company in Chicago, also co-founded wear:change, a Singapore-based company that supports not only Million Meals Mission but also other nonprofits by producing, marketing, and selling merchandise for their causes. At SHA, he founded and now serves as an advisor to the Cornell Food and Beverage Society, a student club focused on providing students with a structured and practical educational experiences in the food and beverage industry. He has also served as chair of SHA's Dean's Student Advisory Board.
Learn more about Bansal and Million Meals Mission in this Q&A.
What does Million Meals Mission do? What problem or opportunity does it address?
Million Meals Mission is a nonprofit organization—launched in 2016 and registered as a 501(c)(3) in October 2020—that provides meals to food-insecure communities around the world and educates individuals about global food insecurity issues. The educational material centers on food insecurity's intersectionality with issues such as LGBTQ+ rights, climate change, and gender inequality. Using a network of grassroots partners and a youth-led team, Million Meals Mission has provided over 285,000 meals in seven countries to date. The organization leverages a zero-asset model to maximize meals per dollar and minimize operational costs.
What inspired you to launch Million Meals Mission?
I was inspired by The Shed that Fed a Million Children: The Extraordinary Story of Mary's Meals and author Magnus MacFarlane-Barrow's work. His humble story of bringing donations from Scotland to Bosnia underscores the idea that making a difference is about taking the first step, and I wanted to do the same. MacFarlane-Barrow's organization, Mary's Meals, has grown tremendously in the past 33 years and now provides meals to more than two million children in 19 countries, in a place of education, each day. I was cognizant of the many existing organizations dedicated to alleviating food insecurity, including Rise Against Hunger, Feeding America, and Feed the Children. However, these organizations only fueled my desire to start my own NGO. A driving factor for my decision was my aim to create a "lean" nonprofit organization. Specifically, I wanted Million Meals Mission to be a conduit between donors—individuals, social enterprises, and corporations—and small, grassroots organizations worldwide.
What are some of the most memorable moments in your startup journey?
Throughout the journey there have been some incredible moments. I'm so grateful for all of them and the people I've had the opportunity to share them with. Here are just a few:
Our first chabbeel (free-food distribution stall) that started the entire journey! On a summer day in 2016, in Ludhiana in Punjab (India), we worked with the local community to set up our first chabbeel. We held our second chabbeel there one year later. Our organization was establishing itself and after this day we committed to long-term. sustainable partnerships.
Reaching our 200,000 meals milestone was an incredible moment for us. It provided a great sense of validation and showed us the scale of the impact we could have.
Sitting back and watching the team interact in our first-ever all-team meeting was particularly memorable. There were 21 people on the call from 10 different time zones, all brought together by their passion for tackling global, systemic food insecurity.
Re-visiting Saadi Rasoi, a local food distribution center and our first partner, in India, and LaValla School for children with disabilities in Ta Khmau Village, Cambodia, to see the wonderful people we support and better understand the scale of the need in food-insecure communities.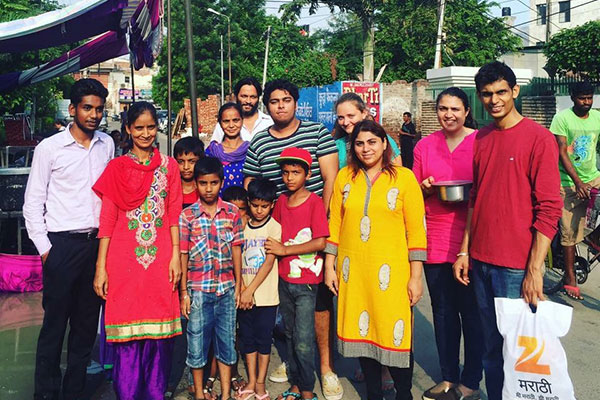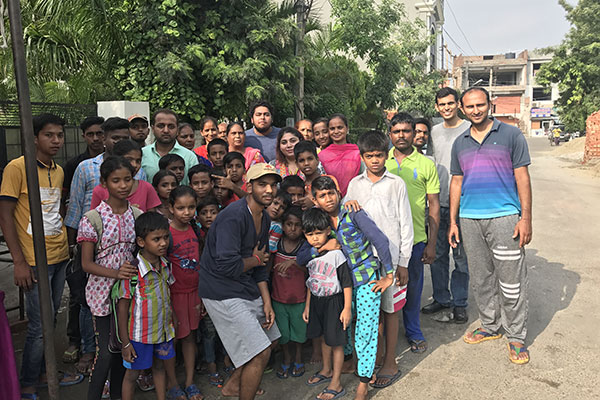 What obstacles did you face and overcome in your startup journey?
We have met with several challenges and obstacles throughout the journey; some we overcame and others we are still working on today. They include:
Fundraising: Nonprofits are tremendously funded by generous donors, but as a smaller organization, it has been challenging to access a greater pool of donors. At this stage, we rely heavily on our personal networks, but we are working towards accessing larger institutional donors who share a vision similar to ours.
Volunteer time management: Our team of volunteers is incredible. They work so tirelessly every day to push forward the mission of our organization. But with loaded schedules, extracurricular activities, and other responsibilities, it can be challenging to balance everything. They continue to give it their all and we have overcome this challenge by expanding our team and dividing the various responsibilities among more people.
Varying international legal requirements: A huge advantage of being an international organization is the unique ability to support communities around the world. That said, it also provides a unique set of challenges. India, for example, has restrictions on foreign donations entering the country and working through those regulations has been challenging.
You launched Million Meals Mission right before you became a student at SHA. Did you draw on any Cornell resources to help grow Million Meals Mission?
Absolutely. Cornell provided me with three wonderful sets of resources I used to support the growth of Million Meals Mission:
Faculty: Several faculty members offered to sit down and discuss details of the organization with me. In fact, Andrew Quagliata, senior lecturer in management communication at Cornell SHA, also serves as a communication mentor for us!
Students: Our team has grown dramatically in the past year and several new members are Cornell students. Their passion, drive, and commitment to the cause have been pivotal in our recent success.
Classes: Beginning with my first semester, when I took Hunger, Health, and Nonprofits (HADM 4315), the array of classes at Cornell provided me with a lot of information and knowledge that we could leverage in the organization. Our "asset-light" or "lean" approach is a direct result of several classes I took at the School of Hotel Administration.
Is there any particular faculty member who influenced you on your path as an entrepreneur?
There's no one faculty member who influenced my path specifically; however, several professors have been pivotal in supporting my personal growth as well as the organization's growth!
What inspired you to keep Million Meals Mission going both as a student and now, after starting your new, full-time job as a business analyst with McKinsey & Company?
It has definitely been challenging to balance these responsibilities, but I kept Million Meals Mission going due to my commitment to our mission of providing at least 1,000,000 meals within my lifetime. Though the scope of the organization has grown since it originally started and we've now added an educational arm, I endeavor to keep the organization going for as long as possible. Over time, I anticipate that my role might change, but I anticipate that I will be involved in a founder and board-member capacity for as long as possible. I am inspired by several other business leaders who are able to balance their day-to-day work responsibilities with other commitments, and I aspire to achieve a similar balance.
You wrote in a LinkedIn post in July that Million Meals Mission is committed to growing and expanding its impact. What are the most valuable things you learned at Cornell that are helpful now, in sustaining and growing Million Meals Mission?
The two most valuable things I learned at Cornell are: Maintain strong relationships with supporters and maintain an asset-light business model. I think about both things every day and they are pivotal in driving all decisions we make as an organization. Our team members, donors, supporters, board members, advisors, and partners are the reason Million Meals Mission still exists.
What advice do you have for other aspiring entrepreneurs?
Two things come to mind straightaway:
Go out and do it. You need to at least try. The fear of failure is real and can be a huge deterrent from trying to start a business, organization, social-enterprise, or movement. Keep your goals in mind as you make decisions and work conscientiously to make your vision a reality.
Maintain relationships. This is incredibly important. There are incredible people in your life and they can provide support, funding, perspective, advice, constructive criticism, or reassurance when you need it most. Keep them close, ensure they feel connected to the work you're doing, and be there for them when they need it. These relationships should not be just one-way. As a young entrepreneur, it's challenging to provide value to someone older or more experienced, but always try to offer when you can and definitely pay it forward to those reaching out to you.
Million Meals Mission has been around for just over five years, but we are very new in the world of nonprofits. We learn many lessons every day and make mistakes along the way. It is our goal to learn from mistakes quickly, avoid making them in the future, and stay laser-focused on our goals of providing meals to food-insecure communities around the world and educating the next generation of difference-makers on all issues relating to food insecurity.
Please feel free to contact me at sb2439@cornell.edu for any reason.  I look forward to speaking with you.