Ethical Behavior Starts at the Top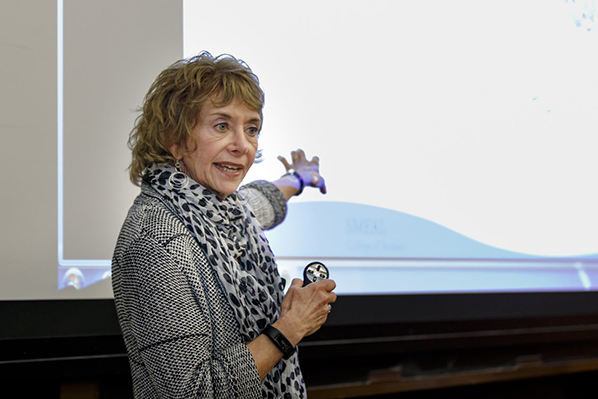 Linda Treviño focuses on the role of leadership in fostering best practices in Day Family Ethics Lecture.
The ends often don't justify the means for businesses that set unrealistic performance goals, creating a culture where employees feel compelled to engage in unscrupulous behavior in meeting the demands handed down by their superiors.
That was the message imparted by Linda Treviño in delivering the Day Family Ethics Lecture on March 28 at the Samuel Curtis Johnson Graduate School of Management. Treviño, director of the Shoemaker Program in Business Ethics at the Smeal College of Business at Pennsylvania State University, touched on psychology, human behavior, and setting the right, or wrong, tone during her address on "Ethical Leadership Top to Bottom: When it Works and When it Fails."
Treviño explained that her research into the role executives play in establishing an ethical culture at their organizations reveals that most people are followers when it comes to ethics: They look outside themselves — to leaders — rather than examining their own values. This finding supports the research of Yale psychologist Stanley Milgram, she noted, whose widely known experiments in the 1960s demonstrated that people will blindly follow orders to harm others, despite their misgivings, when instructed by an authority figure that such behavior is acceptable.
"For businesses, the message is that leaders must recognize the power they have over subordinates and use it wisely," she said. "Most employers want to do the right thing, but don't always follow through with appropriate management policies or clarify the expectations for ethical behavior."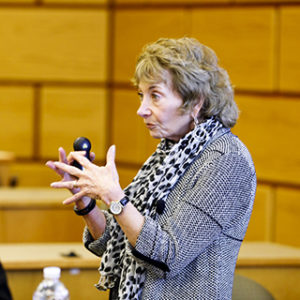 As an example of the impact of positive ethical leadership, Treviño cited the Market Basket supermarket chain, which removed a popular CEO and replaced him with two new executives, prompting a stakeholder revolt. Employees protested the move, customers launched a boycott, and some suppliers stopped doing business with the company. "The ousted CEO was loved and admired for his values; he cared about employees and customers," she said. "This situation reflects the importance of business leaders who develop an ethical culture that is tended and nourished by the organization."
Negative ethical leadership, on the other hand, reflects a focus on bottom line goals without little consideration of the means required to achieve those objectives. Treviño explained that she observed the effects of this problem while studying a telecommunications company where executives established unreasonably high goals for the sales staff. Company managers found it impossible to achieve those goals, she said, and as a result resorted to deceptive behavior to make it look like they were fulfilling expectations. They would log sales from customer service or other departments that they had not made, for example, and the desk sales staff would share the sales made by field sales staff to inflate their numbers.
"The employees at the bottom of the organization were concerned about unethical behavior but succumbed to the pressure from their supervisors and followed orders."
"The employees at the bottom of the organization were concerned about this unethical behavior but succumbed to the pressure from their supervisors and followed orders," she said. "Performance management systems can create an atmosphere where employees are reluctant to speak up and point out unrealistic expectations, and instead participate in unethical behavior, following the example set by superiors." The recent scandals at Wells Fargo and Volkswagen resulted from similar behavior, she added.
Her research shows that business leaders must be careful in setting goals and implementing appropriate performance management systems, Treviño said. Executives should be held accountable for the consequences of following those policies, and should assess both the ends and the means in creating an ethical culture at their organizations.
"Any performance management system should be designed to include ethics. And while these systems are complicated, the details, including implications, should be communicated to the entire chain of command," she said. "Unfortunately, there is still little attention being paid to connecting personal values to behaviors and performance in businesses today."
---
About the Day Family Ethics Lecture
The Day Family Ethics Lecture is made possible by the Day Family Senior Lecturer of Business Ethics Discretionary Fund, established in September 2007. As a joint effort between Johnson and the Law School to support Cornell's commitment to leadership and business ethics, the fund was created through a generous donation from the Dr. Harry M. Day Charitable Foundation, and supported by Jerrold Day '71 (Eng), MBA '78, and Harry D. Day, JD '73. Dana M. Radcliffe, Day Family Senior Lecturer in Business Ethics and senior lecturer of management, manages the lecture series.