Catching up with entrepreneur Mark Thompson '08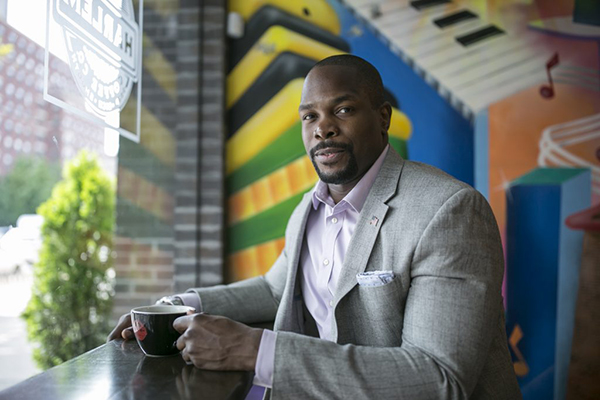 In the year since we featured Mark in the Fall 2016 issue of Hotelie magazine, the now former Wall Street financial analyst has opened his first Harlem Coffee Co. premium coffee lounge at 117th Street and Lenox Avenue, in the heart of Harlem. Business is great, and he hopes to scale up soon.
Congratulations on opening your first Harlem Coffee Co. location! When did you officially open and what are your hours?
We opened on Saturday, January 7. It was snowing, but it was a surprisingly very busy day. Since then we have not been closed for a single day, in spite of two blizzards.
Our hours are Monday through Friday, 6:30 a.m. to 8:00 p.m. (People are lining up outside at 6:25.) On weekends we open at 7:00 a.m. and close at 8:00 p.m. Once we get our beer and wine license, we hope to become a coffee shop by day and a wine bar lounge by night and stay open later.
What do customers experience when they walk in?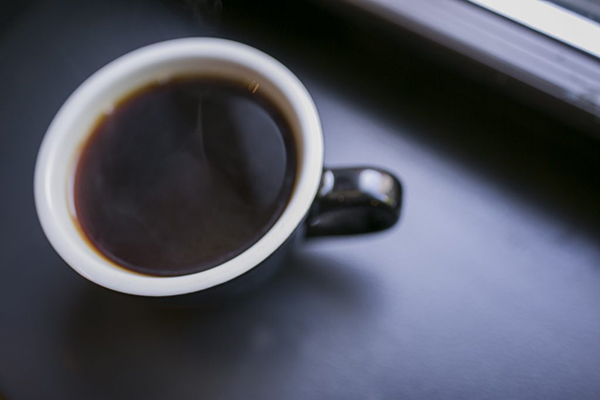 The rich aroma of freshly brewed coffee. Our Daily is a blend of Colombian and Peruvian beans. For coffee aficionados, we have our single-origin coffee, from places like Ethiopia and Kenya, as well as traditional and decaf espresso.
There's also the aroma of our pastries warming—everything from scones to buttery sweet and savory croissants—and our artisanal sandwiches. A crowd favorite is roasted and sliced porchetta with harissa aioli.
The ambience evokes the essence of Harlem. There's a mural we commissioned by a local graffiti artist, with images of brick row houses, kids playing basketball, and jazz musicians. Various pieces of art from local artists cover the original brick walls. The artwork changes monthly, and people come just to see it.
Big windows at the front and rear of the café let in plenty of sunlight throughout the day, which highlights the dark wood finishes.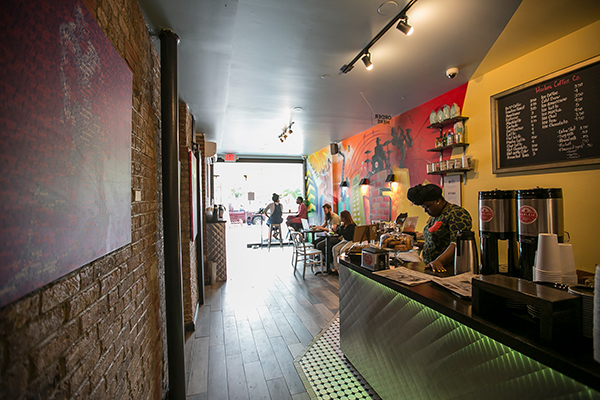 What kind of music is playing?
It's one of the things people compliment us on the most. We play classical jazz: Duke Ellington, Miles Davis, and other icons who helped establish Harlem as a music destination, as well as more contemporary sounds such as salsa, R&B, and reggae that reflect the diversity of ethnicities and cultures in our neighborhood.
When you started, you told us you were having so much fun planning Harlem Coffee Co. Are you still having fun?
Yes, but it's a different type. This fun is more about execution and delivery and less about process.
When you see people use a place you created from scratch—to have a business meeting, catch up with friends and family, or just relax or go on a date, that's fulfilling and fun.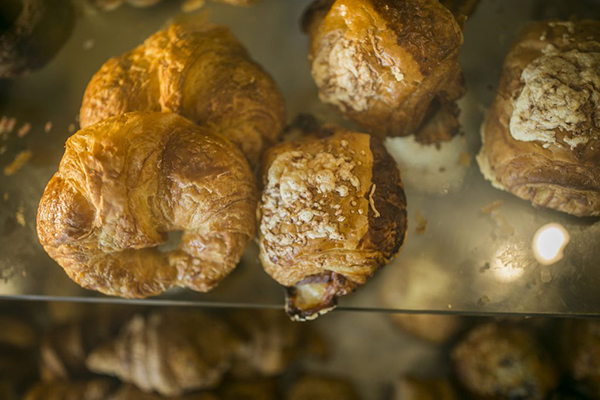 When Delta Airlines' in-flight Sky magazine recommended us this May as one of the places to stop at when you're in Harlem, that was fun.
When you get people like celebrity chef Marcus Samuelsson and actor Josh Lucas as regular customers, that's fun.
When actor-director Lucy Liu and Luke Cage star Mike Coulter and their camera crew used our shop as a setting for an episode of the TV series, that was fun.
What has been your toughest challenge so far?
Finding technically sound people who are also reliable and give good customer service. You manage a lot of personalities. But I feel that we are in a sweet spot right now.
Who is your typical customer?
Of course we serve people of all ages, but our demographic is ages 21 to 50, most likely professionally employed, with either an undergraduate or advanced degree. We get people going to work, entrepreneurs, freelancers, and stay-at-home moms pushing strollers as well as overseas tourists sightseeing in Harlem.
The key for us is finding out who our core customer base is and keeping them happy.
What's your favorite customer comment?
We've been told: "We're so glad to have you here." "We needed this." "Your staff is great!" One guy said, "I've traveled far and wide in almost every coffee-producing region. This is some of the best coffee I've ever had." And the other day someone wrote about us on Facebook: "This is the cleanest place I've been to in New York City."
You read things like that, and they make you feel like all the hard work, effort, and sacrifice really pay off.
What's next?
We hope to scale up. We're looking at various locations throughout Harlem to find the ideal spot. Five [stores] in five [years] was the mantra, but we're not in a rush.
You mentioned that Harlem Coffee Co. takes its community-service role seriously. Tell me more.
I've worked with [hospitality consultant and former SHA lecturer] Barbara Lang ['78, MPS '04] and spoken at Harlem schools to young people with culinary ambitions about what it takes to get a business off the ground. We've partnered with a community garden here, Lydia's Magic Garden, and are donating coffee grounds for their compost. But the best thing we can do for the community, I think, is to succeed.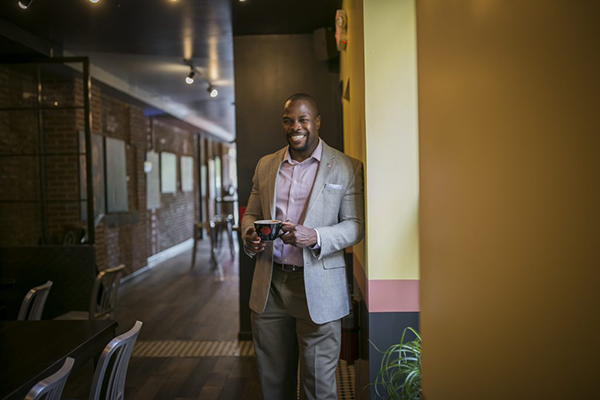 All photos by Jesse Winter