Hotel executive Arthur Keith '84 is new Statler GM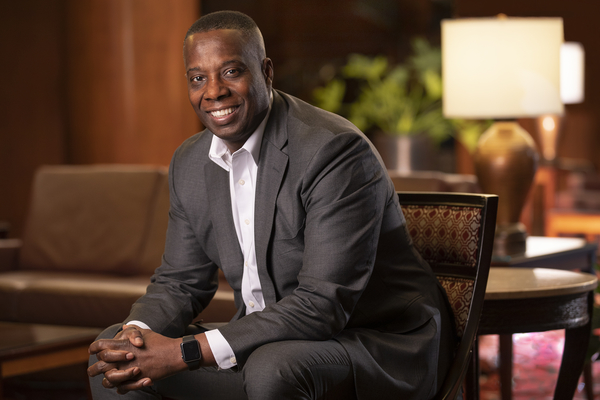 Arthur Keith has come full circle. The onetime student HR director in the Statler Inn came back to his home turf in January to begin his tenure as general manager of the Statler Hotel.
In the 36 years since he graduated with the goal of starting out in hotel accounting, this son of Elmira, N.Y. has worked in some of the most competitive markets in the country and run what were, at the time, three of the biggest hotels in the world: the $1.3 billion Venetian, which he opened as vice president of hotel operations; the $4 billion Cosmopolitan, which he ran as GM; and the Gaylord Opryland Resort and Convention Center, where, as senior vice president and GM, he was named the American Hotel and Lodging Association's Outstanding General Manager of the Year.
Over the course of a challenging and fascinating career, Keith said, "I have had the highest highs, and I've had lows." He has known the satisfaction of turning around an underperforming property; he has known the disappointment of trying to revive one that was too far gone. He has orchestrated a Hollywood A-list extravaganza and recruited celebrity chefs; he has overseen trade-show operations for an event-management company. He has run a waterpark hotel; he has developed a riverboat casino complex. And he was running a property on the Las Vegas Strip when the recession hit in 2008. In other words, he knows the business of hospitality inside and out and right-side-up and upside-down, and he is brimming with knowledge, insights, and war stories to share with the students, faculty, and staff of the School of Hotel Administration and Statler Hotel.
On the day before students returned to class in January, Keith talked about the job ahead.
What will you be focusing on in this role?
One part of my role is to provide leadership in the day-to-day operations of the Statler Hotel and its restaurants, banquet operations, and associated food and beverage operations. This hotel is the learning laboratory for the School of Hotel Administration, and students are a very big part of the operation here, so another part of my role is helping to mentor them and develop them as leaders. That will be fun.
My predecessor, Rick Adie '75, created the Hotel Leadership Development Program in 2003 and really ran with it until his retirement in 2018. Now the question becomes, what do we want to do next with that? How can we get even more students involved? That was always the vision, for this to be an incubator for leaders, getting hands-on experience. We absolutely want to continue to grow the impact of the program, which gives students some pretty serious leadership responsibility in an operating hotel while they're still in school.
The first step will be learning what HLDP is today, what works well, and what the opportunities are, and connecting with the students and asking them what they see. It feels like everyone has some thoughts on what HLDP could or should be, and I'm curious to see what the possibilities are, what we could grow it to, and then go from there.
You are also embarking on a renovation project, right?
We will be doing some major capital work, with the goal to have the hotel ready for the next 100 years by our centennial in 2022. Right now, we're working with architects and the university to reimagine the whole arrival and lobby experience and our lounge or bar experience. The focus is on creating a warm, welcoming, and comfortable space. We want to open up the lobby, get light in it, and have it flow, and also create a really compelling place to have a nice beverage. We're going to get a new porte cochère and front drive, so the renovation will carry straight through from front to back. The hotel also needs new technology, including monitors in the lobby.
The Regent Lounge is fabulous, but it is somewhat hidden. We want to have a great bar experience. If we do it right, we'll have the ability to flow and flex into the lobby when we have big influxes of people gathering for a hockey game or a football weekend. At times like those, we could probably use a bar four times the size that we have. How do we make sure we can accommodate such demand and do it in a space that feels good?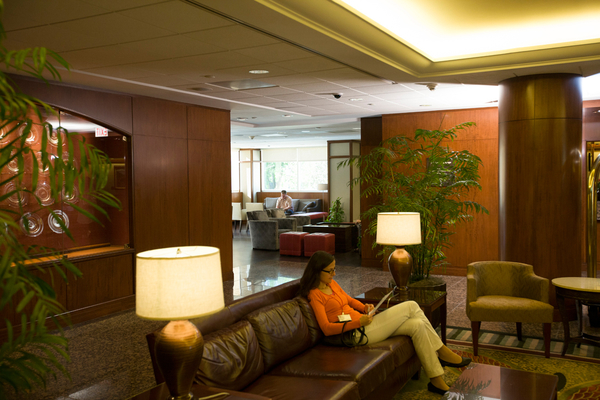 We're also having conversations now about what is the right look behind the front desk—whether we want to be a "tie" hotel or not a "tie" hotel. As we redo the lobby, this is the perfect time to say, hey, this space is going to change—our uniforms should change with it.
Décor is a challenge in hotels. People's tastes change over time. We maintain a AAA Four Diamond service experience here and lead the market in terms of rate, so the product's got to match that—it's a product experience and a service experience. The service is there; the food is there; the ballroom, which was just renovated, looks great. The hotel should feel upscale and luxurious but not pretentious.
Our food and beverage operations feed a thousand-plus people a day in the Terrace and at Mac's, on the lower level, plus our business at Taverna Banfi. We're doing things at a really high level, but we want to step back and look at it with a fresh set of eyes and ask, where can we improve, where can we make the experience stronger?
There's lots to do, but what's fabulous is that we have a great team of people here. There's a lot of longevity on our leadership team, and a lot of passion.
What do you want our students to know about leadership?
I've touched so many different parts of the industry; it's really been a blessing. I believe that if you can lead in one part of the industry you can lead in all of them.
Regardless of what the business is—and you need to understand what the business is, what drives the economic engine—you've got to manage the people side as well. Can you attract, can you retain, can you build a culture of people who will do more than what you tell them to do? A lot of these jobs are not glamorous, but you can't run an operation without stewards or housekeepers. In order for the economic engine to work, you've got to have people who represent the company well. You've got to have leaders who can lead them appropriately.
Every property I've walked into, someone has said, "It's different here. The people are different." No, people are people. They have basic needs and they want to feel respect and be part of something; they want to feel like they're winning, like they're part of a community, like they're valued. They want to feel love, and they want to love where they work. In a world where servant leadership is very impactful, helping our young leaders understand that you need to lead with heart, with your people first, is critical. That's the foundation of the hospitality business.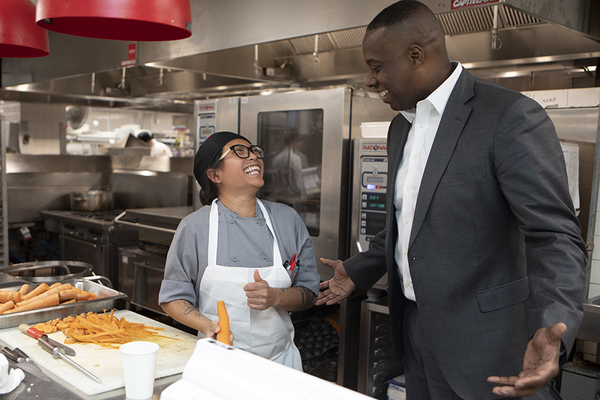 It's also important to maintain a work-life balance and have fun and enjoy what you do. I had conversations with three students in my first week here who wanted to talk about work-life balance. I said there were times, there were seasons when my life was out of balance, like with every opening of a property. But you shouldn't be setting up an operation with the expectation of working six-and-a-half days a week.
I tell students their expectation should be that they can build an environment where they have balance, and they need to have things outside the work that are important to them. If you're working for a company that tells you to be there six-and-a-half days a week, you've got a choice to make: is there value in staying for a season, is there something to learn there? But don't make that a lifestyle.
My core philosophy is "think big, act small, fail fast, and teach." That's my goal, too.
"Think big" means to do things at a high level, have vision, be successful, strive for excellence, and dream.
"Act small" is all about relationships, connecting, and staying humble; it's also about being able to do the little things that support your vision and to lay out the plan step-by-step.
"Fail fast" is about being willing to take some risks. If what you try blows up, then learn from it and move on. And you are going to fail! If you haven't failed at something, you haven't swung hard enough, you haven't taken any chances. Raise the bar a little higher.
And finally, "teach": If you're not sharing what you learn, then you're not really helping the business you're running. But you also can't be an effective leader, and teach effectively, if you're not in a constant learning mode, so "learn" is a subset of "teach."
How have you stayed connected with the school over the years?
I recruited up here early in my career, when I was with Stouffer Hotels. After the National Society of Minorities in Hospitality was founded at the school in 1989-90, Stouffer Hotels asked me to be their official liaison with the group. I remember going to a few annual meetings here and elsewhere as they got moved around. And then Phil Miller '83 connected me with Professor Tony Simons. I'd come out in August and work with the master's students in the Leadership Development Program and coach them through some simulations that Tony would do. A group of us did that for a number of years. And last year, Victor Younger in SHA's Office of Diversity and Inclusion had me come up to speak to the Men of Color Roundtable; that was fun. I've also been on the Cornell football alumni board. I played defensive end at Cornell.
What things matter the most to you in relation to the job you'll be doing?
What matters the most to me is working with a group of people who have a vision, are passionate about what they do, and want to create something impactful. I've always believed that, as a GM, it's less about what I do and more about what others do, and I've always viewed myself as a coach. I love helping people see the possibilities.
I have a strong legacy mindset now, and I see the opportunity to pour into students as they come through here a continuation of something that I've worked on for years, and to see them grow.
Teaching has been a part of me for a long, long time. For years, whatever city I was in, I would reach out to the local schools, or they'd reach out to me, and I would come in and talk with the students. That's just part of my natural bent, the way I'm wired. So, then, should I teach a course? How often should I guest-lecture? Here, that will be easy to do, because there are so many different courses where I could contribute. I've been involved in construction projects, renovation projects, and food and beverage, spa, gaming, and waterpark operations. I have to stop and think: what have I experienced that might be eye-opening or helpful to the students?
I've been saying that it's been a 40-year journey to get me back to this point; I've kind of gone full circle. This is a whole new generation, and they think totally differently, so this is also an opportunity to learn from the students as much as I can teach them. I did not have a hotel background when I came here as a freshman in 1980, and this place set me on a trajectory that I never saw, never envisioned. The chance to give back? I love it, on a lot of different levels.
Photos by Robert Barker