Hotel Show NYC: Touring the breadth of the hospitality industry
By Emma Brett and Casandra Martinez, MMH Class of 2020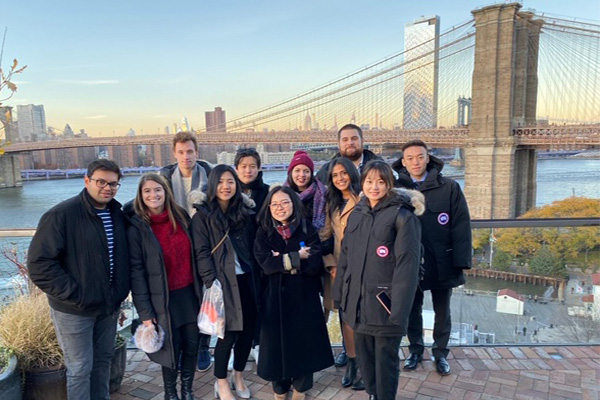 Every fall, the Master in Management and Hospitality (MMH) program in the School of Hotel Administration (SHA) organizes a trek to New York City to meet and mingle with professionals across a wide range of niches within the dynamic hospitality industry. The trek not only offers students an opportunity to network with these professionals from diverse companies, but also allows them to see the people they meet in action. Hotelies gain an understanding of how these professionals are making an impact within the industry.
This year was no-exception. As co-chairs, we organized the 2019 Hotel Show excursion, which took place over four days last semester and featured 10 different meet-and-greet opportunities throughout New York City. From a five-star hotel to an experiential marketing agency to a dynamic real estate development firm, our MMH classmates had the chance to choose which places to visit based on their interests.
We worked hard to offer the kinds of networking options that students wanted. We admit it was nerve wracking to try to encompass everyone's interests, but we were purposefully strategic when planning the itinerary to make sure we featured all types of companies to offer the most well-rounded experience.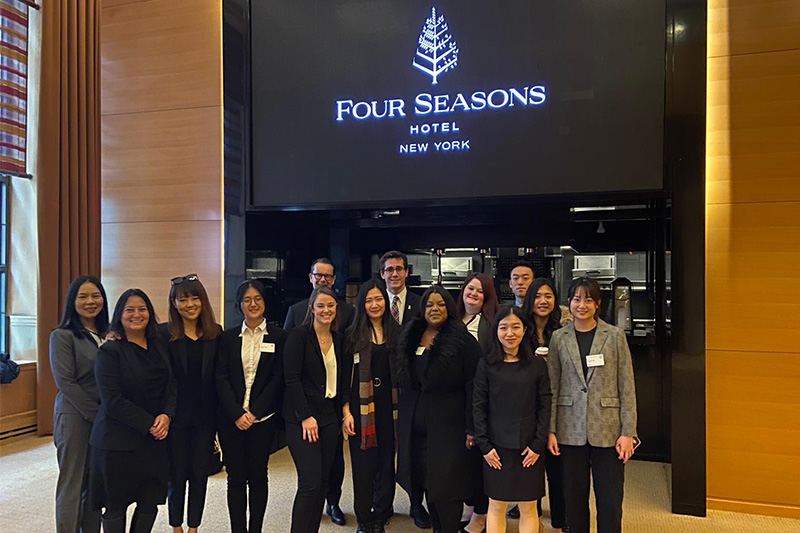 Hotels, restaurants, and nontraditional hospitality companies
The 2019 trek featured visits to the following properties and companies:
George P. Johnson Experience Marketing
Four Seasons Hotels and Resorts
1 Hotel, Brooklyn Bridge
Del Posto
Per Se
1 Hotel, Central Park
CitizenM Bowery Hotel, featuring Northview Hotel Group
Manhatta
Booking.com
The Surrey
Students had the option of five tours at extremely unique and impressive hotel properties in both Manhattan and Brooklyn. They met with the general manager of the Four Seasons and were able to see how this long-standing brand can infuse luxury and distinct service into all facets of the hotel. In contrast, the 1 Hotel Brand properties, both Central Park and Brooklyn, gave insight into a new age of luxury that encourages sustainable practices by "bringing the outside in."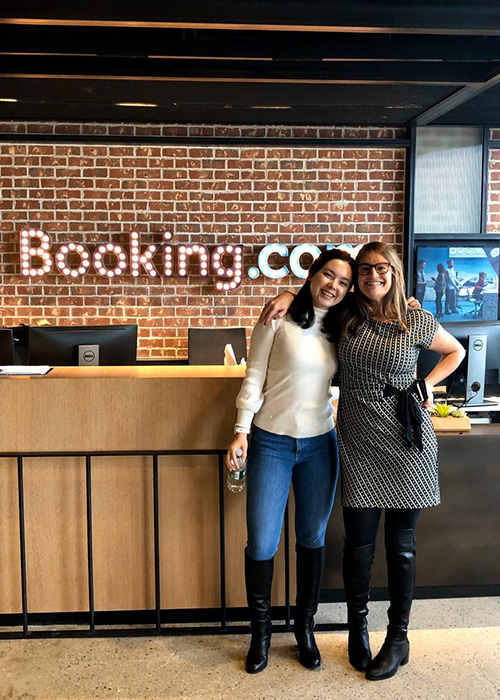 Restaurants were also featured on the itinerary. While they gave students a glimpse of what it takes to earn, and maintain, a Michelin Star, they also introduced many to the world of special events and highlighted the challenge of these events within the fine-dining restaurant industry.
Lastly, students were able to visit non-traditional hospitality companies—George P. Johnson and Booking.com—which offered career options beyond the four walls of a hotel or restaurant. Students spent several hours with MMH alumni at both of these locations to learn about their individual journeys and see what their lives are like now.
Macy Chen, MMH '20, who participated in the trek with us and who previously worked in finance at Deloitte, summed up her experience: "Coming from a non-hospitality background, the Hotel Show took me on an adventure and showed me what exactly being in this industry means. The variety of tour options opened me up to career possibilities within the hospitality industry I may have never considered."
MMH Reception and the Outstanding Alumna of the Year Award
The trek finished with the Cornell MMH Reception, held at The Plaza Hotel. This gave all current MMH students the opportunity to mingle with other MMH alumni. Many students were able to experience first-hand the extent of interest in the hotel industry and care for current and expected alumni that all Hotelies carry with them to this day.
At the reception, SHA honored and celebrated Mia Kyricos, MMH '03, with the Outstanding Alumna of the Year Award. Kyricos is the senior vice president and global head of well-being at Hyatt Hotels. In her time working at Hyatt, Kyricos has helped in the implementation and development of various wellness brands and programs globally.
SHA and the MMH program constantly emphasize the importance of experiential learning, and this trek was the perfect example of such. Meeting and mingling with industry professionals helped us truly understand how hospitality, as an industry, has evolved over the years and what impact these innovators are making on the future of the industry. Many students left New York City with a new outlook on the dynamic industry of hospitality and several contacts with which to build further connections.