Mia Kyricos, Hyatt's global head of well-being, receives Cornell award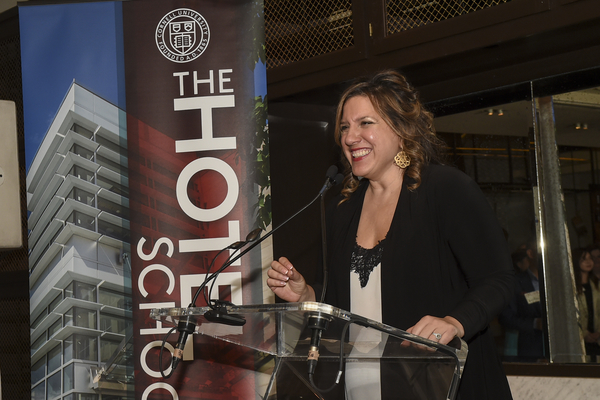 Mia Kyricos, MMH '03 was recently honored as the 2019 Cornell MMH Outstanding Alumna of the Year, an award presented by the School of Hotel Administration (SHA) and the Office of Alumni Affairs and Development at the Cornell SC Johnson College of Business. The award recognizes exceptional career progression and service to the school and its students.
Kyricos, who is senior vice president and global head of well-being at Hyatt Hotels Corporation, received the award on November 10 during the 18th annual Cornell MMH Reception at the Plaza Hotel in New York City.
"We are both excited and proud to honor Mia and all she has accomplished with this award," said Kate Walsh, SHA's dean and E. M. Statler Professor. "She has become a trailblazer for the wellness and spa industry, and her work is making an important difference for our industry. Mia is an inspirational role model for our students, and she shows us all what our school's motto, 'Life is Service,' truly means."
Kyricos has been passionate about hospitality since she was 14, when she worked scooping ice cream and making lobster rolls in her hometown on the coast of Maine. Over the decade that followed, she progressed through roles as a busser, server, dining room manager, restaurant manager, and manager of a private pool and tennis club at a AAA Four Diamond resort. Her love for international travel and business emerged when, at age 19, she spent a year in Brussels studying the European Union and decided that she wanted to get as many stamps in her passport as possible. Today, her passport is her most valued possession.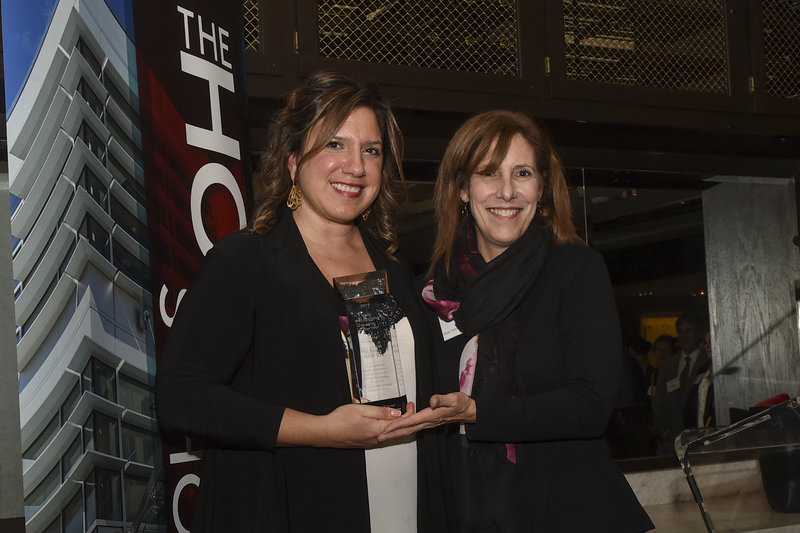 With over 25 years of hospitality experience, Kyricos is committed to bringing wellness to everyday life. She has helped develop, operate, and market wellness-related brands, products, and services across 100 countries. Before being tapped by Hyatt in 2018 to inaugurate the position she holds, she was president and CEO of Kyricos & Associates, a boutique consultancy that provided strategic advice to global companies on the business of well-being. She has also held leadership roles at Starwood Hotels and Resorts, Spafinder Wellness, EXOS, and more.
Kyricos was also recognized, in October, with this year's Leading Woman in Wellness award at the Global Wellness Summit in Singapore. She also co-chaired the Global Wellness Summit 2018 in Cesena, Italy and has been featured in many business and trade publications, including the New York Times, the Los Angeles Times, Smart Money, Hotel Business, Travel Weekly, Lodging, Real Simple, and Market Watch.
Kyricos holds true to her life's mission, "to help people live well, show up for the people that I love, and have fun while doing it." She is a board member for the Global Wellness Institute, a nonprofit educational foundation that she helped found. She has returned to Cornell several times to speak in MMH classes on spa management, marketing, food and beverage management, and organizational behavior. She also appeared in the school's Dean's Distinguished Lecture Series in 2016.
The Cornell MMH Outstanding Alumna/Alumnus of the Year award has been presented each year since 2008 during the Cornell MMH Reception, which has been held annually since 2001. As the only networking event of the year reserved for alumni of the school's Master of Management in Hospitality degree program, the MMH Reception has become an integral part of the 96-year-old SHA alumni tradition of holding meetings and events during New York's annual hotel trade show.