Our first 90 days in the MMH program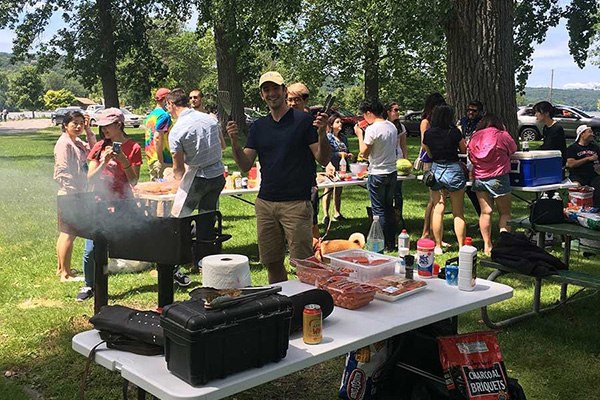 Like we do with new jobs—it's time for a 90-day review of the Master of Management in Hospitality (MMH) program! It's time to reflect on our summer in Ithaca, our classes, and what we've learned so far. We are only a couple months into the program and we've already tackled the subjects of corporate finance, managerial accounting, operations management, and marketing. But, like everyone in the hospitality industry, we know how to have fun too! Since the MMH program is a full-time, one-year program we have the unique opportunity to experience the beautiful summer in Ithaca, NY and take part in a variety of fun activities.
Feeling adventurous?
There are four beautiful state parks near Cornell University, in addition to several gorges and waterfalls and Cayuga Lake. Many of our MMH students enjoy going on hikes or taking long bike rides through the parks. Ithaca really is gorges!
For the foodies in the program
This summer gave us a chance to explore local restaurants and wineries in the Finger Lakes. There was a week-long restaurant event called Bite of Ithaca that allowed you to try sample plates at participating restaurants for only $5! Many students also find sitting outside at Ithaca Beer Company's Beer Garden to be the best kind of study break.
For the entertainment seekers
Every Thursday night on the Ithaca Commons featured free, live outdoor music as part of the CFCU Summer Concert Series. If you're more of a movie buff, on Thursdays you can also stroll down to Stewart Park for a free movie in the park.
We also recently appointed our Hotel Graduate Student Organization board and chair positions. They have been amazing at setting up fun activities over the summer. Whether its getting a group together for a Game of Thrones viewing or having a barbecue at Stewart Park, there is something for everyone.
A large number of people in Ithaca's population during the academic year are students, so it can feel a little quiet over the summer. Sometimes it seems like we are the only ones on campus! But it has given us the unique opportunity to do all these fun things with our classmates and form a really tight bond. We aren't just classmates for a year—we're friends for life.