New on-demand industry training—because service is who we are
By Elizabeth Martyn '07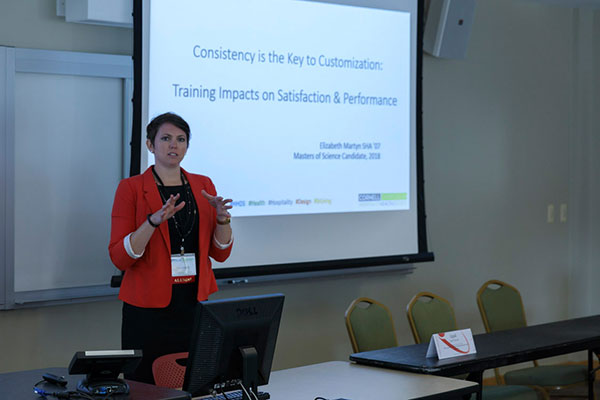 When I attended Hotel Ezra Cornell (HEC) in 2014, it had been seven years since I set foot on campus. But I had good reasons for staying away: moving five times during those years, I gained diverse hospitality operations experience—from residence management for a luxury travel club to coordinating five-star private guest services for a billionaire's family. At HEC, my conversations with faculty and fellow alumni eventually turned from catching up to how I wanted to move back to the East Coast.
A few weeks later, the Hotel School contacted me to see if I would be interested in filling a vacant teaching position. I accepted, and soon found myself back at Cornell as interim instructor for HADM 3750 Business Computing.
The opportunity pivoted my career back to Cornell at the perfect moment. Around the time I arrived on campus, the Hotel School was receiving an unprecedented number of inquiries from organizations requesting customer service training materials. Sensing that the increasing demand indicated a change in the market, the administration asked me to help fill this need. I was tasked with combining and translating field experience and industry research into an approachable training program.
A faculty advisory group was formed to support the project development and ensure that the Service Excellence training reflected the mission and values of the Hotel School. To advance the ease of use and functionality of the training further, the team partnered with eCornell for access to deep online learning expertise and technological capabilities that would allow the program to be built in an on-demand format. Almost two years after the initial conversations began, the Service Excellence On-Demand Training launched in December 2016.
The training offers employees eight online lessons that explore the foundations of service delivery, complemented by a Workshop Guide to facilitate on-site discussion and localization of concepts. It's incredibly accessible, and this has been one of its greatest assets. As the author, my focus was on teaching the critical thinking skills relevant for any employees who interact with clients, customers, or guests, regardless of their level or industry.
Creating the Service Excellence content brought my Cornell experience full circle. I could distill the best of the Hotel School curriculum and my practical knowledge to give organizations a blueprint for service excellence. We're thrilled that such significant interest for the program has come not only from within our core hospitality ecosystem, but also from many other industries, including financial services, healthcare, transportation, non-profits, and even global tourism development initiatives.