Cornell's Statler Hotel receives Silver GreenLeaders award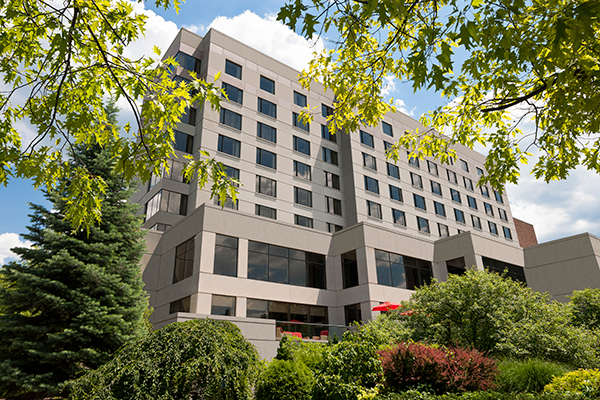 The Statler Hotel has been awarded Silver status as a TripAdvisor GreenLeader. TripAdvisor's GreenLeaders program helps travelers around the world plan greener trips by highlighting hotels and bed and breakfasts engaging in environmentally friendly practices.
GreenLeader properties meet a set of environmental standards developed for TripAdvisor by a leading environmental consulting firm with input from expert partners. The more green practices a hotel has in place, the higher its GreenLeader level, which is showcased on the property's listing on the TripAdvisor site.
"Our staff is thrilled to have received this designation," said Richard Adie '75, the Statler Hotel's general manager. "It is a great culmination for the extensive work by so many of our staff members towards becoming more sustainable in all of our business practices. The Statler has worked very closely with Hersha Hospitality for several years in implementing their award-winning Earthview program. The team has been inspired by the aspirational goals set by the university to reduce our carbon footprint. While we are proud of our progress to date, we continue to strive to improve and enhance our sustainability initiatives."
The Statler's strong belief in sustainability is evidenced by a number of environmentally friendly initiatives. Since 2013, the Statler Hotel has partnered with Clean the World, a nonprofit group that seeks to divert used soaps and bottled guest amenities from landfills and reduce hygiene-related deaths on a global scale. The Statler collects gently used materials left after a guest's stay and sends them to Clean the World for sanitizing and global distribution.
"We are so proud that the Statler Hotel has achieved this recognition as a GreenLeader. Our stellar team at the hotel, under the leadership of Rick Adie, has worked hard to incorporate environmentally sound practices into the operation of the hotel while simultaneously giving to the wider community," said Kate Walsh, dean of the School of Hotel Administration at Cornell University.
Through a host of other green initiatives, including recycling, composting, and water and energy conservation, the Statler is able to offer superb hospitality while preserving the natural resources of upstate New York.
Environmentally friendly practices include:
A comprehensive recycling program for cardboard, glass, tin, plastic containers, bulk metals, and paper products of all kinds
Voluntary linen reuse in the guest rooms
Water conservation, including the use of infrared sensors to control water use in all public restrooms and sinks
The use of timers and sensors on light fixtures in closets, mechanical rooms, and other locations to conserve electricity
The composting of over 600 gallons of food waste every week
A disposal program for hazardous materials including cooking greases, fluorescent and mercury light bulbs, outdated chemicals, computer equipment, refrigerants, lead acid, and nickel-cadmium, lithium-oxide, and mercury batteries
The donation of unused fresh food via Ithaca's Food Donations Network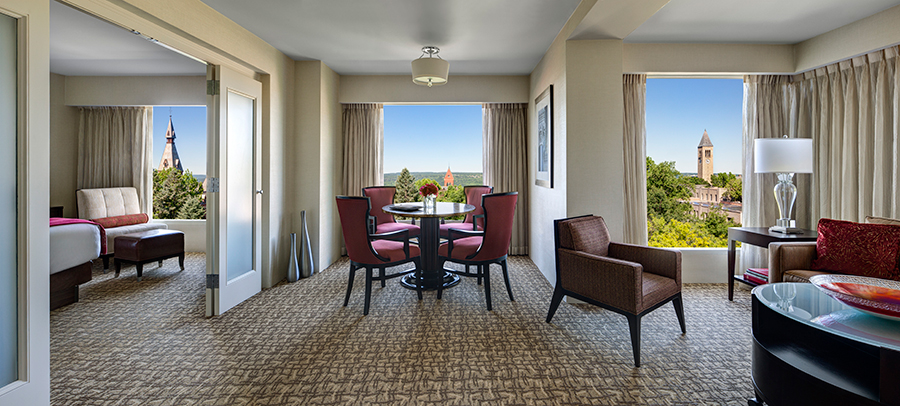 About the Statler Hotel

Tucked into Cornell University's vibrant campus, overlooking downtown Ithaca and Cayuga Lake, the Statler Hotel blends contemporary style with a grand tradition of hospitality. Established in 1950 as an experiment in hotel education, the Statler thrives as an innovative leader in hospitality. Students from Cornell's world-renowned School of Hotel Administration work under the guidance of hospitality professionals to receive a real-life educational experience while delivering exceptional service. During your next university visit, business trip, or Cayuga Lake vacation, experience "A Little More, A Little Better Service" at the Statler Hotel in Ithaca, New York.