Cornell Chronicle: Students across colleges work together on hospitality hackathon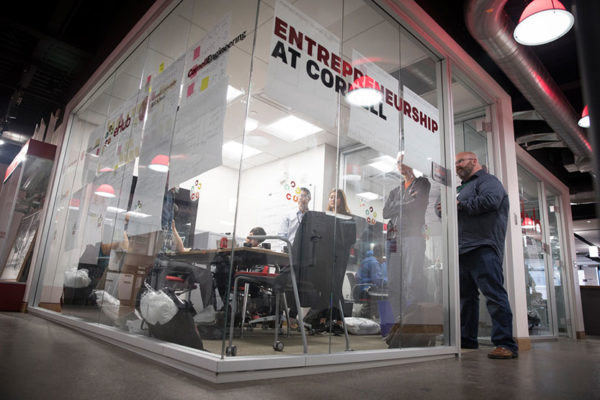 "From sensors that help chefs automatically manage their inventory to apps that help housekeeping staff more efficiently clean their hotels, 115 Cornell students spent the weekend of Sept. 29–Oct. 1 coming up with ideas focused on the luxury hotel industry during a hospitality hackathon."
In late September, undergraduate and graduate students from Cornell's various schools and colleges walked through the doors of eHub in Collegetown to participate in the first of many "hackathons." Hosted by Entrepreneurship at Cornell, the event gathered students together in teams to collaborate and create a device or product that would ease consumer experience in the hospitality industry.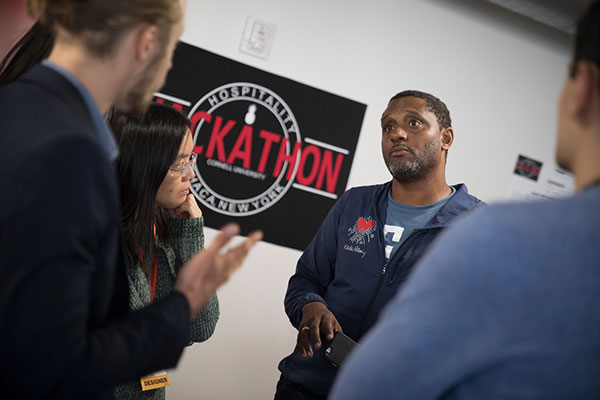 "We know that tomorrow's leaders are currently at colleges and universities across the country, and we feel their ideas are critical to solving some of the toughest challenges we're faced with in the hospitality industry," said Kerel Fryar, director of creative product innovation for Hilton.
The day the hackathon weekend began, Hilton leaders filled the room talking about the importance of technology and innovation work in the hospitality industry. The following day was once again filled with presentations from reputable tech corporations such as Amazon, LG, and Microsoft. Team meetings and collaboration with mentors on their projects led up to the final day of the hackathon when 17 teams presented formal demos of their final projects.
Inspired by Hilton's Canopy branding, the grand-prize-winning team, Canopy Connects, created an app that eases the hotel guest experience. Based on input from hotel employees and past visitors, the app connects current hotel guests with the top-recommended neighboring attractions.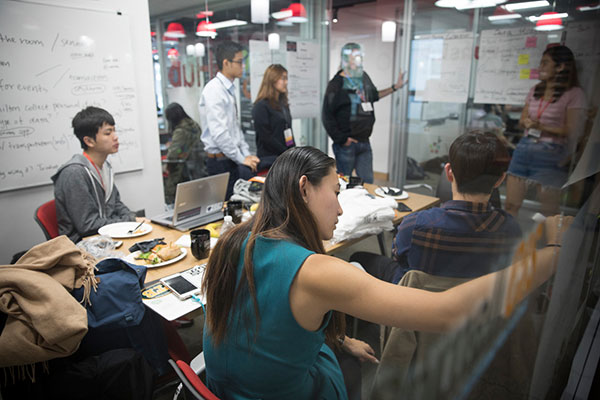 A member of the grand-prize winning team, Chris Hooper, MBA '18, talks about the partnership among his group members from other schools, such as Amanda Cheng '19, a student in Cornell's School of Hotel Administration.
"I pitched a slightly different idea Friday night based on connectivity," Hooper said. "Our idea went back and forth, but the fact that our team consisted of business students, hotel students, a developer, and a designer meant that we used all those disparate skills to come up with something that stayed connected to the Canopy brand."
The five members of Canopy Connects each won three-night stays at any Hilton property, bicycles, and $1,500 to split amongst themselves. There were also winning teams from the three focus areas that were awarded with three-night stays at Hilton properties and $500 to share. Jeffrey Liao '20, also a Hotelie, was part of the data-driven-focus winning team.
Ami Stuart, tech events manager for Entrepreneurship at Cornell, reflects on the event, noting that "every winning team was made up of students that had never done a hackathon before, and each team had a mix of majors—business, Hotelies, and engineers—a testament to how valuable diversity is."
To read more about the winning teams and their products, check out the full story in the Cornell Chronicle.