Pillsbury Institute welcomes 2017–2018 Entrepreneurs in Residence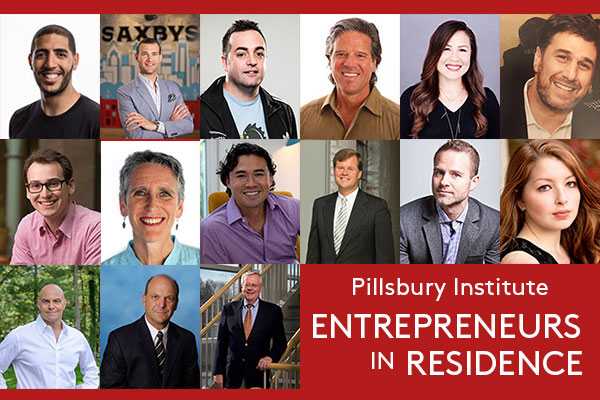 Attention students! Are you searching for way to discover what your future career as an entrepreneur could look like? Check out the Pillsbury Institute's Entrepreneurs in Residence program.
The Leland C. and Mary M. Pillsbury Institute for Hospitality Entrepreneurship provides students with the opportunity to learn and work alongside seasoned faculty and thriving entrepreneurs. From this dual experience, students will learn both inside and outside the classroom, picking up on the real-world nuances of entrepreneurship, while developing the knowledge and skills that will drive their ambition.
Of the numerous events and programs the institute offers, the Entrepreneurs in Residence program is one of the ways students can actively engage in the entrepreneurship world beyond their classroom experiences. Every academic year, the Pillsbury Institute welcomes successful entrepreneurs to campus—most of whom are Cornell alumni—for one-on-one interaction with students to help them develop their networks, future business plans, and career goals. Students can kickstart their career goals or simply learn more about future possibilities that could exist for them once they earn their degree.
2017–2018 Entrepreneurs in Residence
Karim Abouelnaga '13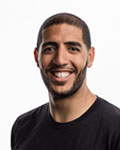 The start of Karim Abouelnaga's college career as a Hotelie also marked the start of his entrepreneurial ambition. At the age of 18, Abouelnaga founded his benefit corporation, Practice Makes Perfect, that partners with K–12 schools to offer enriching summer programs to children in high-need communities. The program implements a unique learning system of reciprocal mentorship among current NYC teachers, aspiring educators in college, high school mentors, and K–8 students, who are called scholars.
As current CEO of Practice Makes Perfect and a writer for Entrepreneur and Forbes, Abouelnaga has received numerous accolades such as Forbes's 30 under 30 List in Education, Magic Johnson's 32 under 32 list, and Richtopia's top-five most powerful young entrepreneurs under 25 in the world. Abouelnaga is furthering his passion for improving education and is currently pursuing a master's degree in education policy at Columbia University.
Nick Bayer '00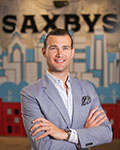 Nick Bayer has always had a forte for taking the hospitality industry in new, unexplored directions. So, when he created Saxbys in 2005, a coffee company that he considers to be a "hospitality company fueled by great coffee," it was no surprise that its mission statement was to "make life better."
Saxbys began as a partnership with Drexel University's Close School of Entrepreneurship and manifested into a popular coffee company headquartered in Center City Philadelphia with cafes in six states and on many college campuses. Being the nation's first entirely student-run cafe, Saxbys provides students interested in the hospitality industry the chance to gain hands-on experience while earning academic credit through a university's cooperative education program.
Bayer is now an adjunct professor at Drexel University where he teaches a course in entrepreneurial franchising. He is also a frequent guest lecturer at numerous universities such as The Wharton School at the University of Pennsylvania and the Fox School of Business at Temple University. He was recently named the 2017 Entrepreneur of the Year by the Greater Philadelphia Chamber of Commerce.
Marco Benvenuti, MMH '05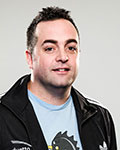 Marco Benvenuti is the co-founder and chief analytics and product officer at Duetto, a hotel revenue management software system, where he directs and implements Duetto's advanced revenue strategy technology. Once he founded Duetto, Benvenuti began extending his consulting services skills by helping firms in the hospitality, gaming, entertainment, and sports industry, grow their intelligence, management, and process engineering.
Benvenuti's success began when he was manager in training at the Four Seasons Chicago. Working his way up, Benvenuti moved onto revenue management assignments at Harrah's and Expedia. He holds patents for a revenue management pricing engine, a process algorithm to score each customer in a database based on their overall profitability, and a multi-tenant cloud revenue management service that sets prices based on inputs from both cloud and non-cloud services.
Receiving his undergraduate degree from the University of Nevada–Las Vegas, Benvenuti sits on the UNLV Hotel Alumni Board. He received his Master in Management of Hospitality from Cornell University, where is also a member of the Cornell Center for Hospitality Research Board.
Christopher Hemmeter '86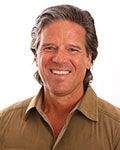 Christopher Hemmeter, co-founder and managing director of Thayer Ventures—a venture capital firm that invests in tech companies in the hospitality and travel industries—has been immersed in hospitality, travel, and technology throughout his entire professional career. In his 30 years in business, he has founded six successful companies, some of which are iCare Marketing, Dynamic Payment Ventures, and E&O Kitchen and Bar, a trendy, casual dining chain based in the San Francisco Bay Area.
Fresh out of Cornell with his Bachelor's Degree in Hotel Administration, Hemmeter began his hospitality careers and joined the Hemmeter Investment Company, a real estate developer of destination-resort properties founded by his father in 1962. He immediately began developing major destination resort hotels in Hawaii while operating related hospitality and travel businesses in the foodservice, gaming, retail, and aviation sectors.
Hemmeter received his graduate degree from Harvard Business School in 1995, where he was recognized as a Baker Scholar.
Meli James '00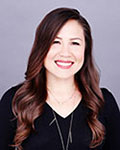 Meli James is the head of new ventures at Sultan Ventures, a boutique firm focused on early-stage startups and investments. She is also program director at XLR8UH, a Hawaiian-based concept center and venture accelerator founded via a partnership between the University of Hawaii and Sultan Ventures. In its short existence, XLR8UH has been recognized as one of the nation's top accelerators by the U.S Small Business Association (SBA) for two years in a row. James also heads the Hawaii Venture Capital Association, which is an organization that fosters entrepreneurial development through education, networking, and access to capital.
James was born and raised in Honolulu before she moved to Silicon Valley where she resided for 10 years, co-founding and contributing to Bay Area and Honolulu startups. Her contribution to successful apps such as Nirvino, a number-one-ranked wine app, earned her the 2016 recognition as one of five Women to Watch by Entrepreneur Magazine. She was recently, once again, recognized in 2017 by Entrepreneur Magazine as one of eight Women Leaders Who Are Disrupting Entrepreneurship.
Steven Kay '94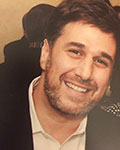 Steven Kay is owner and operator of Mel's Burger Bar located in the Morningside Heights neighborhood of Manhattan and its second location on Manhattan's Upper East Side. Kay has received extensive education and experience from around the nation and world, completing his Bachelor's degree at the Hotel School and attending a summer program at the prestigious hotel school in Lausanne, Switzerland.
As soon as he completed his education, Kay began working for the Fitzpatrick Hotel Company. He then eagerly opened a bar on the Upper West Side of Manhattan called The Gorge Bar NY. Kay sold his bar and began managing restaurants around the city, until he joined the management team at Tao, a high volume midtown restaurant with annual revenues in excess of $25 million.
Kay's ambitious drive led him to once again open his own restaurant, Philly Slim's Cheesesteaks in 2004, followed by a second one in 2007. When he decided to sell the restaurants in 2010, he returned to work for an old employer from Tao as general manager of Mel's Burger Bar, where he assumed complete operational control in 2011. He is still operating and overseeing the day-to-day operations of the company.
Adam Kirsch '15, MBA '16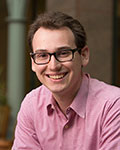 Perhaps one of our most recent alumni, Adam Kirsch is an independent consultant serving early-stage companies and their investors, with a focus on go-to-market strategy and internal operations.
Prior to his current work, Kirsch launched two companies: Yorango and Daily Beat Media (fka Beacon Records). Yorango is an independent real estate technology venture and Daily Beat Media is a marketing and management firm serving up-and-coming artists and night-life oriented bands.
As a Cornellian, he invested in startups as a manager of Cornell's Big Red Venture Fund and was a founder in the university's very own eLab. Kirsch is an alumnus of the Startup Leadership Program and received a Bachelor's Degree from the School of Industrial Labor Relations and an MBA from the Johnson Graduate School of Management, concentrating in entrepreneurship and private equity.
Barbara Lang '78, MPS '04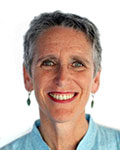 Barbara Lang had collected 35 years of experience in the hospitality industry before she founded B. Lang Consulting, where she provides services ranging from intensive hospitality literacy workshops for Barclays bank employees to hands-on career coaching and life skills training for underserved youth in New York City and Cambodia.
Lang's own diverse career spans more than 65 job experiences ranging from her time as a Napa Valley winery culinary director, restaurant co-owner, schooner chef, consultant, and author of Restaurant to Retail: A Handbook for Food and Hospitality Professionals, to a Cornell University faculty member. Her extensive experience makes her a fashioned entrepreneur who aims to guide aspiring business founders to develop and articulate their position and concept.
Lang holds degrees from the School of Hotel Administration and the College of Agriculture and Life Sciences.
Joseph Lavin '75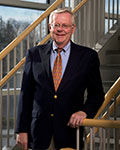 Joseph Lavin is founder and president of Harborstone Hospitality, an entrepreneurial venture to develop and own hotels while providing consulting in the hospitality industry, which he established in 2005.
His career focus has been on hotel development, ownership, franchising, and brand creation through the initiation and management of change. Before joining Choice Hotels International from 1984 to 1997, Lavin was director of hotel development planning for Marriott Corporation. His 37 years of experience in hospitality also included his role as senior vice president, franchising, for Marriott's five limited-service brands from 1997 to 2001. From 2002 to 2004, Lavin was executive vice president and managing director of Marriott International's Marriott ExecuStay, the company's corporate housing division. During his tenure at ExecuStay, he introduced the corporate housing industry's first franchise program.
Lavin holds a Bachelor's Degree in Hotel Administration and serves on the board of trustees of the Cornell Hotel Society Foundation and the advisory board of the Pillsbury Institute for Hospitality Entrepreneurship. He was president of the Cornell Hotel Society in the past and is a visiting lecturer at the Hotel School.
Tora Matsuoka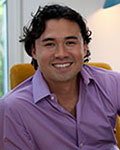 Toranosuke "Tora" Matsuoka is intuitive operator in the art of restaurant and hospitality management. As a dynamic entrepreneur, his passion for the restaurant industry is undeniable. His work ethic and experience comes from the influence of his father, Japanese former top-ranked Sumo wrestler Iwatora (Kazutomo Matsuoka), from whom he has learned focus and discipline first-hand. From his father's guidance combined with his 22 years of industry experience, Tora has a unique understanding of what it takes to create and manage successful operations.
His career kickstarted at the young age of 13, where he was scrubbing basement floors, organizing inventory, and cleaning out dumpsters for restaurant industries. Over a decade, he worked through every position in the restaurant business until he obtained the level of general manager. In the following year, he bought the restaurant he was a porter at and grew the business to double the sales and triple the profits.
As a pioneer in Asian cuisine, he has made his mark on the East End of Long Island by developing Sen Restaurant into the landmark Hampton's hotspot it is today. Most recently, Tora has joined with industry expert Stephen Loffredo to partner in Seasoned Hospitality consulting and project management. They have created a collaboration with restaurant owners, hotels, and real estate developers to create, improve, and implement all types of food and beverage operations all over the world.
Philippus (Phil) Miller '83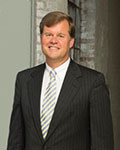 Philippus Miller is managing director of Philippus Miller III & Associates, a full-service executive search firm serving hospitality entities worldwide by researching and identifying candidates and helping clients hire and retain highly qualified senior managers and executives. Based in Ithaca, New York, the firm focuses on graduates of top hospitality schools seeking senior-level employment opportunities.
Miller is also senior managing director and founder of Paramount Lodging Advisors, a Chicago-based real estate services firm providing hotel brokerage, asset management, distressed asset servicing, and capital markets services to clients worldwide.
After becoming a Hotel School alumnus, Miller spent 10 years after graduation in hospitality operations, initially joining Hyatt Hotels as a corporate trainee, focusing on sales and marketing. Miller was looking for international experience, which prompted his move to Guatemala, where he became a hotel manager in the Central American highlands, and then his move to Kenya, where he became operations manager of a safari camp.
In 1993, Miller returned to Cornell where he spent 11 years as the Hotel School's director of alumni affairs and secretary of its alumni association, the Cornell Hotel Society. He is also an occasional guest lecturer at the Hotel School and former board member and president of the Quill and Dagger Senior Honorary Society.
Jerre Riggs '02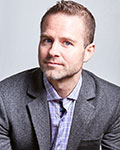 Jerre Riggs is a recovering litigator with a passion for commercial real estate and the evolving workplace, particularly as it relates to entrepreneurs, startups, and the innovation economy. In his current role, he holds the dual responsibility of chief commercial officer for Benjamin's Desk, a coworking and business incubation company based in Philadelphia, and co-founder and chief operating officer of FirstBase, a brokerage dedicated to providing real estate solutions for startups, entrepreneurs, and mobile corporate employees.
Before landing his roles at Benjamin's Desk and FirstBase, Riggs began as a commercial real estate broker with Colliers International and a litigator with Blank Rome LLP. He received a law degree from Villanova University School of Law and his undergraduate degree from Cornell's School of Hotel Administration, where he studied abroad in both Switzerland and Tasmania. He also taught English in Prague and worked for AmeriCorps before pursuing his law degree.
Marisa Sergi '15
Marisa Sergi's unique love for wine began at an uncanny, young age when she sat in the basement of her parent's home watching their own wine business grow. Coming from two generations of winemakers, Sergi was quick to begin her elementary school dream of carrying on her family tradition. Sergi graduated from Cornell in 2015 with a degree in enology and viticulture. With her family background and extensive internship and work experience at E&J Gallo Winery in California, Sergi launched RedHead Wine, a blend of California Zinfandel and Chilean Carmenere, as a senior at Cornell.
Sergi has been working full time on RedHead Wine since August 2016. Within a year, her custom-blended wine is available in nearly 200 stores in Ohio and has a national distribution deal in the works.
Sergi's longer-term goal is to create an iconic RedHead brand with a broad product line aimed specifically toward millennials and women.
Joe Tagliente '89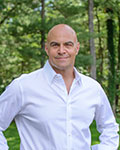 Joe Tagliente is an independent entrepreneur who has achieved great success in a variety of endeavors, which led him to his current occupation as partner and principal of Lenrock Management Group, LP, a real estate investment and franchise advisory and incubation company.
Before co-founding Lenrock, Tagliente was president and CEO of Tage Corporation, one of New England's leading hospitality companies. While Tage was under his leadership, Tagliente managed to transform the small fast-food restaurant operator into a multi-faceted hospitality development and management corporation.
While he was a student at Cornell in 1989, Tagliente designed and developed the first of his company's hotels, The Tage Inn, in Mildford, Massachusetts. His Inn was an immediate success and has now grown to four properties throughout New England with more than 500 rooms.
Tagliente holds an MBA from the Olin School of Business at Babson College and is a member of the Young Presidents Organization. He is also senior advisor to Spots, a startup which launched the only experimental real-time search app and MAIDBOT, a company that is building robots to clean hotel rooms.
Stephen Thomson '82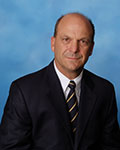 Stephen Thomson is currently president and CEO of Mailboxes Unlimited Ltd., a shipping and courier company he founded in 1990. His entrepreneurial passion began once he graduated from Cornell in 1982 and immediately joined the Four Seasons Hotel in Toronto as a management trainee.
Once out of college, Thomson traveled from place to place, picking up on the trademarks of the hospitality industry. In 1984, he transferred to Four Seasons Clift hotel in San Francisco as a department head. After two years, he decided to travel into the heart of Southern California where he opened a Four Seasons in Newport Beach. Thomson later launched his first business venture, Just Shirts, in 1988.
Thomson's latest project is developing three-bedroom residential homes in Goose Bay, Labrador. He is chairman of C Holdings, Ltd., and is chairman of Bermuda Press Holdings, Ltd., a group that includes The Royal Gazette, Ltd., Bermuda Press, Ltd., Crown House Holdings, Ltd., and Office Solutions, Ltd.
---
Cornell students who eager to explore future entrepreneurial possibilities can sign up for a time to meet one-on-one with these Entrepreneurs in Residence. This program gives students the opportunity to seek mentorship and ask questions of successful entrepreneurs who were once in their shoes.
If you are interested in signing up to meet with any of these entrepreneurs, visit the Entrepreneurs in Residence page at the Pillsbury Institute to see when each person will be on campus and for directions on how to secure your spot at the table.