Noteworthy: Garnie Nygren '05 talks about Serenbe on the Today Show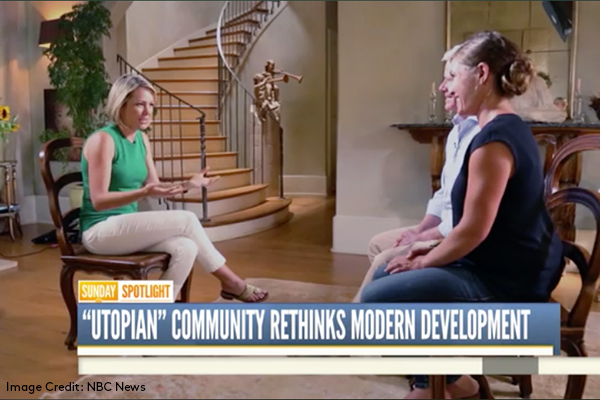 Urban sprawl is a problem across the United States, as forests and green spaces continue to be eaten up by residential and commercial development. A recent segment on the Today Show features a planned community called Serenbe that might just offer a solution. Hotel School alumna Garnie Nygren '05 talked to the Today Show about the community her family founded outside of Atlanta that is being called an "experiment in new urbanism."
Key takeaways about Serenbe:
Serenbe, which consists of 700 acres of mostly forested land, is home to 700 residents, 300 homes, 30 businesses, and a 25-acre farm.
"Often we think we have to choose living in the middle of the country or living in the middle of the city and it's so important to us that you can have a little bit of both," says Nygren.
Serenbe is the family's reaction to Atlanta's urban sprawl. Nygren and her father were on a run in the early 2000s when they encountered a forest being cleared and decided they had to save it.
"This field is part of our 700-acre permanently protect green space," Nygren says, referring to the place where she and her father witnessed the trees being cut down. "When my grandchildren are living here 100 years from now, this will always be here."
Serenbe has replaced private yards with a shared forest.
Clustering homes together disturbs 60 percent less land than conventional development while providing 25 percent more homes.
Nygren and her father hope Serenbe will inspire others.
"Our hope is that the way we are living in Serenbe is the way everybody can live everywhere and it just takes a little bit of thought and intention," says Nygren.
Watch the Today Show's full segment about Serenbe below and hear what Garnie Nygren and others had to say about life in the Georgia community.
Video credit: NBC News