MMH students see rise of technology at Hotel Show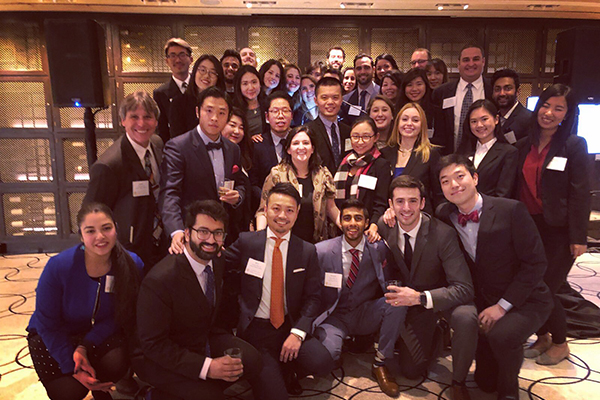 By Alison Kanovsky, MMH '18
As part of the Hotel School's Master of Management in Hospitality (MMH) program, graduate students packed up and headed to New York City for a convention known around the halls as the "Hotel Show." The convention's formal name is HX: The Hotel Experience, Rooms to Restaurants—an annual convention held at the Jacob K. Javits Convention Center.
But what exactly is the Hotel Show?
Picture this: You walk into the enormous Javits Center, stop at registration to pick up your name badge, and enter the mesmerizing show floor. The Hotel Show is co-hosted with Boutique Design New York (BDNY) so attendees can flow freely between the two shows. While BDNY focuses on future trends in design, the Hotel show features vendors showcasing their newest offerings. The vendors vary from scent marketing to automated robots. But the big winner of the Hotel Show was technology, with more than 70 exhibitors categorized as technology-related.
The hospitality industry, and hotels in particular, are notorious for being late adaptors to technological innovations. But that may soon change. We've seen recent changes such as kiosk and mobile check-in as well as mobile or smartphone room keys. But that's just the beginning. Technology is entering hotels at every touchpoint and in the back of house.
With mobile phones shifting to wireless charging, some vendors are offering wireless charging pads and systems. Other vendors see more drastic changes with hotels; for example. eventually ditching the traditional guest room phone and adopting a tablet command center in each room. Additionally, behind-the-scenes robots are helping employees do their jobs faster and more efficiently.
Companies like Maidbot (which was created by Hotel School alums) are changing the way hotels operate with the help of their robot, Rosie. Instead of having a housekeeper vacuum and clear a hotel room, Rosie uses the same mapping and sensors that self-driving cars use to efficiently clean hotel rooms. Robots are also being used to deliver in-room dining and amenities, as well as transporting catering and housekeeping supplies.
After the Hotel Show, MMH students were invited to review Gold Key Award submissions with 2016 judge Thomas Prins '83. Prins is a Cornell alum and managing director of real estate investment at Benchmark Hospitality, Inc. The Gold Key Awards recognize innovative and influential designs in every sector of a hotel, from guest rooms to lobbies, for every type of hotel. Students were able to see nominations and winners for many categories.
There were so many exhibits, sessions, and vendors at the Hotel Show that everyone was able to find something that suited their interests. I even ran into a candy vendor I had worked with in the past that still had our design on display! But the biggest takeaway for me was that these technology innovations are just on the horizon and coming in full force.