Hotelies set course for the cruise industry with immersive Royal Caribbean experience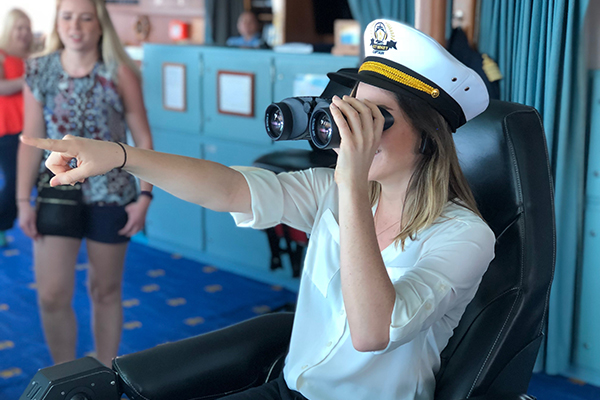 Students recently traded their winter jackets for sunglasses to get a closer look into the cruise industry. The Introduction to the Global Leisure Cruise Industry course, instructed by Robert Kwortnik, immerses students to the primary business domains involved in the dynamic and growing leisure cruise industry. The seven-week course—that culminates with a three-day, two-night cruise—delves into topics including the global industry structure (competition and markets), brand management, operations management, pricing and revenue management, marketing management, and other management positions. Students learn the highlights and drawbacks to this unique area of hospitality from the professor's personal expertise and field research along with the insights of Royal Caribbean's current executives.
With a gift of $34,000, Royal Caribbean brought the industry into class with a series of high-level, executive class speakers. And the company brought students to the industry in a pre-paid cruise immersion. This year, 20 students traveled to the Port of Miami to take a Caribbean cruise on the Enchantment of the Seas where they gained a hands-on operational experience and management perspective. Students took part in an on-board HR training, a back-of-house operational tour, and exclusive meetings with all managing officers on board. They also had the opportunity to use their free time exploring Royal Caribbean's private island, CocoCay, and the ship.
An incredible experience for first-time passengers and cruise aficionados alike, here's what our students had to say about it.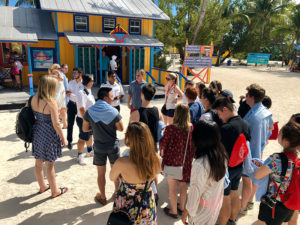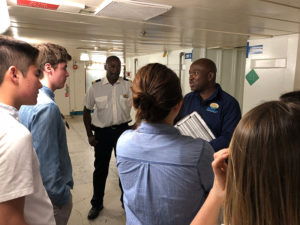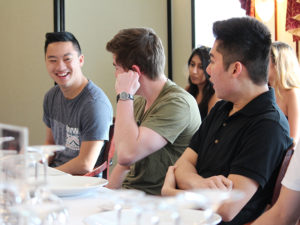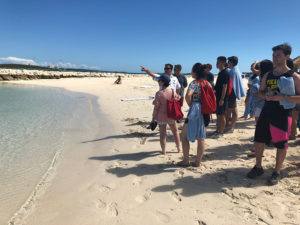 Gabrielle Ennis '18
"The Hotel School yet again proves it's willingness and desire to provide a hands-on hospitality education through the cruise immersion trip. As someone who is newer to the cruise industry, I was able to fully understand cruise operations by the end of our trip. Going on operation tours of both the ship and Royal Caribbean's private island, CocoCay, was one of the coolest things I've done through the Hotel School!"
Victoria Bouras '19
"This was my first commercial cruise experience and I had a blast! I was able to experience the cruise product from the guest's viewpoint while supporting that knowledge with an insider perspective by talking to the Royal Caribbean leadership team. After this cruise, I left just feeling amazed at the operational efficiency the Enchantment of the Seas maintained in crafting a unique guest experience for thousands of guests in such a short timeframe."
Elvis Ahn '19
"Royal Caribbean's cruise immersion trip was truly a spectacular experience that allowed me to extend my knowledge from the Hotel School into the global cruise industry. We were able to immerse ourselves in all aspects of the cruise industry, whether that be understanding the hectic turnaround of the massive floating city to visiting the large food storage areas. One of the most fascinating aspects of the trip was the ability to see where all of the crew members slept/ate/lived. It's mind boggling to realize that these workers don't get to go "home" after their 14-hour shift. Their workplace is their home, and to me, that is absolute dedication to Royal Caribbean's spectacular service."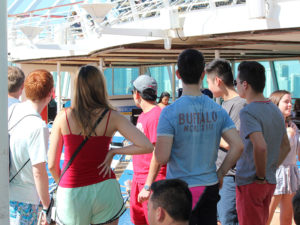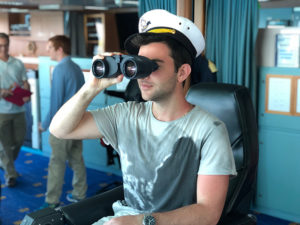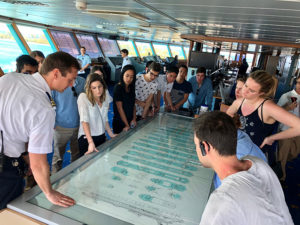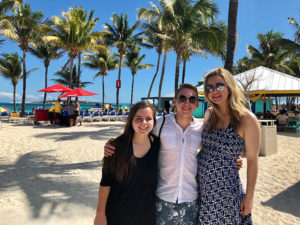 Austin Serling '19
"As someone who had never been on a cruise, this immersion trip was a great introduction to cruising. I was able to experience the cruise not only as a regular guest, but also as a student learning about the industry, allowing me to see both the front-of-house and back-of-house of the ship. Through the immersion, I have gained a new appreciation for everyone that works or has worked on a cruise ship, I could not imagine working close to 14 hours a day for up to eight months. It takes passion that shines through in the service that is delivered."
Jennifer Spritzer, MBA/MPS in Real Estate '19
"The immersion cruise was an incredible experience! Thanks to Professor Kwortnik and the wonderful people at Royal Caribbean, we got to observe the complex and well-orchestrated inner workings of a cruise ship in action as well as meet and speak with all levels of employees and directors to hear their perspectives. This was truly an experience unlike anything one could have outside of this class. Thank you for the wonderful and interesting time!"
—Compiled and written by Carina Segredo '19, a student intern for the Cornell SC Johnson College of Business