MMH student shares favorite summer memories in Ithaca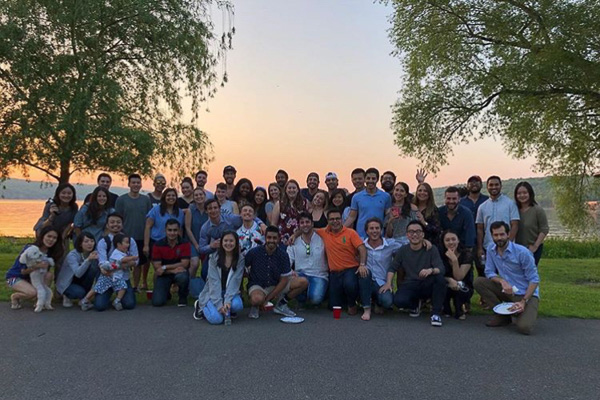 By Lisa Liu, MMH '19
Summer has come to an end and the fall semester has officially started at Cornell. We are now joined by more than 900 students from the undergraduate program at the Hotel School.
Unlike during the summer semester where students pretty much have Statler Hall to themselves, the Nestlé library is now packed with people and the Terrace is busy every day during lunch time. The School feels much different than in the summer. However, I believe the fall semester will just be as great of an experience as we had during the summer!
But, before we get caught up in all things fall, I would like to share some of my favorite memories of both Ithaca and the Hotel School, from this past summer.
1. Exploring the gorges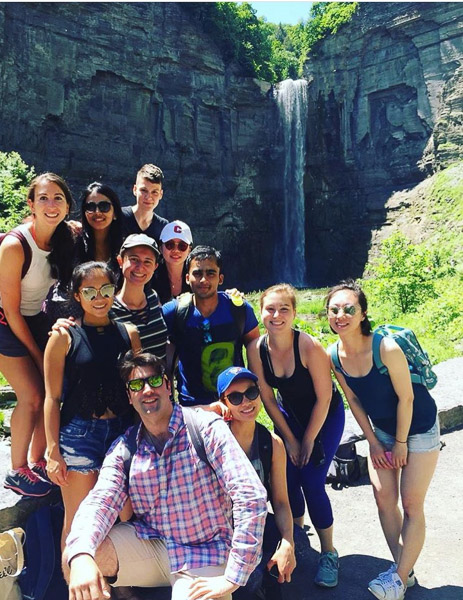 I noticed when I first arrived in Ithaca, the words "Ithaca is gorges" can be found in travel brochures, at souvenir stores, and around the campus. From then, I knew that Ithaca must be a place with beautiful waterfalls and mountains. Summer is a great season to explore and discover nature around Ithaca. Hiking around the gorges and swimming in some of them are definitely my favorite things to do during the summertime in Ithaca. We often organized hikes to places such as Taughannock Falls State Park and did activities such as paddle boarding and swimming. As someone who enjoys being in nature, I definitely fell in love with Ithaca's natural beauty. The best part is that many of the gorges are an integral part of the Cornell Campus, so you do not even have to travel far to enjoy them.
2. Hanging out in the Ithaca Commons
The Ithaca Commons is the downtown area in the city with great restaurants, bars, and stores. There are also a lot of events happening in the area that are fun and interesting to go to. For example, the Summer Concert Series is a free outdoor event featuring local artists performing music such as jazz, country, rock and so on. If you are a foodie like me, you would also enjoy the Ithaca Farmers Market where you get to enjoy a variety of food from local growers and vendors.
3. Celebrating Fourth of July in NYC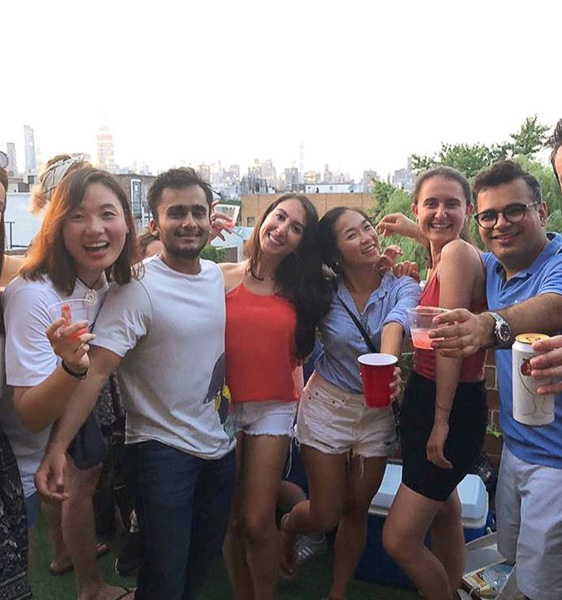 As a Canadian, this was the first time I got to celebrate Fourth of July in America. A bunch of the MMH students went to New York City and arranged trips during the break. I had a chance to explore the city, enjoyed gelato in Little Italy, and watched the fireworks on Fourth of July from the rooftop of one of our classmates' apartment.
4. Spending my lunch time at the Terrace
The Terrace was a popular hangout spot during lunch time. It was the only restaurant that was opening in Statler Hall during summertime with a great patio. We always sat outside and enjoyed the sun while having lunch.
5. Summer BBQs at Stewart Park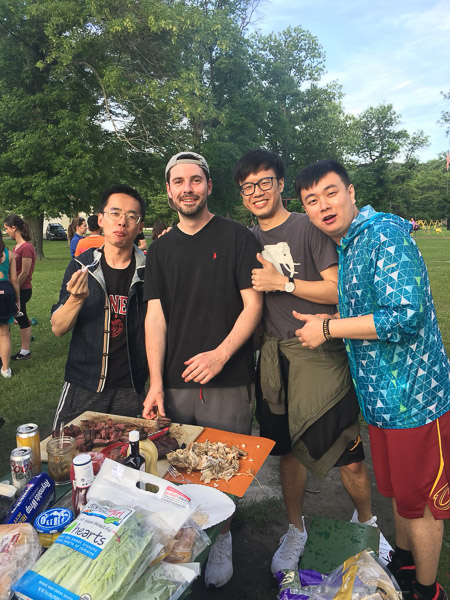 One of my favorite summer memories is having barbeques with everyone in the program at the Stewart Park, right beside Cayuga Lake. It was always a good time when we went there as a group. Since many of the MMH students this year have amazing cooking skills and come from all around the world, I was lucky enough to try dishes from different countries, such as China and India. It was an amazing experience to explore other cultures through food and exchange recipes with each other. We also enjoyed playing soccer and frisbees with graduate students from the other schools and had a great time meeting new friends at the barbeques.