Unions and Management Find Alignment Where It Counts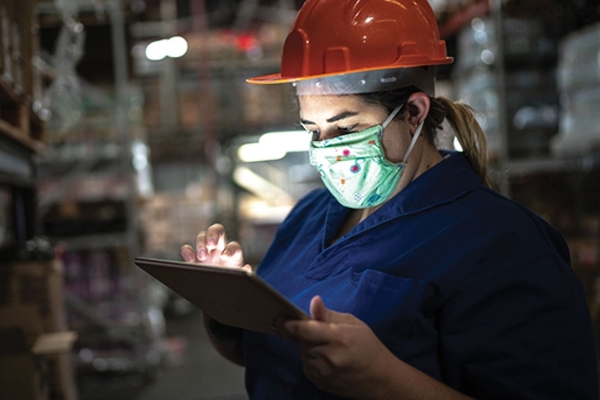 The COVID-19 pandemic has created a number of workplace safety challenges, from concerns about adequate personal protection to the administration of vaccines. In February, eCornell and the Scheinman Institute on Conflict Resolution hosted the webinar COVID-19 and Other Workplace Safety Issues: Lessons from the Hospitality and Utility Sectors, to examine and illustrate how labor and management have worked together to confront and resolve some pandemic issues in the hospitality and utility spaces. With the goal to hear from all sides, the panelists included representatives from the union side of hospitality and the human resources side of the utility industry, along with ILR educators. All had practical strategies to share for finding collaborative approaches to serve both labor's and management's interests in many situations. Dianne R. LaRocca, executive director of labor and employee relations of the Public Service Enterprise Group (PSEG), and Richard Maroko, president of the Hotel Trades Council, AFL-CIO, represented utility sectors and unionized hospitality specifically, although their solutions and approaches could be useful in many industries. Dan McCray, director, labor relations professional development programs, Scheinman Institute on Conflict Resolution, Cornell School of Industrial and Labor Relations (ILR) added insight and perspective on ways to frame negotiations on various issues, and Harry Katz director of the Scheinman Institute on Conflict Resolution, and Jack Sheinkman Professor rounded out the group and also moderated.
Shared purpose drives problem solving
As president of the Hotel Trades Council of the AFL-CIO, Richard Maroko works on behalf of the 40,000 New York and New Jersey hospitality employees who were laid off when the pandemic arrived a year ago. With two priorities in mind—protection of worker safety and restoration of consumer
confidence—his union and management have engaged in ongoing negotiations for coronavirus safety protocols, based on the developing medical knowledge about COVID-19 and the evolving needs of the workforce. Beginning with sanitization techniques and paid time off for sick or vulnerable union members, the talks went on to cover protections from airborne virus transmission, and are currently focused on vaccine availability for laid-off members. While there's still some "push and pull," between the union and management, he noted that at this time "Our interests are aligned in ways that they typically are not."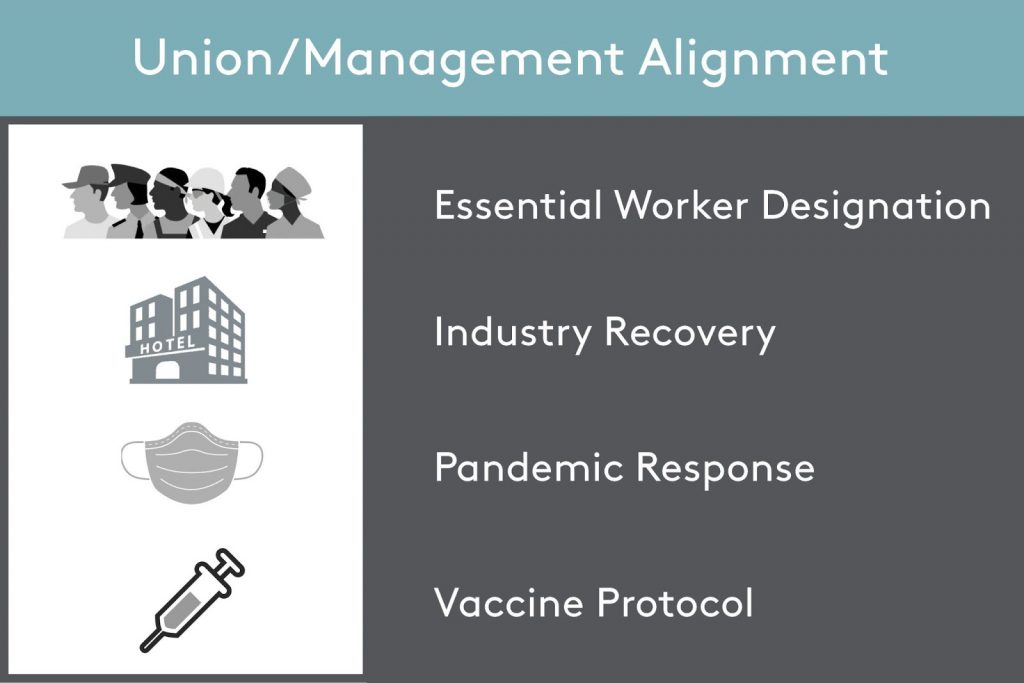 Dianne LaRocca is executive director of labor and employee relations at the Public Service Enterprise Group (PSEG), a utility with 13,000 employees, about two-thirds of whom are union-represented. LaRocca shared that the utility has built a strong collaboration with its union workers, and that, "when the pandemic struck a year ago, that foundation served us well." Since then, they have negotiated over 50 agreements on issues like temporary paid off, revised work practices and more. Even through these challenges, LaRocca says all parties have remained focused on "our common interests: the health, safety, well-being of workers and customers, as well as continuing to provide our essential service—safe, clean, and reliable energy—to our 3.5 million customers."
Protocols: Adding and adapting keeps employees working and customers served
"The pandemic forced us kicking and screaming into the 21st century," said Maroko, "but I think the union's relationship with our members has both broadened and deepened." Maroko described a not-too-distant past in which a union rep would communicate via in-person visits. Now Zoom, mass text blasts, an upgraded website, electronic voting, and other tools have "broadened the number of members we're in regular communications with." Maroko and LaRocca both described innovative employee apps which have provided an improved new avenue for communication among labor, management, and union. Throughout the pandemic, union agents have been sending constant updates on the industry, on union efforts to expand healthcare and garner bridge payments, on healthcare options, and more.
PSEG had to suspend some services at the pandemic's onset, including closing walk-in service centers, stopping shut offs for non-payment, and cancelling non-essential home appliance repairs. To service and accommodate customers and workers, the company developed the Worry-Free Tech Talk Program, cross-training employees so they can work from home advising customers via telephone conversations, resolving many basic issues remotely. For PSEG employees whose work is necessarily in the field, the company chose to require workers to wear half-face respirators before they entered customers' homes, working with the union to address its concerns and questions. Before long, 3,000 employees were fit-tested and working safely.
Problem-solving in negotiations
Dan McCray teaches a three-point approach to innovative, solution-based negotiations, focusing on mindset, behavior, and structure. When parties maintain a problem-solving mindset, exhibit behaviors that are rational and focused on shared interests and options, and engage a structure that invites brainstorming options, good solutions can be reached.
For situations in which a long-standing conflict exists, McCray advises making an effort toward open-mindedness. "Don't assume it's conflictual because it has been in the past." When parties enter knowing what they want and simply aiming to persuade the other side to relinquish theirs, the process is less productive than when they arrive with an openness to various modes of solving a problem. Bringing the intention to improve the relationship can also be beneficial to the problem-solving mindset. Breakout groups, flip charts, and facilitators are examples of structures that can be helpful. That said, McCray acknowledged that not all conflicts can be resolved this way.
Recovery: Vaccinations and NYC business will be the drivers
The two sides of this conversation share a strong desire to promote their industry's recovery. The COVID-19 vaccine offers a path forward, with potential for common ground in union and management policy. Neither the union nor the management involved in this discussion require their employees to receive the coronavirus vaccine but both are working to actively encourage it. PSEG offers perks via its well-being program to employees choosing to be vaccinated. Both parties believe their employees deserve to be considered essential workers, as hotel workers come into contact with travelers, some of whom may be quarantining, and utility workers must enter homes where they may be exposed to the virus.
Experts in the hospitality sector are watching closely to see when business will rebound. Maroko notes that leisure travel will return first, as restless tourists will take advantage of low rates. Business travel, however, drives RevPAR (revenue per available room) and as work-from-home has proven to include some benefits, it's likely that the person-to-person facets of business relations will be conducted by larger meetings and conference events, rather than the day-to-day meetings of yore. "Business meetings and conventions might make up the opportunity for collaboration, and hopefully these will put the industry back on sound footing. With the advent of the vaccine, there's a light at the end of the tunnel." NYC's recovery may well provide a model for other markets in its hospitality labor sector's return to work.
Watch the full recording of COVID-19 and Other Workplace Safety Issues: Lessons from the Hospitality and Utility Sectors.